Lately, our home has been feeling a little dull to me. Stale even. But… if there's one room in the house that is finally feeling and looking like I want it too, it's our breakfast nook. It's been quite the process, and there's been plenty of trial and error, but we've finally reached the point where I'm feeling excited and energized by the direction this little room is going!
And it all started with our new breakfast nook table…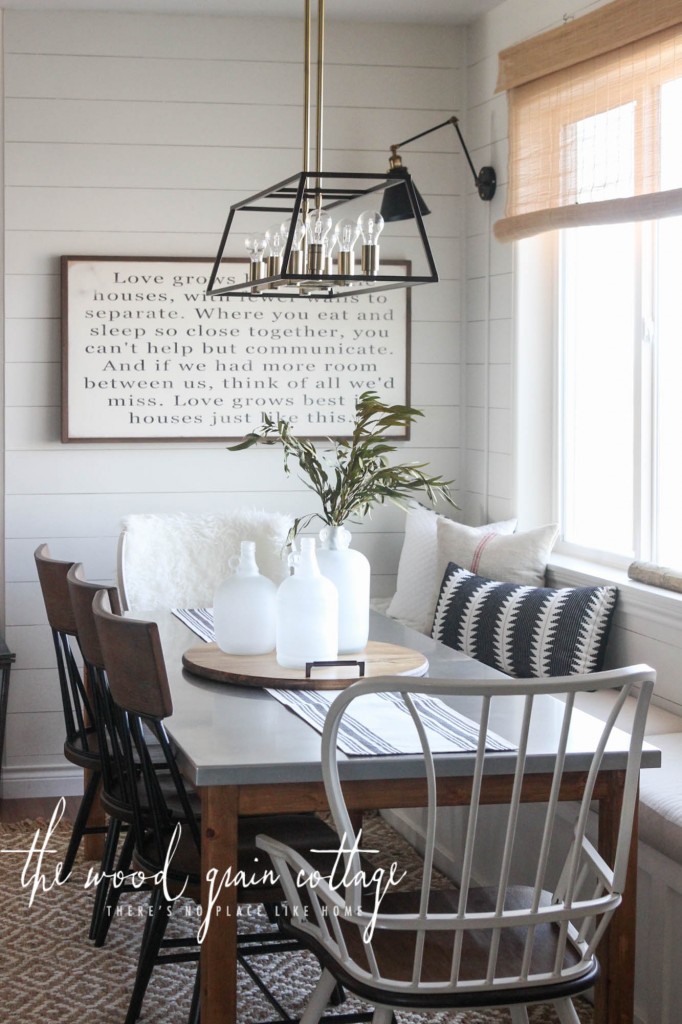 For so long, the breakfast nook has felt stagnant to me… a bit dreary and lacking something… but I struggled to know exactly what it was. Every time I looked at the room, I felt like it was the table. We've had the old furniture in there for as long as I can remember. I actually bought the table and chairs for my first solo apartment in college. It was certainly time for new furniture, but I didn't want to spend a dime until I knew exactly what I wanted instead. Smart move, right?
But then right before Christmas, Anthony and I were discussing switching things up in the house. We both were ready for a different change in the house, so we were discussing a few different options. While we were talking, I remembered the stainless steel table we had made for our very first Vintage Whites Market a few years ago. It didn't sell, and when we got home we put it up in our loft. As we were chatting, I mentioned the table and Anthony was all for bringing it into the house. I mean, it's a gorgeous table… and I have absolutely no idea why we didn't bring it into the house sooner.
I wasn't 100% sure the size would be right for the breakfast nook, but I knew if it didn't work in there, we'd use it in the dining room. As luck would have it, it fit the breakfast nook perfectly! The stainless steel top adds such a perfect sleek addition to the breakfast nook, and I love the warmth the stained legs adds to the space.
Once we had the new table in the room, Anthony and I both thought the table needed more chairs… The three we had weren't enough for the size of the table. You may remember that not too long ago we added a few new chairs to the breakfast nook, and I loved them, but we needed one more to complete the table. Unfortunately, they're no longer available, so we started looking at other options. I wanted something that mimicked a similar design style as our current chairs, but still stood on their own as the end chairs… and I found them! I'll be sharing more about them a little later. 🙂
Needless to say, the new table created a bunch of other changes to the space, and we're still not done! But… the room doesn't feel stale to me anymore, and it's kinda started a frenzy of other projects throughout the house!
You can also see the room sources (so far) below!
Please note: Some of the links in this post are affiliate links, which allows us to make a small commission from your purchase, but your purchase price stays the same. Thank you for helping support our blog! We greatly appreciate it!
More changes coming soon! 🙂