More details on our breakfast nook today! After we added the new stainless steel table to the room, I knew our old lantern style light had to go. It didn't fit the shape and style of the table, and it felt too small since the new table was much longer in size. And to be totally truthful, I'd been envisioning a different style light… Lighting makes such a huge difference, and I think it's often so under valued and appreciated. It's also really easy to update and transform a space just by adding a new light!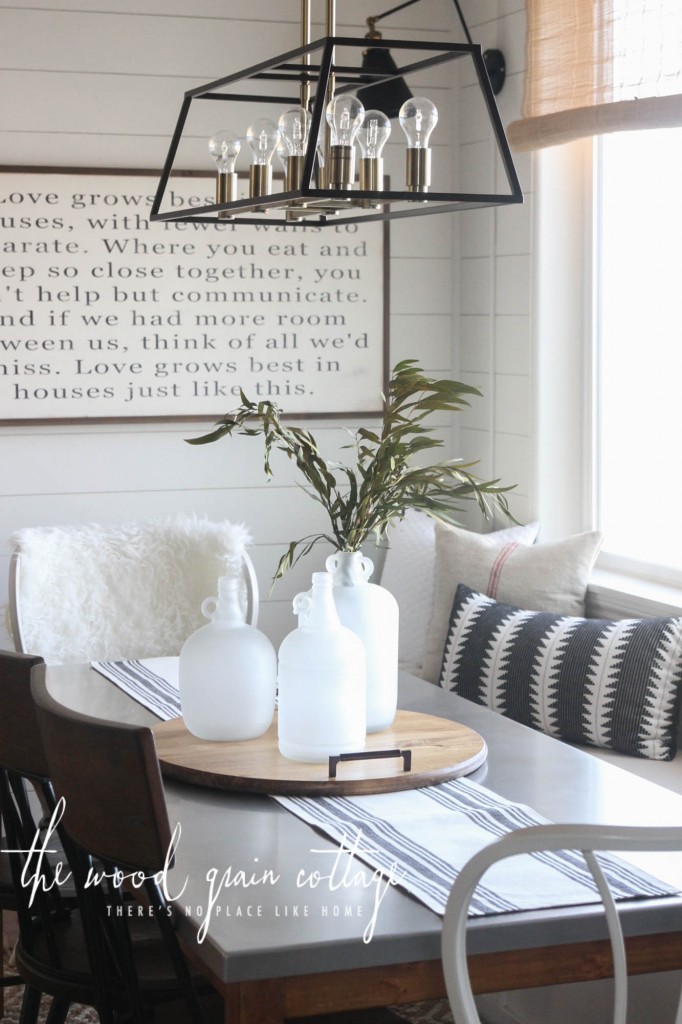 Please note: Some of the links in this post are affiliate links, which allows us to make a small commission from your purchase, but your purchase price stays the same. Thank you for helping support our blog! We greatly appreciate it!
Like I mentioned above, I'd had my eye on a completely different style of light than what we currently had in the space. I definitely wanted something bigger, but I didn't want it to be too "heavy" or to block the view of the window, which has such a beautiful view of our farm and the mountains. I was dreaming of this light for the space, and was just about ready to pull the trigger and buy it, when I randomly walked into Home Depot to help my mom do some shopping for a project she was working on. We were waiting for them to put her order together, so I began browsing in the lighting section when I stumbled into this light…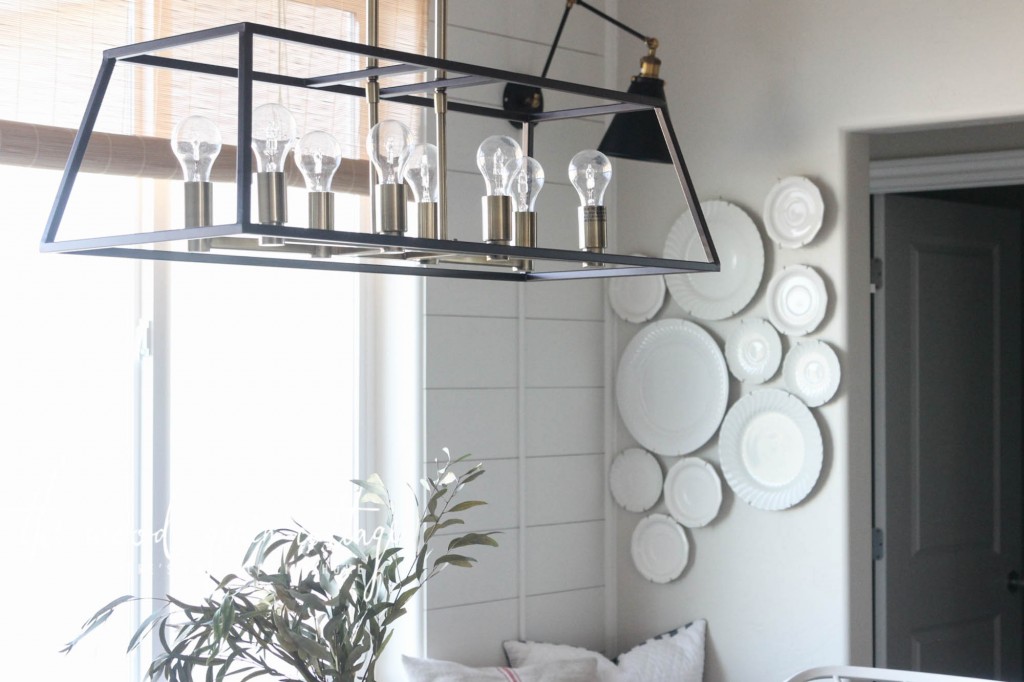 It was on clearance for $127, and marked down from the original price of $170. I called Anthony, hoping he'd be home to measure the table with the light, all while praying it would be the right size. It was.
But… there was only one small issue. Our ceiling light box wasn't where it needed to be. You may remember that we had a chain to swag our other light…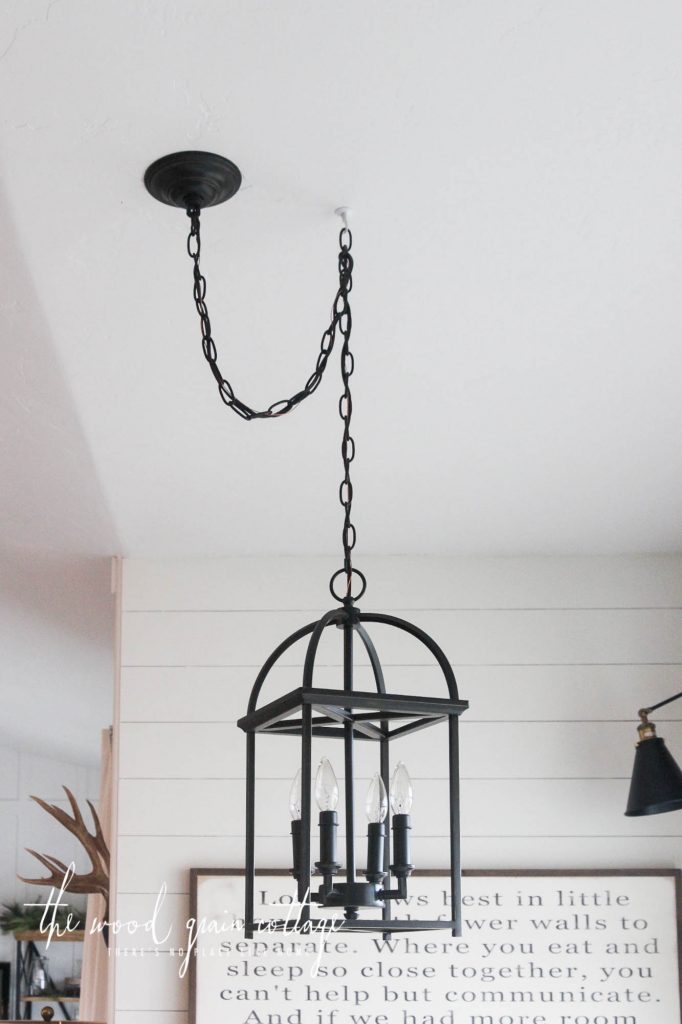 This light though, couldn't be 'swagged' because of the steel rod and ceiling mount. It needed to be hung directly from the right spot.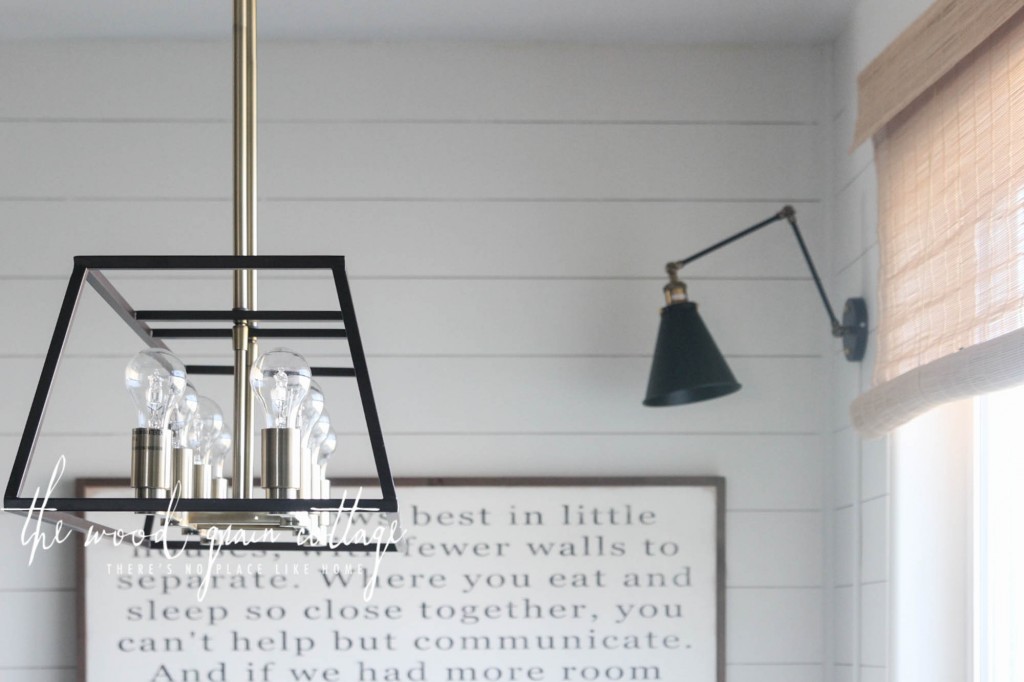 And that meant Anthony would have to go up into our attic space to move the electrical box to the new spot… mind you it needed done anyways because it seemed like where we originally put the light box when we built the house was too far out into the walk way rather than in the breakfast nook space. To do that, he crawled up into the attic and moved the box. Here's a brief tutorial on how we moved it…
First, we removed the old light and then held up the new light to find the new spot…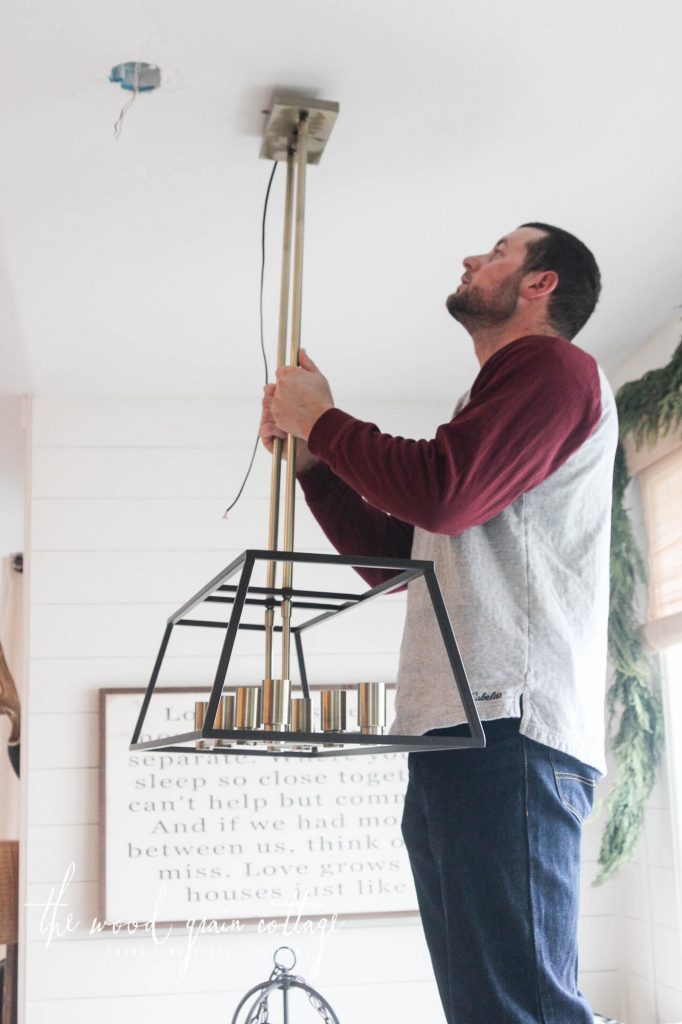 Once we had the light where we liked it, Anthony used a pencil to mark the spot…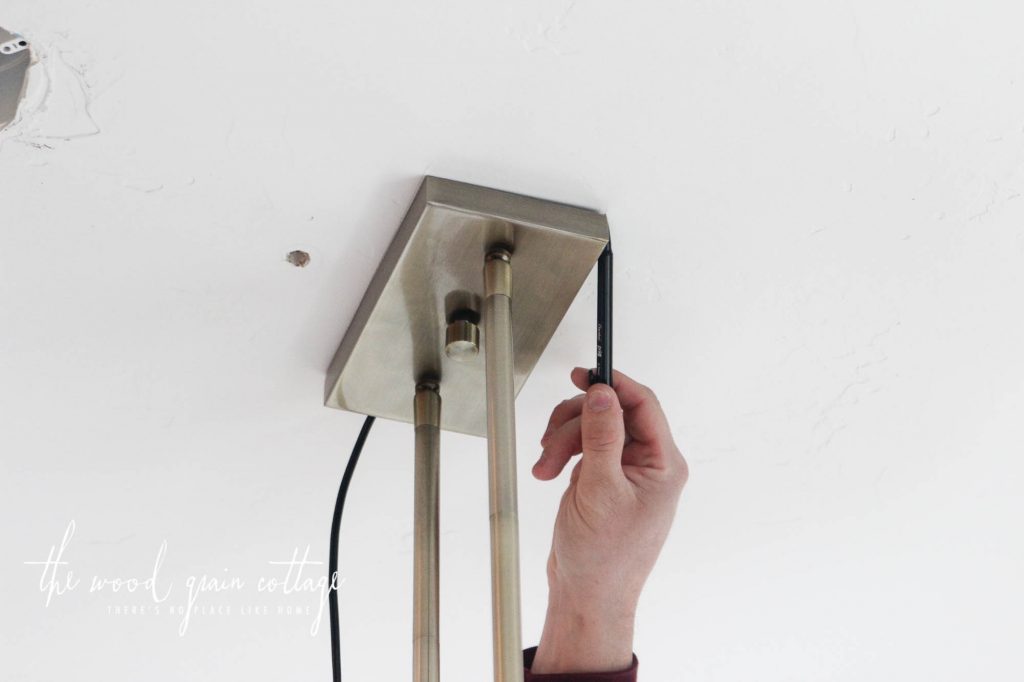 Based on the new location, we measured the wall and ceiling to find the center of the room…
And when we were sure we had the location right, we placed a screw in the center of where the new ceiling mount would go…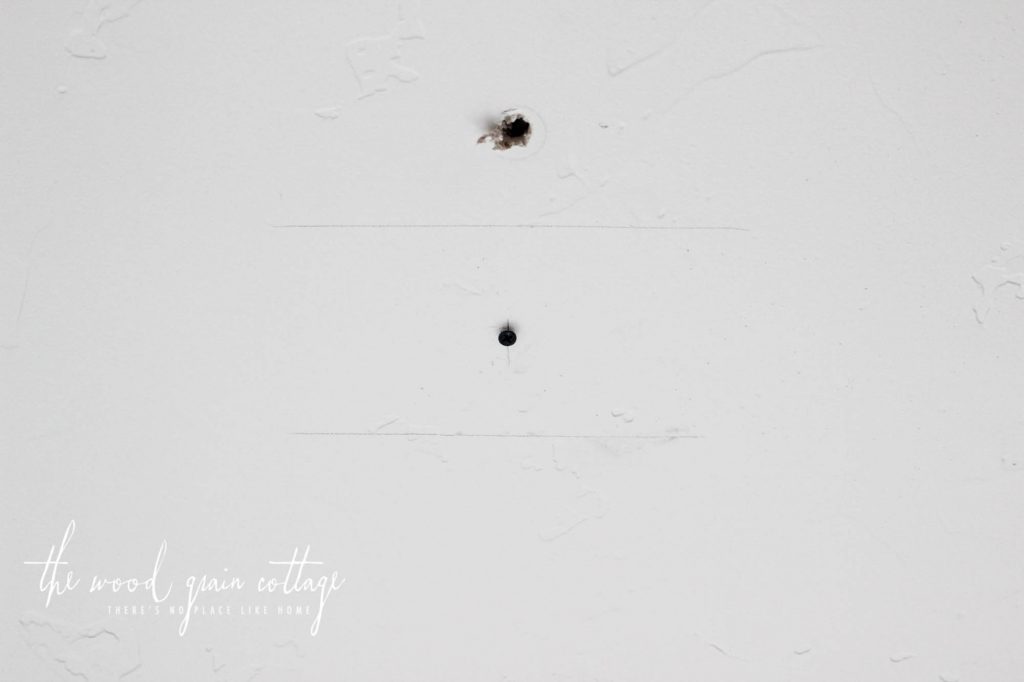 This made it easier for Anthony to find up it in the attic. When he was up there, he removed the old light box…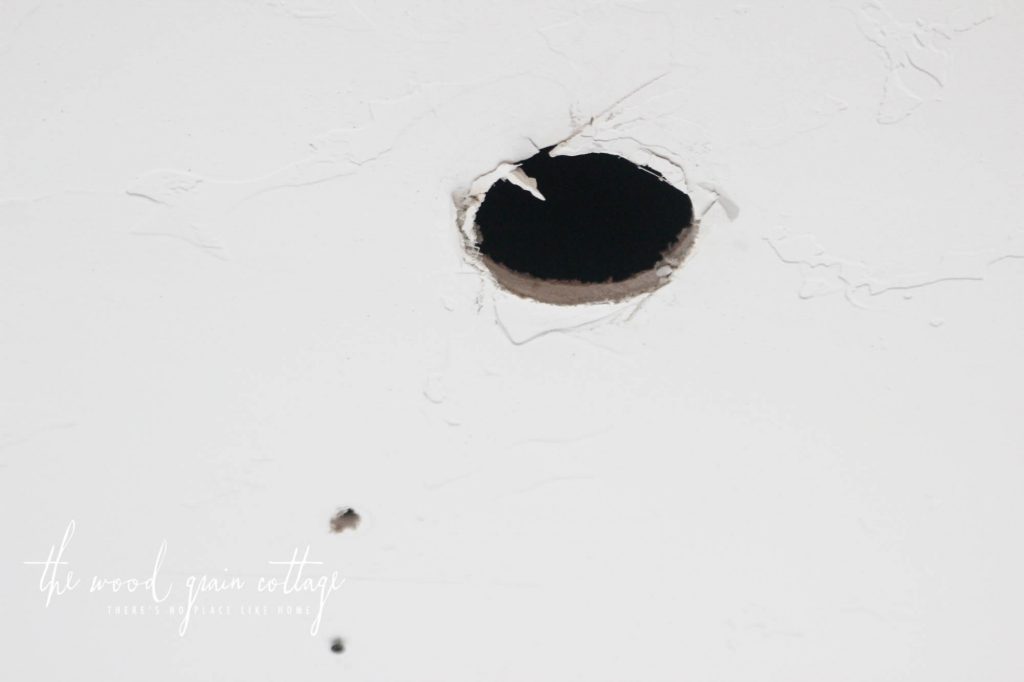 And cut the hole to insert the same box into the new location…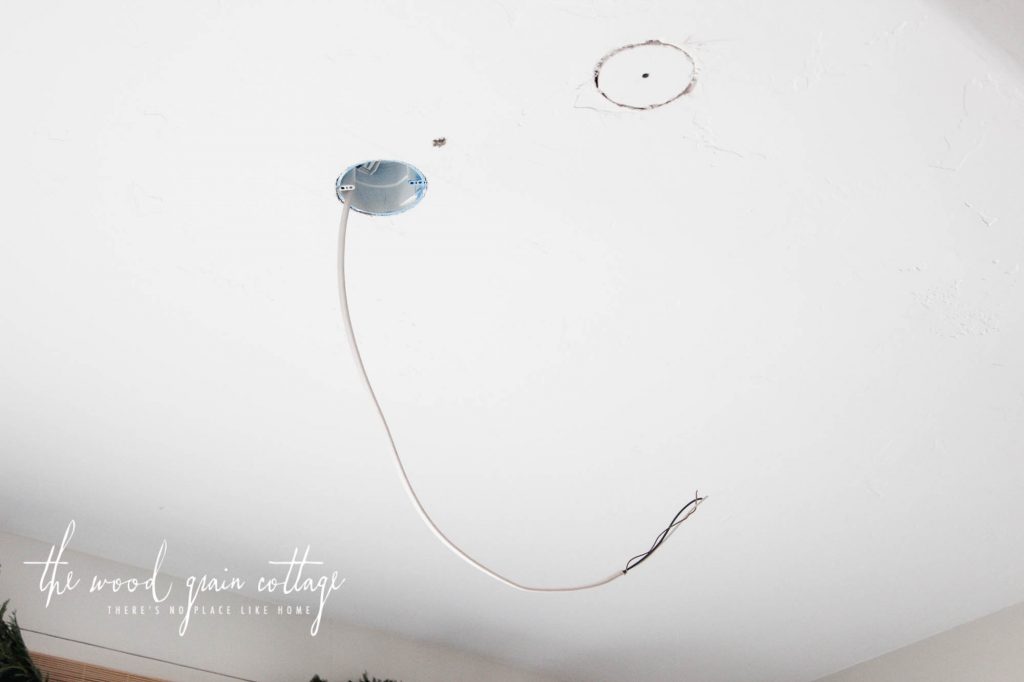 He did have to splice some wires together since the other wiring wasn't long enough to accommodate the move. He also used the drywall circle he cut from the new hole to fill in the old one.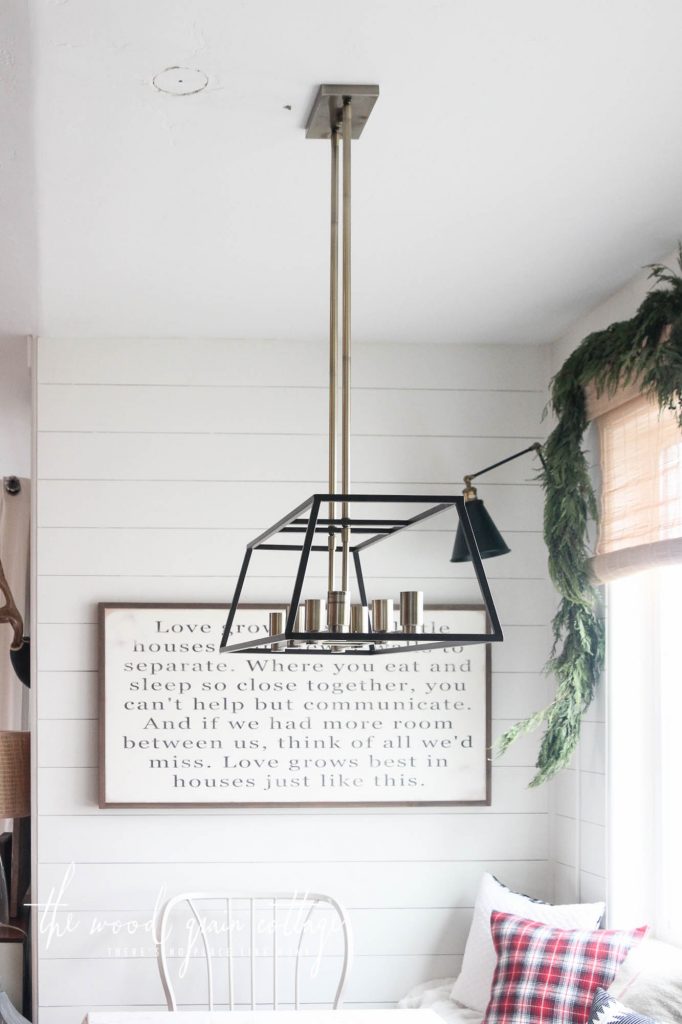 He wired up the light, and then I started patching the ceiling…
It took a few coats of this wall joint, and some time to dry between coats, but eventually you couldn't tell we made the adjustment…
It's super handy that Anthony is so knowledgeable with all things house and home, but if you don't feel comfortable making these types of changes, be sure to hire a professional!
And now, we have a perfectly centered light right over the table…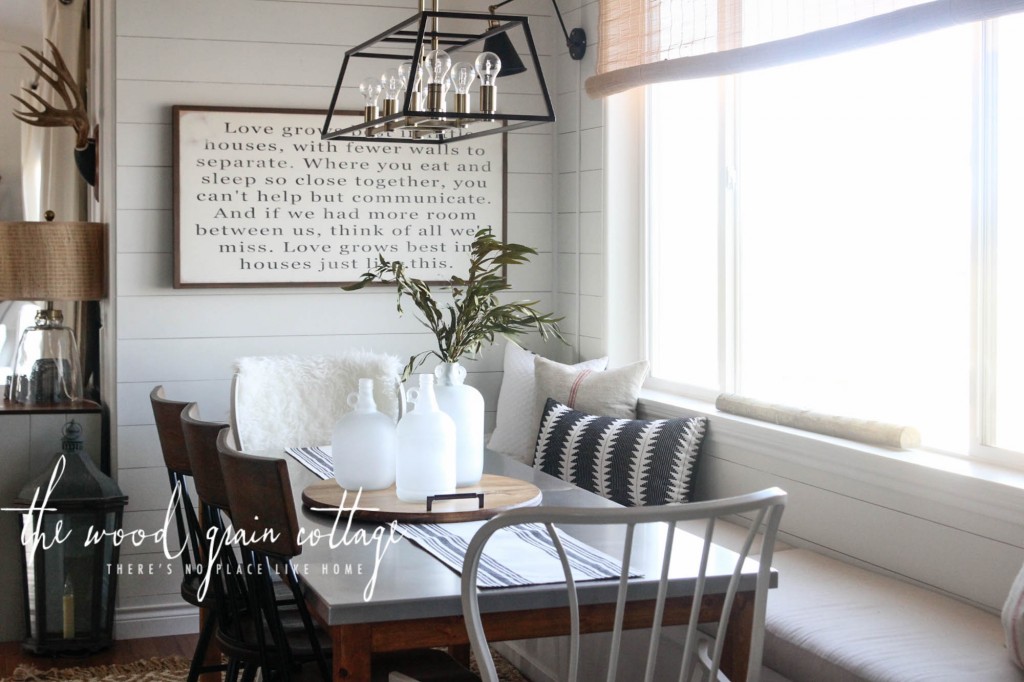 One of my favorite things about the new light, was the combination of metal finishes. It has brass and oil rubbed bronze, which makes it tie in perfectly with our wall lights!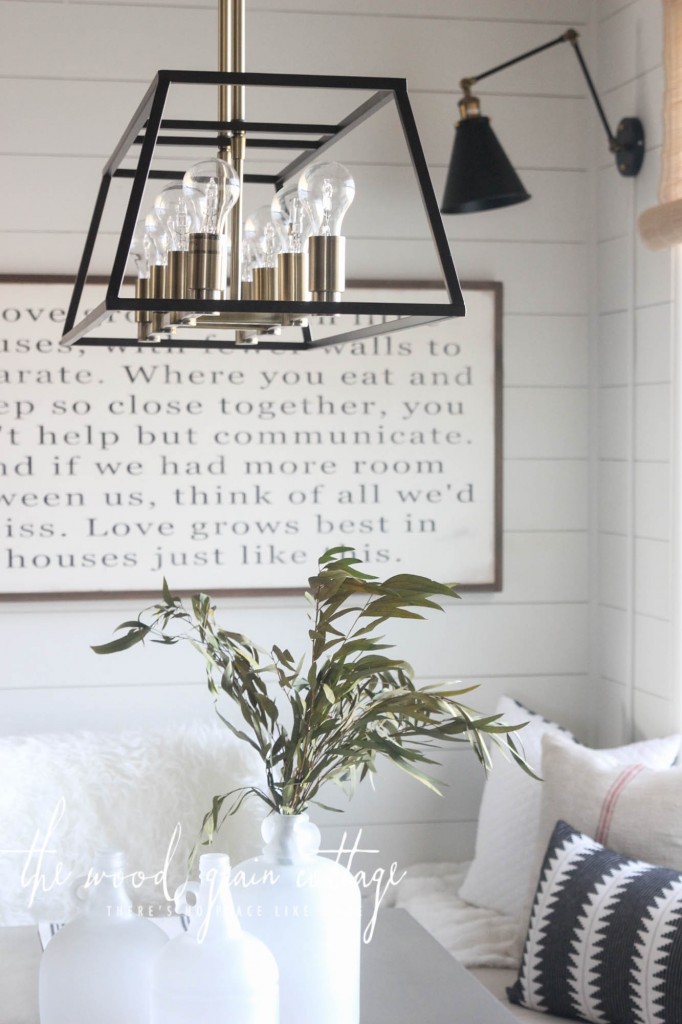 I also love the open design of the light. It's not too bulky, but still holds its own weight. And without the glass side panels, it's easier to clean. That's always a perk. 🙂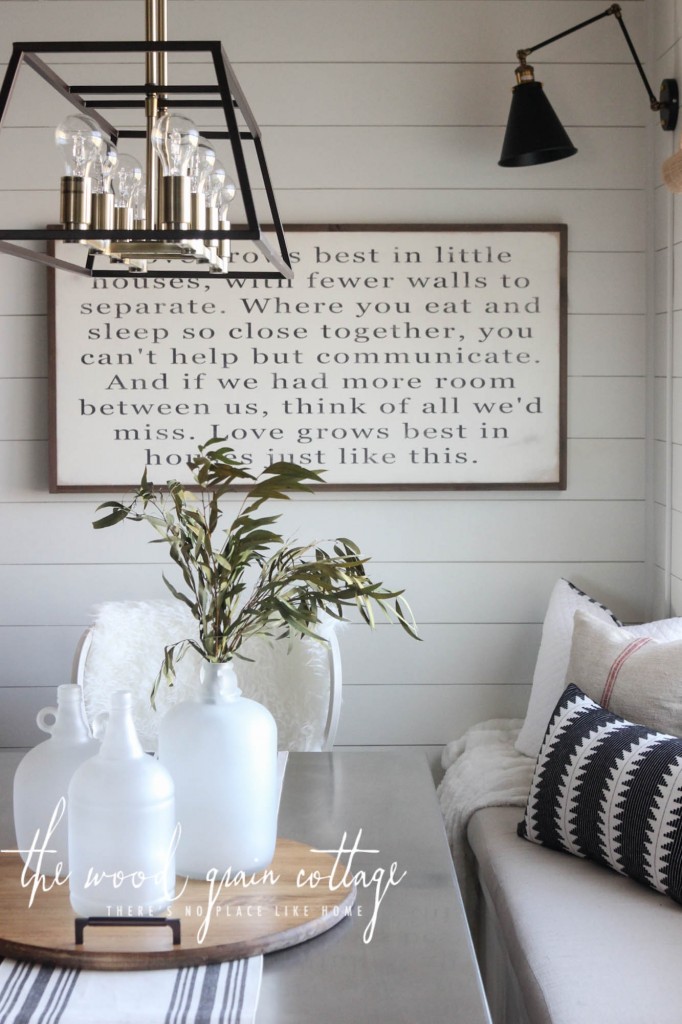 Lighting. It's important, so make sure to spend the extra time measuring the space to find one that fits the size and proportion of the room and furniture. And just know, it's an easy swap to make, so don't feel burdened by a light you hate just because you don't want to make the change. It's also easy to update over time, giving your home a fresh look!
You can see the room sources (so far) below!
And if anyone is interested in buying our old light fixture, shoot me an e-mail (shayna@www.thewoodgraincottage.com) and we can discuss pricing and shipping! Heaven knows I don't need another light to add to my pile! Ha!