Today I'm sharing a collection of my favorite traditional bathroom vanities. They each have such a beautiful, timeless look and I'm using them to inspire our bathroom designs.
With our new home build coming up, I've been searching and sourcing several things. And while we haven't broke ground yet, that doesn't mean it's too early to be searching for bathroom vanities for our new home.
In fact, right now is the perfect time to start finding those finishing elements! Not only does it help with the overall design of the space, but plumbing fixtures are one of the very first things to go in (especially wall faucets!), making it mandatory to know what type of bathroom vanity we'll be installing!
And while I know so many of us are in the process of building or remodeling our homes, I wanted to share several of my favorite vanity options!
Our new home is a single story, with a full unfinished basement. We will have three bedrooms (plus an office) on the main floor and three full bathrooms and a half bathroom for guests. That means I'm on the hunt for several bathroom vanities.
As I work on the design for our new home, I'm looking at everything with a traditional and timeless point of view. I want this home to age gracefully… and I want it to look like it's already been there for many, many years.
The bathroom vanities play an important role in telling the story and I've enjoyed finding different options that will do well in adding to our home.
My Favorite Traditional Bathroom Vanities
This collection of bathroom vanities includes those classic elements and I love that they each feel more like a piece of furniture than a cabinet. Several of them come in many different sizes too!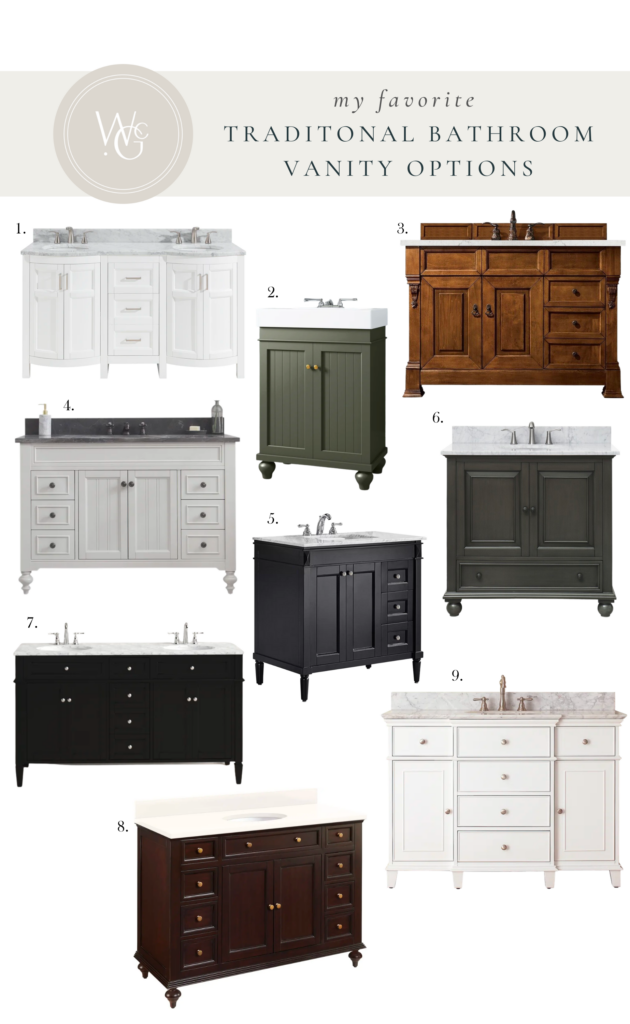 ---
Traditional Bathroom Vanities

---
I've been going back and forth between several of them and making room mood boards so I can see the entire big picture with all of the different elements we'll be incorporating! I'm looking forward to sharing more about those soon, but this is really where the beginning stage begins.
If you're on the hunt for a bathroom vanity, I hope one of these inspires you as much as they have me!