Alright, I admit it. I really love me a step stool. Big or small, tall or short, I just really love them. (Here's some proof: Stool 1, Stool 2, Stool 3!) So much in fact, that I currently have four sitting in our garage. I can't help myself. If I see one at a garage or estate sale, I practically hover over the thing until it ends up in the truck and on the way to our house.
And even though I don't ever want to admit it, at some point, I won't be able to use all of them. At some point. Luckily, we haven't reached it yet! 😀
Today, I'm showing off this lovely little mint step stool I had the honor of giving a mint-ey makeover…
My heart just skipped a beat at the huge amount of over all cute-ness this little lady is showing off! But, she didn't always shine…
When I found her at an estate sale a while back, I took one look at her and knew that while she didn't look all bright and happy, she had lived a very useful life. And part of me wanted to restore her to her former glory… But, we all know that the green was a bit too bright and loud for me, so I went with a little bit muted color… Savonnette. It's part of Maison Blanche's new La Chaux paint line, which is completely amazing!
Here's a few fun/ awesome facts about this great stuff!:
The new La Chaux paint line is a french lime paint that's a traditional Lime Paint made of pure European Lime mixed with natural pigments. The result is an eco- friendly, zero VOC paint product made with minimally processed natural ingredients that will allow you to turn your walls into a piece of art, or to paint furniture with stunning results. It's highly alkaline, so it is naturally resistant to fungus and mold as well as being antibacterial. That makes it ideal for bathrooms, kitchens, and children's rooms.
It's more textural than a chalk based paint. Lime paints have been used for over 7k years and even on the insides of the pyramids. This is a very traditional European product. It gives you the look of multiple layers of paint with only one coat.
—
And seriously, I can totally testify on the look of multiple layers of paint with only one coat thing. Here's how I made this little stool look like it'd been painted several times…
First, I started by painting the stool with Cobblestone, one of Maison Blanche's regular vintage furniture paint colors…
Because the La Chaux paint has such a high PH balance, the paint needs to have a mineral or acid primer first, so I gave the piece a coat of the Cobblestone paint, which has a high amount of chalk, and acts like a primer…
Once that had dried, I gave the stool a thick coat of the La Chaux paint. A little bit went a looong way…
In order to get that big punch of texture once it's dry, it's best to apply the paint really thick in certain areas. And once I was done painting, I waited about 20 minutes. Then, I had a nice little mix of dry and wet paint areas…
To get that texture, I used a thick plastic card…
And with the card, I started dragging the wet paint over the dry paint…
That instantly changed the surface of the stool…
And, to add even more texture, I crumbled up a plastic grocery store bag…
And started rubbing/ buffing it all over the stool…
That really brought the texture to another level…
With that, I let the paint dry completely, then I grabbed my medium grit sanding block…
I started on the edges, and used the sanding block to reveal some of the original wood, green paint, and my Cobblestone undercoat….
Once I had it to where it looked like it had been naturally distressed over time, I dusted it off and buffed on a coat of the clear wax…
Then, to show off all that texture I created, I used the dark wax to fill in those little crevices. I just rubbed it into the areas I wanted…
Then went back over it with the clear wax to remove any dark wax from the actual surface…
It left me with the perfect little hints of dirt & grime that had collected over years of use! And with that, it was done and ready to use!
Honestly, I can't get enough of the color. It's faint, and soft, and has the perfect hint of mint…
I really wanted to keep it similar to the original green color, and it makes me happy to see the original color peeking though the mint…
And, I can't help but love the size and height of the stool…
Needless to say, I think she shines…
And I'm pretty sure she's ready for her new adventure…
And don't forget to stop by the other lovely ladies and see what they created with their La Chaux paint… I can't wait to see!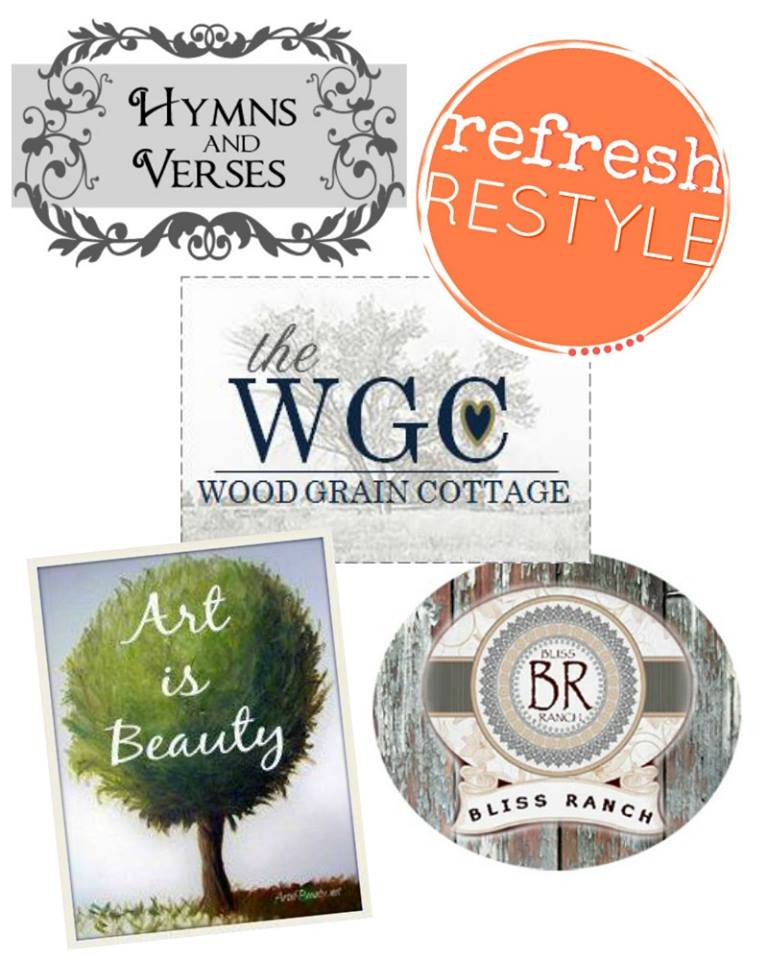 Doreen from Hymns and Verses
Refresh Restyle with Debbie
Karin of Art is Beauty
Bliss at Bliss Ranch
And Shannon from Fox Hollow Cottage
And for a bit more detail about the paint (and step by step instructions), you can check out Maison Blanche's You Tube Channel. There's lots of great information and tutorials. To buy the paint, see the list of retailers here.
Happy Painting! 😀

P.S.- I received product and/or compensation for reviewing Maison Blanche Paint Company products. However, all opinions about their paint, finishing products and this cute mint step stool are my own! For my full disclosure policy, click here.