Bedrooms need storage, and there's no better way to add that than by converting a dresser into a night stand. It offers more storage space, all while giving the flexibility of size, shape, and form to match your decor style. See how I transformed our master bedroom dresser into a night stand…
One thing I've really noticed about our bedroom, is the lack of storage. Our closet is connected to our master bathroom, and while that's great, and all our clothes fit perfectly, we don't really have any storage for other items. We had two small night stands, and a dresser that was not being properly used. Right after I gave our new night stand a makeover, I realized just how much we really needed it. Anthony finally had a place to set something. That gave me so much motivation to finish the night stand for my side of the bed.
I like to read. I like magazines. And I like to lather with lotion before bed. All of these things didn't really work with my other nightstand. I didn't have room for each of them, so I stacked books, magazines, and a little bottle of lotion on top of my tiny nightstand. And sometimes it would topple over. Insert frustration. It was time to find a new solution. Enter in this lovely empire dresser.
This beauty is another estate sale find, but it wasn't always so pretty….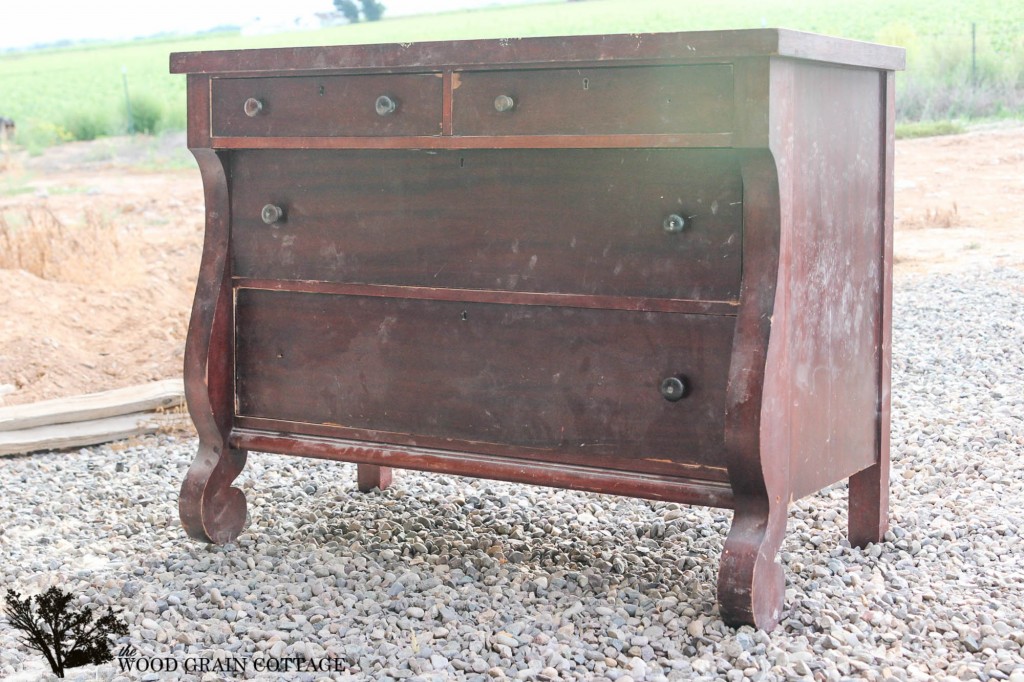 I can honestly say, this dress was a total labor of love. The drawers were falling apart, so Anthony fixed them by replacing some of the wood, it was a little rickety, so we secured it, and sanding down the top was completely brutal. Because the dresser was previously stained and finished in red, I had the hardest time removing the red tint. I sanded, and sanded, and sanded, and sanded, and sanded, and sanded…. and sanded some more. I was about to give up and paint the entire dresser, but I finally broke down the finish…
Happy. Day. This was by far the most stubborn dresser I have fixed up. It didn't want to change, but I coaxed it along. It's not even recognizable…
I have loved (LOVED) the storage. What a total game changer for my side of the bed. And since this dresser replaced my nightstand, and the other small dresser that wasn't really doing much, our bedroom looks so much better…
I was able to move in a chair, and make a cute little reading nook in this corner…
For balance, I used the same color scheme as the other night stand. This dresser is considerably bigger, but the color blends the two making the room seem symmetrical. And I love the knobs I picked up at Hobby Lobby…
I can't wait to keep making progress! The next step involves us going to IKEA, which means a little road trip. I'm hoping we can make the trip in the next few weeks. And since our master bathroom is getting gutted next Monday (read more about that, here), we have some time before we can start putting this part of the house back together.
I'm looking forward to the next few projects, so stay tuned on this makeover! 😀