I've been spending a bit of time focusing on our living room… It's one of the only rooms in the house I haven't spent much time on, which is why you haven't seen much of it. And it's kind of funny considering it's the first room you see when you walk thru our front door.
I have big plans for this room… but first I wanted to do a little furniture switchero. I was craving a bit of change and there's no better way to achieve that than switching and moving furniture around.
We've had this lovely shelving since we got married, 4 years ago. I picked it up on clearance at Hobby Lobby and I've been in love with it ever since. Since we've lived in this house, it's only been in the office… but I really wanted to see how it would look in the living room.
Pretty much perfect!
And I had waay to much fun taking things from other rooms and raiding my closet stash to style the shelving.
And I scored big time with the round silver serving plate… there it was just sitting on the shelf in a consignment store…
I love the hammered detail and the engraved flowers…
And this adorable little globe was another big estate sale score! The chicken wire basket adds a lovely bit of extra texture too!
It fits perfectly in this little corner…
And I'm big time smitten with how my $3 thrift store chair looks with everything.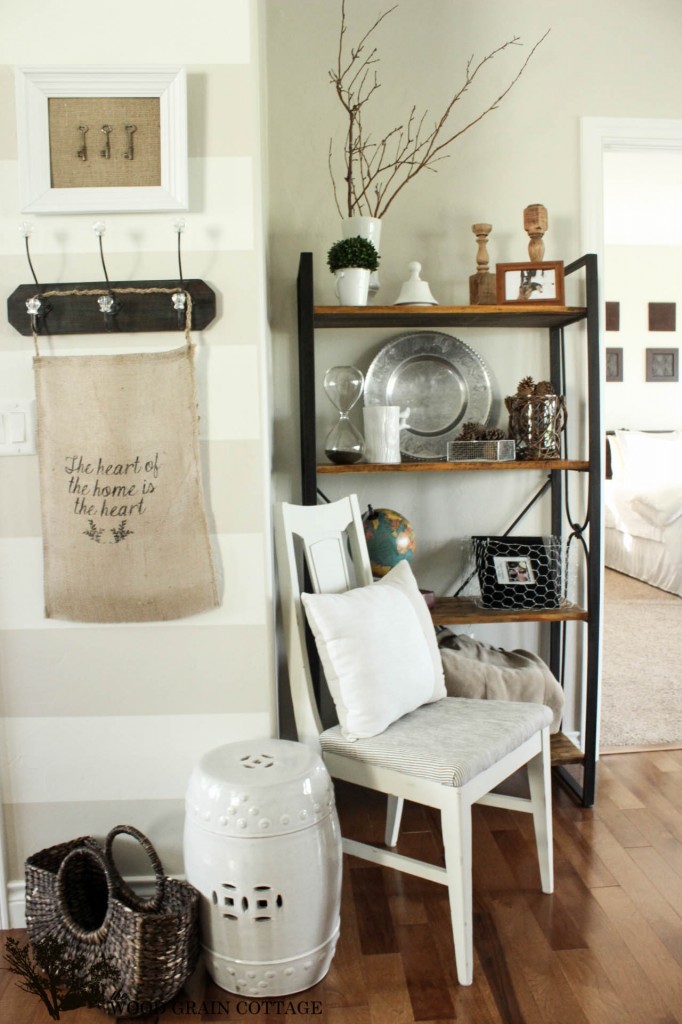 It's completely different from before… and I love everything about it! Especially since I can change it up frequently and seasonally!
Just a little furniture switchero…
Before:
And now:
Even though I loved the secretary in the entry way, I must admit I'm loving the new change!
And don't worry, the secretary is totally happy in the office! I know you were worried! 😉

Linking up to: