We get to check another big item off of our laundry room to- do list today: the plank wall!
I've wanted this to be done for sooo long. And just like every project we've done in the laundry room, this isn't just for looks.
It has a very serious role: hiding our builders sloppy work.
I mentioned it before, but the laundry room was the last room to be finished before we moved in. Because of few big timing issues, our builders had to get the laundry room done super fast. Needless to say, it got a bit sloppy in a few areas. They also didn't completely understand what I was asking them to do, so it all turned out a bit wonky.
By the end of the building process I was too tired to argue. That, and we were so short on time they had to be finished and gone. I knew it wasn't even close to what I had hoped it would look like, but I was over. it. and knew that we could fix it later.
Here's what it looks like today: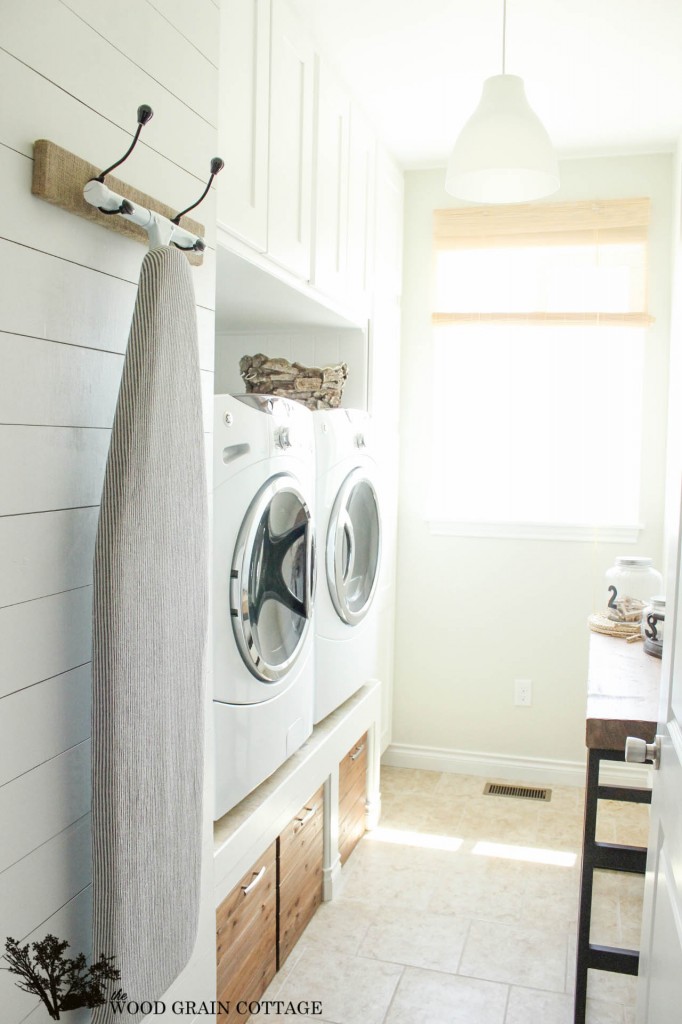 ….sigh….
All that hard work is paying off!
We used the same method as the breakfast nook wall to install the planks, but started at the bottom instead of the top. Not sure why, we just did. Call us rebels!
Once the wall was done, Anthony installed the planking on the pedestal.
This was the main reason for the entire project:
I might have jumped up and down with excitement to have it disappear! No, crumbling grout I won't miss you. Buh- Bye!
Once I had all the holes filled, sanded and wiped down, I painted the entire wall Super White by Benjamin Moore. It's such a nice bright white.
I couldn't be any happier with the results.
Our laundry room crates truly shine against it.
And my hanging ironing board rack and ironing board cover have never looked better!
And… that hideous crumbling grout is gone!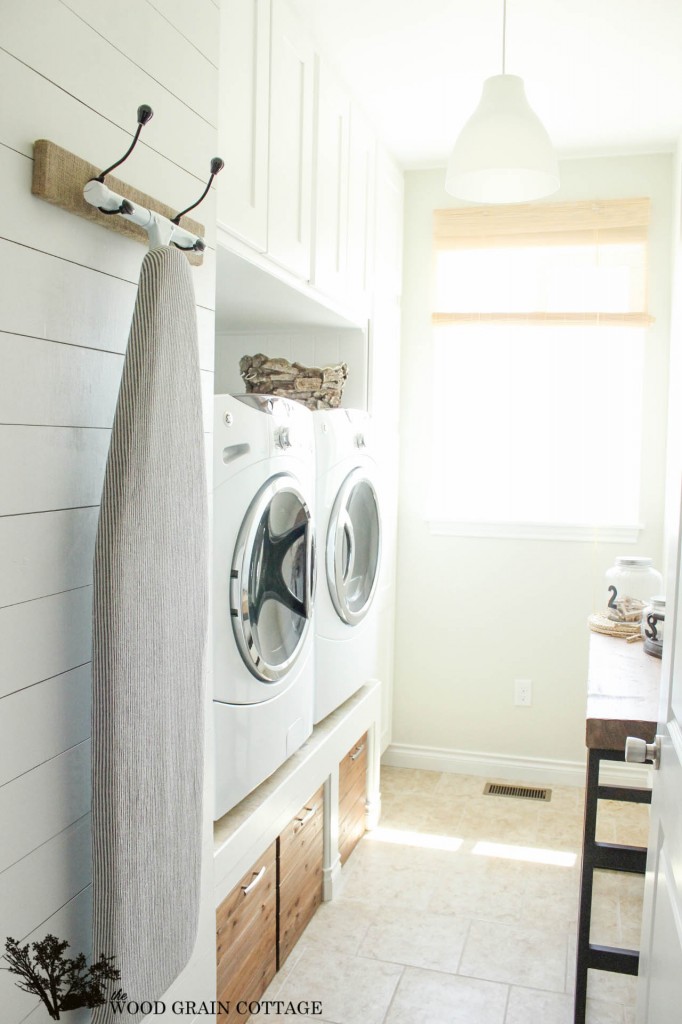 We still have a few pieces of quarter round to install at the top of the wall, but it's basically done.
All that's left now is the cabinet hardware, a new light and all the finishing touches.
I can't wait to have this room done!

Linking up to: