Cushions are expensive. Like, whoa!, really expensive. When I was searching for a patio set, I knew a chunk of money would need to be spent on cushions. Then, our dishwasher went out, and any money I had for cushions and a patio set went with it.
But when I found our set on Craiglist, I knew I could make it work. Have you seen the before pictures?? Yikes.
After I got the set home, I was motivated to get the furniture repainted and reupholstered, so I started looking around at outdoor fabric. Yikes, and double yikes. The fabric alone was half the cost of a brand new patio set. I was so torn with what to do.
Then, I remembered the potential of drop cloths.
But, instead of buying the drop cloths right away, I decided to do a Pinterest and Google search on the best way to protect and maintain outdoor fabric. I'm not sure if you've ever searched that, but finding a really good tutorial, or info, is pretty limited. I searched the best products to use to water proof the fabric, what to do for washing, and wear, etc.. It's like crickets out there. (Chirp, Chirp.)
So, I went along with the limited info I found, not entirely sure what to expect. Here's what I did to protect the cushions, and to give them a longer life…
My one strike of luck? The foam of the existing cushions was in great shape. The fabric, not so much, but the foam, YES! With it being from the 70's, I knew I was lucky. And that, was my first way to save a bit of money.
Some of the products I'm sharing in this post have affiliate links… thank you so much for helping support this blog!
My second bit of luck, was the actual drop cloth fabric. I bought it here. I can honestly tell you, this fabric is lovely. It's the perfect cream color, and you would never know it's drop cloth! It looks more like thick, cream canvas.
Third, my lovely lady who did the actual re-upholstery was nice enough to reuse the zippers from the original cushion covers. She saved me some money, just by using what was there. And it helps the zippers were in great shape.
Now, for the fabric. Before I took it to the upholsterer, and because I have every intention of washing these covers, I washed and dried the fabric. She was nice enough to iron it with her heavy duty iron before she cut it. I really can't brag on her enough. She does amazing work.
After I picked up the cushions, (Yes, I spent a bit of money for her to do them. In my humble opinion, it was well worth it! And if I were to do it, they wouldn't be done yet…) I brought them home and picked a day when I knew the weather was going to be good for a few days. Then, I laid the cushions on the grass…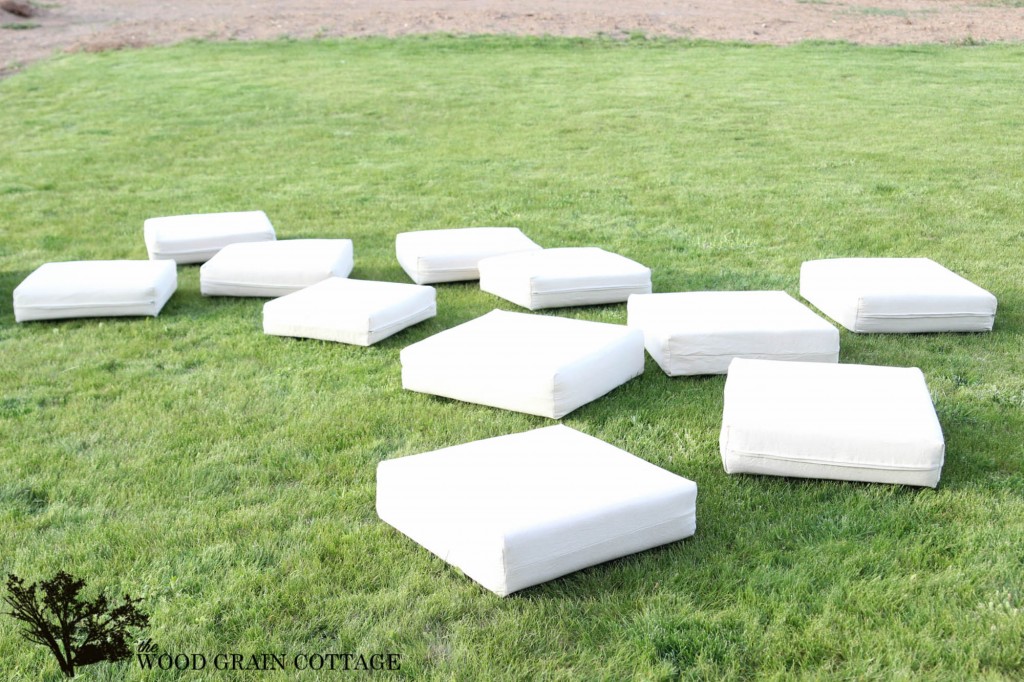 After researching several spray options, I used this fabric protector/ repellent, and sprayed it over the entire front, back and sides of each cushion…
I was a bit worried it would turn the fabric a different or darker color, but it didn't. After it dried, I couldn't tell where I had sprayed, and where I hadn't. I went over each cushion twice, and let them dry a few hours in between coats. And just for usage measurement, I used about 3-4 cans for 11 cushions.
I can honestly say, I had no idea what to expect from doing this. From what I read online, some people had great results, others said it was a waste of time and money… It has exceeded my expectations!
Our sprinklers do mist the couch cushions, and water just beads and runs off…
The fabric isn't crazy expensive either, so I don't worry so much about them getting a little wet. Soaked, yes. But that's just as a precaution, I'm sure they would be fine, and dry without any problems.
So far, they have held up great, and we've had them outside for over a month. I am planning to purchase a giant waterproof bag to store them in until I figure out whether I want to buy, or build a deck box for storage. Right now, I'm just packing them in and out when the weather gets angry. And really, it's not that hard for me to just pull them inside, then put them back.
I'm also really looking forward to seeing how the fabric does with the sun exposure. It's a heavy, thick fabric, so I have good expectations. Plus, it's already a light color, so if the sun bleaches them, I won't stew over it. And when they get dirty, they'll go right in the wash. After they are washed and dried, I'm sure I will need to reapply the water repellent. No biggie.
Now, for the other concerns about the furniture not lasting, or standing up to the weather and outdoor elements: I am anxious to see how it does. With that being said, I do have high expectations. Yes, the wood is not specific for the outdoors, but every inch of the wood has been painted (literally), so it should stand up just fine. When I start to notice any chipping/ warping/ etc., we'll deal with it then. I can say, that since the majority of the furniture was made with normal 2″ x 4″ boards, they will be easy to replace as needed. Touch up painting is normal maintenance with any paint, and with anything, so I'm not worried about that either. If I only get a a few seasons out of it, that's totally fine, although I do see it lasting longer than that. Especially since I will be babying it bit, and checking it regularly to see how it's holding up.
For our needs, location, specifications and budget, this set has been ideal in nearly every way. I am so beyond happy to have found it!
I hope this has helped with any questions, and if you decide to go the same route, or have done this, I'd love to hear any tips, tricks, failures, etc.. We're all in this together, right?