I've always loved signs, there's just something about them! They can be playful or sincere, funny or serious. Either way, they can be completely personalized. I love that! I've made a few signs, see here, here and here for proof, but today I'm sharing another method of how you can make one!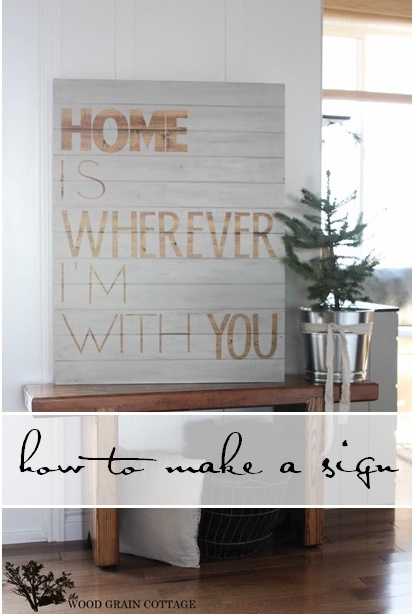 I started with a large blank sign. Anthony made it just like this one. Then, we measured and drew lines to keep our wording straight…
I picked out the saying, Home Is Wherever I'm With You, and cut each of the letters out of vinyl with my Silhouette machine…
Once they were all cut out, I just kept lining them up and pressing them onto the frame…
For the first coat, I did a white wash with the paint, which is that lovely primitive color from DecoArt. I'd start by dipping my brush in the paint, then dipping it into a bit of water….
After it dried, I was left with a semi- transparent finish.
Then, I added another coat of the white wash finish….
Once I had the finish and variance that I wanted, I used a razor blade to help lift up the vinyl letters….
And waited until everything was dry before I sanded it down…
Then I wiped the entire thing down with clear creme wax…
I went over the top of that with a light coat of the deep brown creme wax…
In the areas that I had too much brown wax…
I just applied more clear wax…
I'm so happy with how it turned out!
And you all know how I feel about the lovely primitive color and stained wood…
The simplicity of the fonts are another favorite of mine…
And a little distressing makes everything better…
But most importantly, Home is Wherever I'm With You (Anthony)!
Enjoy your family these next few days… they're the best gift of all!
You can find the new Chalky Finish paint online at Home Depot!
*This was a sponsored post by DecoArt. However, all opinions about the new Chalky Finish paint and this large sign are my own! For my full disclosure policy, click here.