In the beginning, the thought of filling a 10 x 20 booth at The Vintage Whites Market frightened me a bit. Would be have enough items to sell, or would we have an empty booth with barely enough items to sit on furniture?
And then the other night when Anthony and I set the temporary walls up, and started bringing in all the items we've built, furniture I've redone, and items I've bought to sell, I quickly started realizing our booth was going to be full. Yowza, we have a lot of stuff. So much stuff, that I'm wondering how in the world we're going to be able to haul it all over, and have a booth that people can actually walk through. Y'all, there's bunches of things to look at and buy!
Back in the early stages of planning, I knew I wanted to not only have dressers and a table, but I wanted to have a few wing back chairs too. Chairs that were re-upholstered with European grain sacks. Be still my heart, those things are beautiful! And, I'm happy to say we will for sure have two of the chairs there, if not three, depending on room!
The two wing back chairs are identical. They're twins. And gorgeous.
I decided to have a professional do all the re-upholstering, so needless to say, the quality is excellent. She does fabulous work!
And to go with the chairs, I've added a whole bunch of new pillows. I am so happy with how they turned out!
There's the, "Home Sweet Home", like the one I made for us…

A Sweet Tea pillow that makes me smile every time I see it….
A "How Great Though Art" pillow, one of my absolute favorites…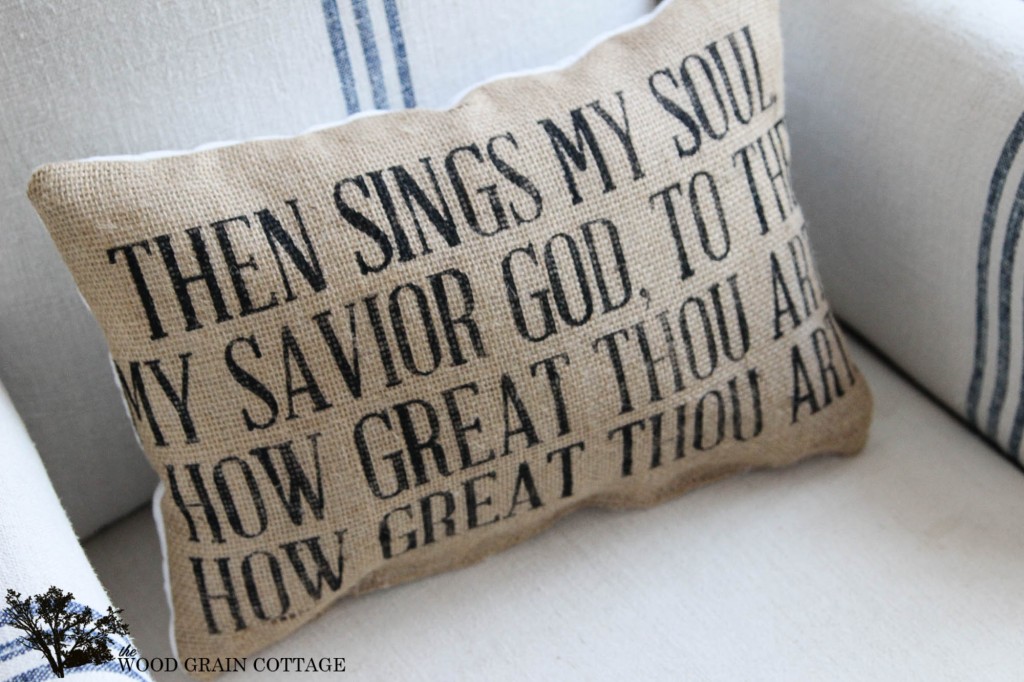 Burlap coffee bag pillows…
With a quilted fabric backing…
And lots of original- to- the- bag character…
We'll also be selling several kitchen towels that are just like mine. I get so many e-mails about them, so I decided to bring a few to sell. New, of course.
Then, there's a bunch of ribbon, wood bowls, boxwood wreaths (several sizes), and this amazing letter organizer…
The wood carved details are absolutely gorgeous…
That one will be a hard one to sell. It's beautiful. And, imagine my surprise when I stumbled into similar wood carved napkin rings… Oh man!
And, there will be other finds here and there that you often see throughout my house and decorating…
Metal pitchers, metal trays, wood bowls, and these copper salt and pepper shakers. They are lovely.
And, I'll also be selling some of my burlap placemats! I love mine, so I thought it would be fun to sell a few sets of them! Just like mine, there will be the "Mind Your Manners Set"…
But, I decided to make a new grouping that has "fun" written all over them! We have…
Cheese to my macaroni…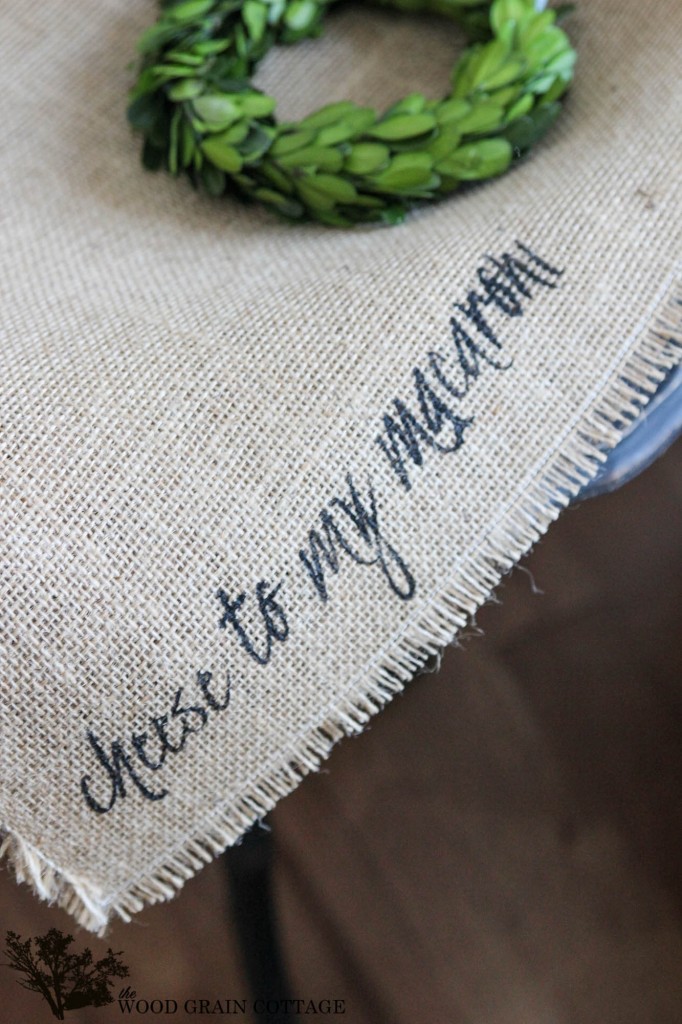 Two peas in a pod…
Sweet as pie…
And, butter my biscuit!
I love them! They're happy and perfectly "home-y"!
OH, I've also found some cute blankets, and other vintage linens that we'll be selling too. I just love this white, fluffy, crocheted blanket…
And that, is just a small taste of what we will be bringing. I haven't touched on the furniture, handmade items by Anthony, or the other bits and pieces that I've gathered up!
Now, the challenge will be fitting it all into the truck and trailer. There might just be enough room for our suitcase. 😀
P.S. If you are planning on going to the Market this coming weekend, January 9th & 10th, be sure to join the group Facebook page. It's full of great info, market details & more!