Sometimes I have trouble finding the right words for a post. I sit at my computer typing, deleting, and retyping. I try to share myself, the actual me, while still preserving a bit to keep myself private. It's a struggle. And in those moments when I want to curl up and keep myself private, I know that it's not fair. This blog wouldn't be even remotely successful if you, my reader, didn't stop by to catch up and read my latest post. We're friends. And I'm so very grateful for that.
So, one of my goals in 2015 is to share a bit more of myself. It's time.
But, back to my loss of descriptive words for today's post. I love aprons, and that seems very minor compared to how I really feel about them. They are "home" all wrapped up in a pretty fabric hanging on a hook in the kitchen. They make me want to bake, to serve homemade food, and to spend time in the kitchen enjoying one of the most simple and precious things we could do. Providing food for those we love is a beautiful thing.
And that's why I decided to design some of my own aprons. I'll be selling them at The Vintage Whites Market next weekend (Jan. 9th & 10).
There's so much of me wrapped up in them, that I tend to get a bit gushy. I spent days, weeks and many, many hours going over every small detail. And even though I can sew, I chose to hire a very sweet lady to do all the sewing for me. She was an absolute dream to work with and I look forward to making more!
I think we all know how much I love, love, love, grain sacks, so it was an easy choice when it came time for fabric selection…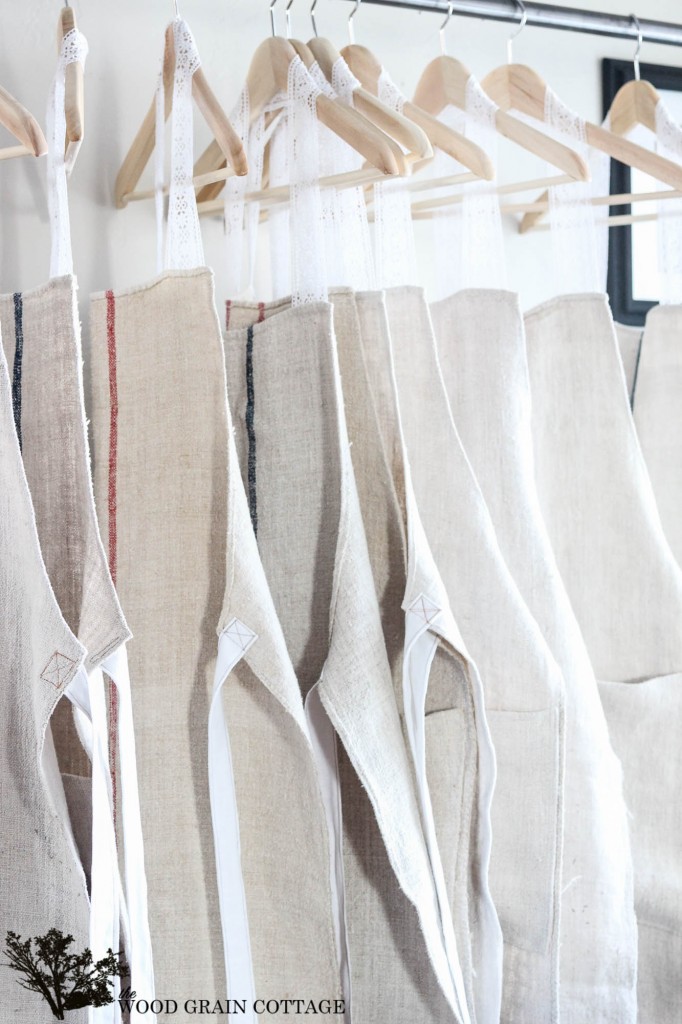 And no two aprons are the same… That's one of my favorite things about them.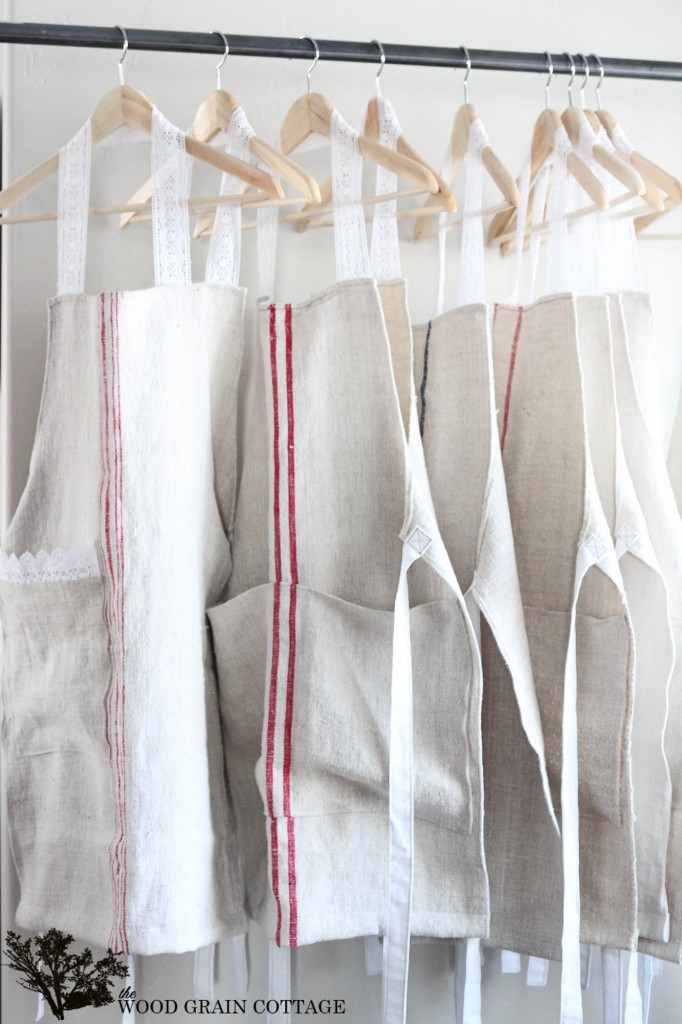 They're raw and touched and used. They have stains, imperfections, writing, and… they're beautiful…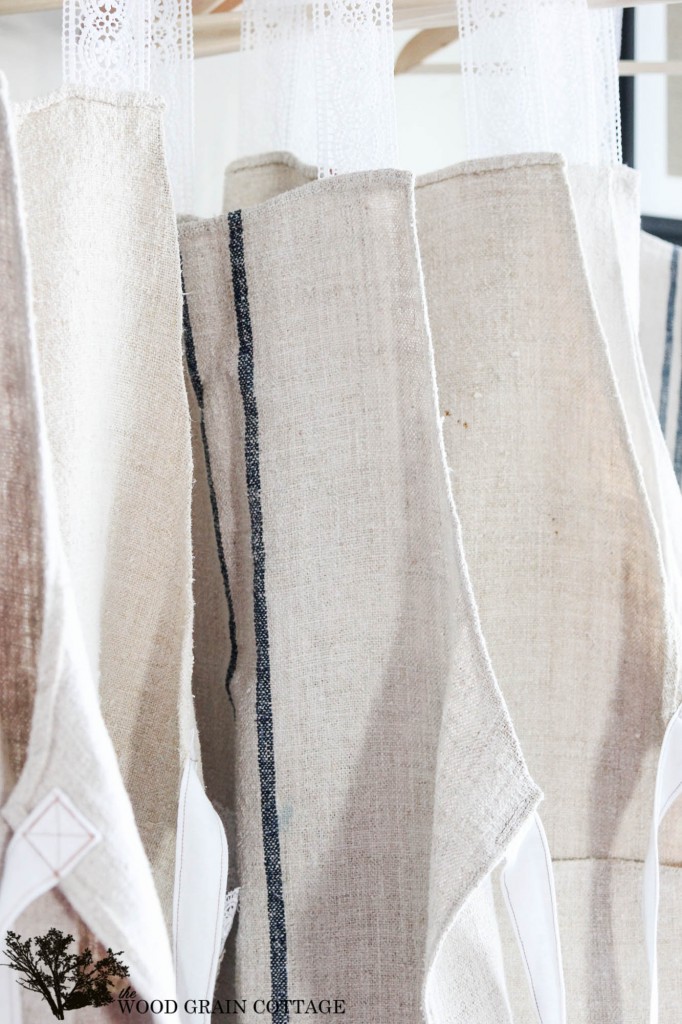 And because I really wanted them to have a feminine feel, I added lace to the neck strap and to the top of one of the pockets…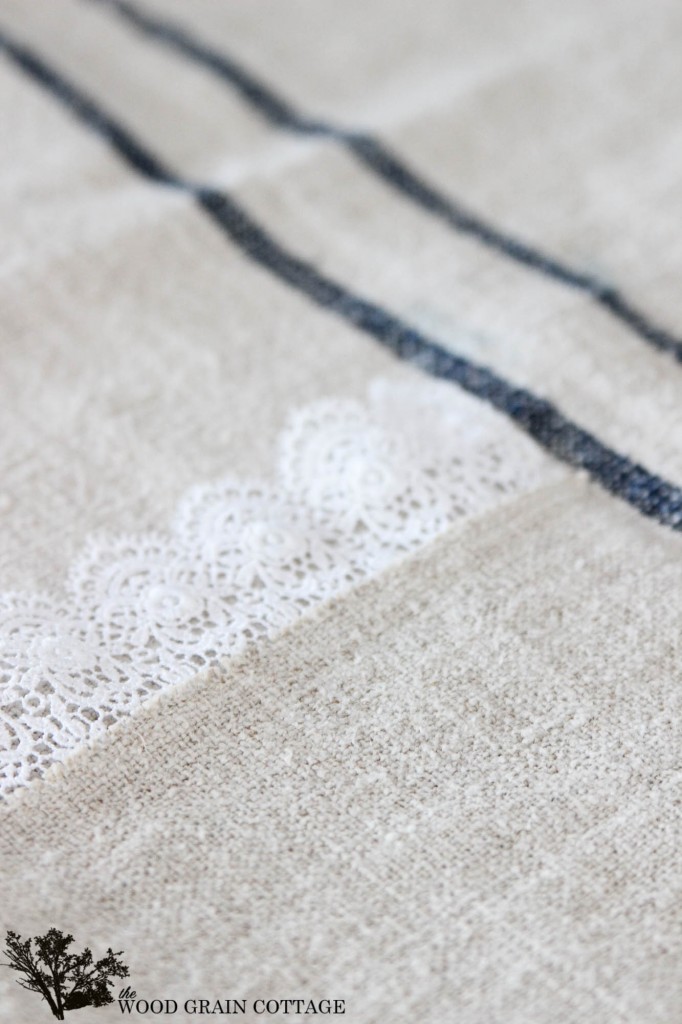 Some of the aprons have one large pocket topped with lace…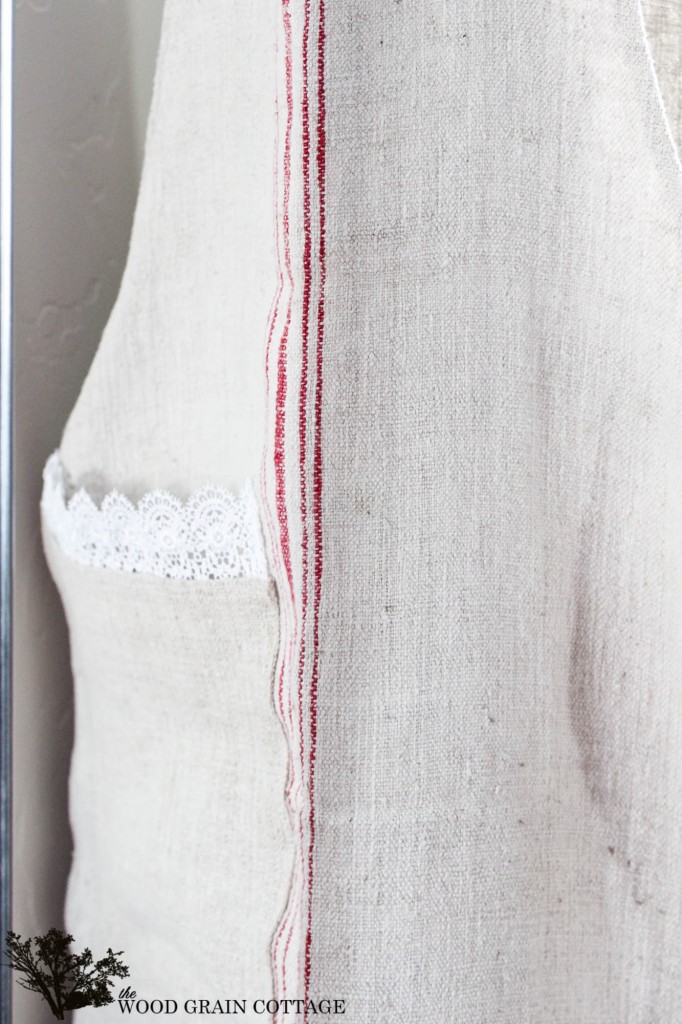 While others have two large pockets that run the full width of the apron…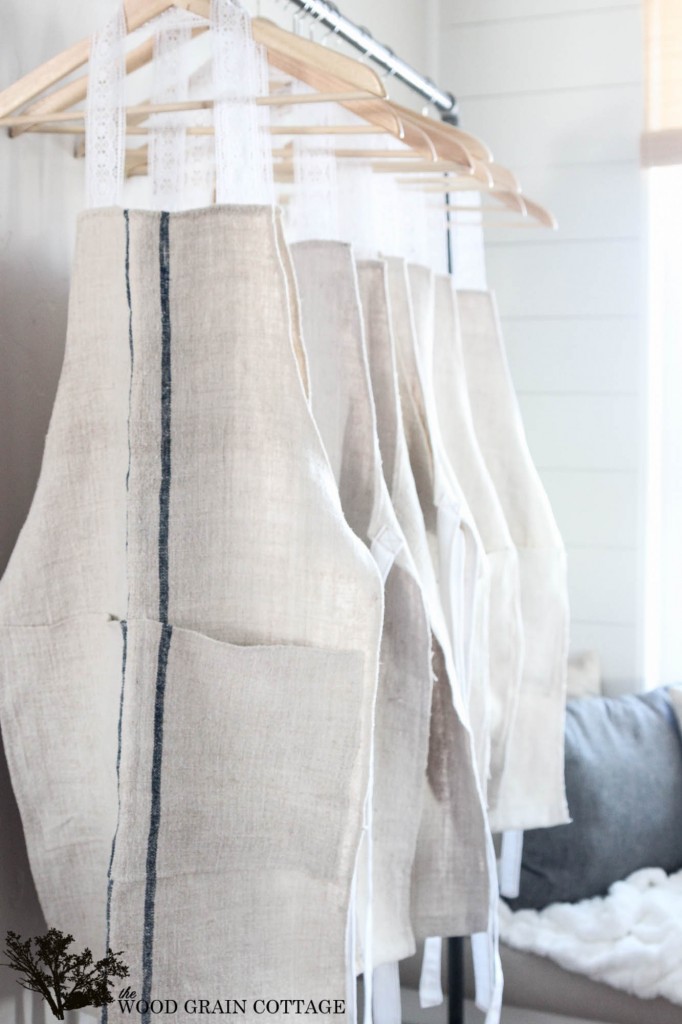 And for display at the market, Anthony and I made this rolling rack…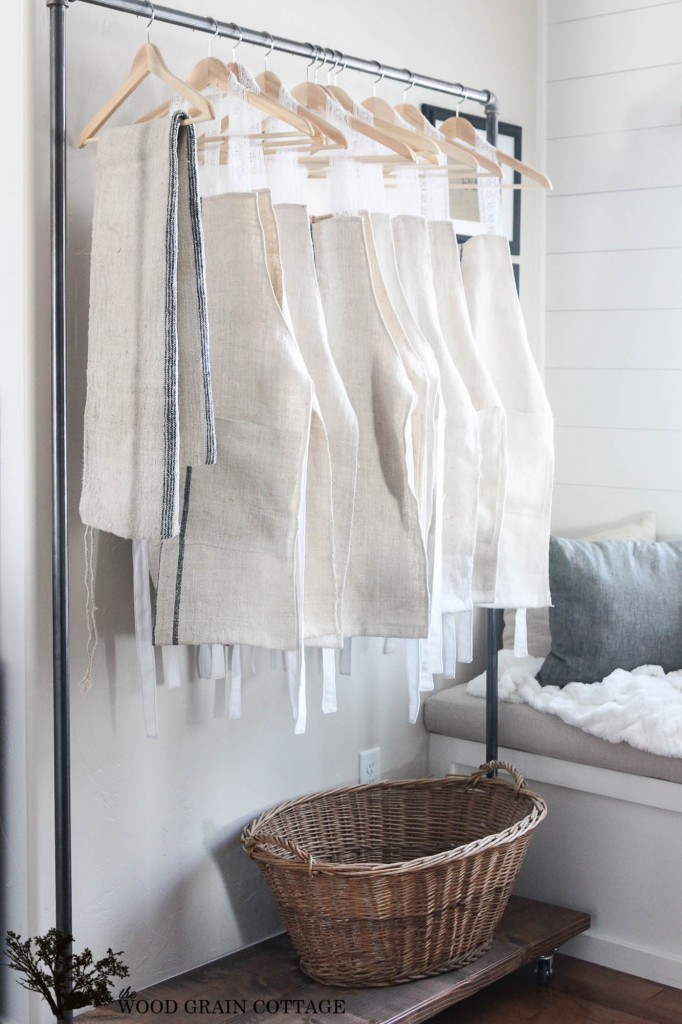 That's been a fun part of this process too. Bouncing ideas off of each other, all while keeping everything cohesive and true to us. Our "brand" keeps growing, and that's very exciting!
And, just in case you're wondering, here's an idea of how they fit… They hit just above the knee and have crisp white linen ties to keep the waist in place.
I love the classic cut of the apron, the variations in stripe patterns and textures of the actual grain sacks. Like I mentioned above, some of them have stains, flaws, and imperfections, but don't we all?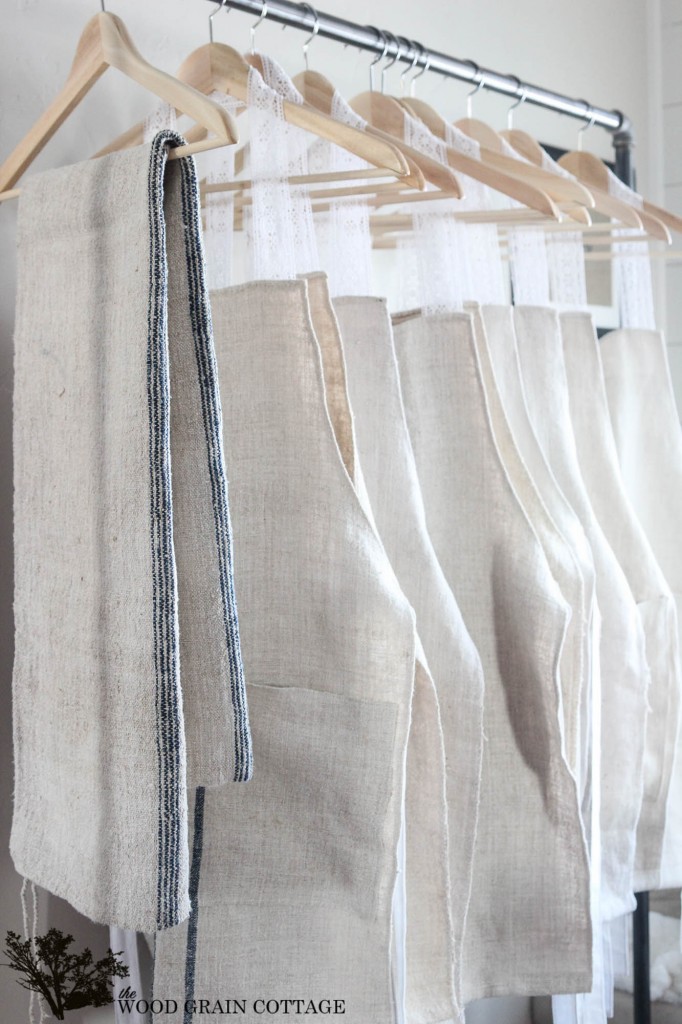 I also used as much of the original grain sack as possible, leaving the original seams untouched. And for the few scraps of material that was left, well, let's just say they didn't go to waste. More on that later. 😀
I hope you love these grain sack aprons as much as I do!