I've been working on several projects lately, and while some of them are close to being done, none of them actually are…. I had big plans to show you something new in the laundry room today, but it didn't happen.
So instead, I'm veering off course and showing you our pretty little garden shed…. HA! What a laugh!
You see, we have this sad, sad, sad little garden shed. It was on the property when we bought it, and I think it's safe to say that it hasn't seen a coat of paint in yeeaarrss.
See what I don't show you?
Ya… You're not missing much!
But the good news is, I have big plans for it!
Here are some of my favorite garden sheds, all of which have given me an extra jolt of inspiration!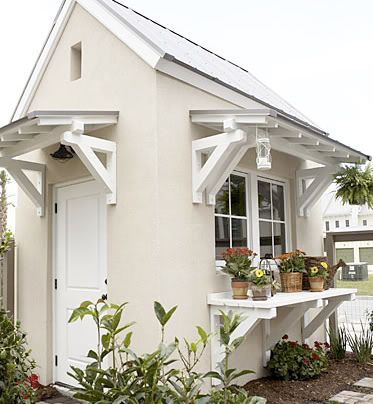 Source
Source
Source
Source
Aren't they pretty? There's hope for our little shed after all!
Now I just need to pick the paint colors and decide if it's going to match our house or be daringly different. Ha! And, I'm pretty sure paint isn't the only thing I'll need.
Let's just add a new roof and trim to my list….
Here's to transforming our garden shed… wish me luck!