Here's my take on what I'd do differently, keep the same, or change with the Fixer Upper. Now that it's complete (and UNDER CONTRACT), I've had some time to look back on each area of the flip. Today, I'm sharing my opinion on all of it.
First, I know several of you have asked about the financial side of it, especially since it took us quite a while to finish it. Albeit, must of the work was done, and we were just waiting on the few things that needed to be finished before putting the For Sale sign in the yard.
We bought the house with cash, and did all the renovations with cash, so there wasn't as much of a nagging push to get it sold in a month. If we would have had a mortgage payment on it, that would have changed the entire dynamic of the flip. Yes, it will feel amazing to get all the money back (& more) on closing day, but I'm not overly worries about the length in time.
Now, as I mentioned above, the house is UNDER CONTRACT!!! We had it listed for less than 24 hours and had a full price offer. My heart went crazy. Apart from the other homes we've redone and actually lived in, this was the first house I've designed with the intention of selling it as soon as it was completed. I am so extremely humbled to have someone else love it as much as I do. We're set to close in August, and we've already been through inspection. The next hurdle in our list of contract deadlines, is the appraisal. Until we get over that, I will still be a little on edge. But, I certainly don't expect any problems.
Structurally with the house, we did have a few issues with the foundation. They were nothing major, and just ended up being that it needed more support on the joists. They were stretched as far as possible, which was causing problems with a bit of dipping on the interior. Once we added the additional support under the house, everything evened up.
If this is something you are considering, I would highly recommend an inspection before purchasing a fixer upper of your own. Knowing what's wrong with a house before investing in it is crucial.
So, now that we know what it took, would we still purchase the house all over again? YES! We have a deep level of knowledge when it comes to homes, and what we don't know, we have the resources around us to ask.
Plumbing: All the plumbing had to be upgraded, and since we changed the floor plan, and added another bathroom, and moved the location of plumbing items in the hall bathroom, this entire house has brand new plumbing. We also added exterior faucet connections, as there weren't any.
Would we do it again? YES! It did take a little bit of our budget, but we couldn't have not done it. It was essential.
Electrical: Just like the plumbing, all the electrical was upgraded to code. Since we did such a hefty gut job, we were required by the State of Colorado to bring the house up to the current code. Plus, the house had some wonky details that were clearly added by the previous owner. The bedrooms were limited with outlets, and the house was way too dark.
Would we do it again? YES! It took some of our budget, but we knew to expect it. My piece of advice? Know what you want before you meet with your electrician. If there's anything you want to add in addition to code, spell it out, and plan, plan plan!
Heating & Cooling: To cool the entire house, there was one measly window A/C unit in the living room window. To heat the house, there was a newer heater in the living room, and the furnace had been updated several years ago. BUT, we decided to get the most bang out of our buck by installing central air throughout the entire house. Our only other option to install was a swamp cooler, which definitely has its drawbacks, especially since we'd be using that to cool the entire house in a new flip. I wasn't crazy on it, but was definitely considering it until I found out the cost would be just about the same as upgrading the system for central air. Decision made.
Would we do it again? Absolutely! Not only does it make the house feel so much better inside, but that's a HUGE perk to buying the house. Central air is better all around.
Taking the house from 3 bedrooms to 2: Originally, the house had three bedrooms. While that's great for this small of a house, the third bedroom wasn't really useful. I'm sure someone could have fit a desk in there and called it an office, but I thought the space could be much better used. And since the house only had one bathroom, what's better than having a true master suite with a large bathroom? Having knowledge in real estate (I was thisclose to getting my license!), we decided to remove the third bedroom and use the space to create a great master bedroom.
Was it worth it? Absolutely! Now, the house has two bathrooms, and the master bedroom has it's own private bathroom. And, bonus, now a master closet, which couldn't have happened before. All around, it was a wonderful choice, and adds SO MUCH to the house.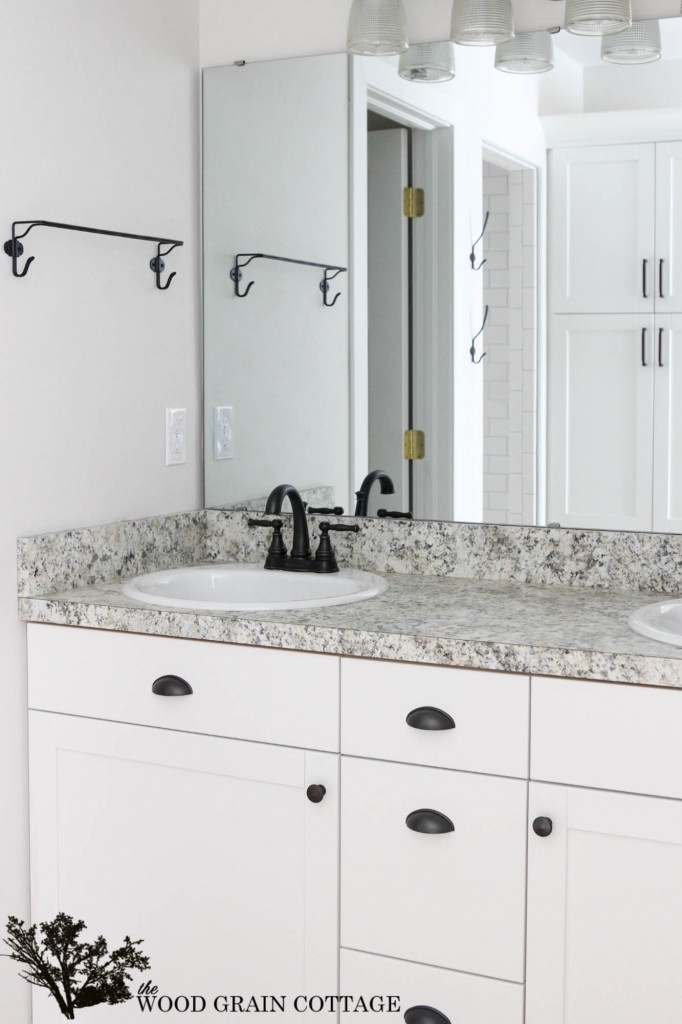 Tearing down the house to the studs: The house is old. It has/ had lathe and plaster walls. They were cracking and chipping off in several areas, which the previous owner tried to fix by covering up with wallpaper. The house had zero insulation in the exterior walls and ceiling. It all needed help, and we're really not the type to slap a bandaide onto a problem that will surface again. Not only will it look bad on us, it was an easy fix to correct since some walls were being moved, removed, or added. We also knew the new owner would appreciate the insulation.
Would we do it again? Yes, most likely. It was an extra expense in labor to have all the lathe and plaster removed from the exterior walls. And it was a very messy job, but we couldn't cut that corner once we saw how much insulation the house was lacking!
Basement Dug Out Rejuvenation: I never really shared too much of this process. It wasn't anything all that exciting, but we knew the basement space (which really only houses the furnace) would be something a potential buyer would look at. And the house was a hot mess underneath. In the spirit of cleaning everything up, we decided to have a cinder block wall added around the furnace, making the damp dark, and really ugly dirt walls look much better. It completely cleaned up the entire space.
Was it worth it? YES! A little bit of labor and material made the entire space much better! Now, it looks nice, and not something that could be a problem.
Landscaping: Boy. This house had really been neglected and there were so many weird things in the backyard. Random kitchen sinks, which I think were representation of an outdoor potting station, a very oddly placed storage shed with an addition, and a bunch of things that needed to be cleaned up and tidy. We had a ton of gravel brought in to lay over the driveway, and outdoor area by the deck. I wanted to do so much more, and we had plans to do it if the budget allowed at the end. Sadly, after spending a good chunk in the plumbing, electrical, and heating and cooling, we decided to see if it would be an issue. The house does have a sprinkler system, so that's a perk. The yard was definitely dead, and all the bushes, trees and flowers were long gone. With that said, we did have all the alive trees trimmed, dead ones cut down, and a section of the chain link fence removed for access to the front yard. We were on the brink of planting the grass, and adding some lattice to a section of the backyard, but decided to see how it panned out on the market.
Should we have done it? PROBABLY! The house would have looked amazing and completely finished, but it came down to time. The house was technically finished, and we thought, "let's see what it does on the market". Little did I know we'd be getting an offer in 24 hours. I guess it's not something we needed to worry about, but it would have been great to present a completed house. And it would have helped the neighbors too.
Roof: The house came with a very functional metal roof in great condition. The only draw back, was that it was baby blue. As much as I would have loved to swap it out with a different color, it really wouldn't have been worth it. Instead, I decided to embrace it and use colors that wouldn't make it obvious.
Was it worth it? YES! You don't even notice it when you pull up to the house. I'm glad we embraced it. Albeit, I did spend weeks picking out the exterior paint colors. There was no way it was going to clash.
Now, for the interior finishes:
Engineered hardwood, or…: We went back and forth on the flooring. Starting fresh meant we had several options. And the one I reaaaalllly wanted to do, was to refinish the original hardwood floors, which ran through the entire house. In the beginning, as we started tearing down walls, I thought it would work out perfectly. But as we really started gutting the house, I could see we weren't going to use them. There were entire sections in the house that were missing flooring, areas where previous walls had been, and some sections that needed replacement boards, which would have been work to track down. So, I went on the hunt for a flooring that fit in our budget. We didn't want something extravagant, or cheap. Cheap flooring, especially hardwood, is never a good idea and buyers would have knocked it hard. In the spirit of giving the house a clean, warm, and white with wood vibe, we decided to bump our budget up a bit, which put us in the right ballpark for a really nice, hand scrapped, engineered wood flooring.
Was it worth it? Absolutely! Like I mentioned above, flooring is a huge part of the house. Going cheap wouldn't have matched with anything else we were doing, and it would have been a really bad thing for us to do just to save a few hundred dollars.
Cabinets: I'll go right out there and say it: we didn't do the cheapest cabinets. We ordered them white, soft close doors, soft close drawers, and dove tail construction. We also had them professionally installed, which is a great thing to do if you have a lot of extra, odd things, which we did, especially in the laundry room. We did, however, save money on the door style (which I love), and the type of wood. Because I wanted them white, that allowed us to choose a cheaper wood, which ended up being Maple. We added a bunch more cabinets than what the house originally started with. They look amazing, and provide a few things. 1. They are clean, crisp and very much in style. You want to open them, which makes the soft close doors & drawers a big feature, especially to a buyer. 2. They add so much storage. And to a small house without much room, that's a big deal. You feel like the house is much bigger, just because of the cabinet space.
Would we do the same thing again? YES! The cabinets are one of my very favorite things about the house. They grab your attention in every room, and they make you really appreciate the house and storage.
Kitchen Island: When we gutted the kitchen, we completely changed the layout. Truly, the original space was big and gave plenty of room to add additional cabinets, but it needed some major modifications. We moved the fridge and stove, which really made room for a kitchen island. Not only did it provide great extra counter space, but it really anchored the kitchen. It would have looked lonely without it.
Would I do it again? YES, but with a few changes. While I truly think it's amazing, I really wish I would have made it a bit longer. There was plenty of space to add a few extra cabinets. I do wish I could change that, but it's fine just how it is. I did want the counter top to be wood, so we had a custom color made that really popped against the white cabinets. Completely worth it.
Subway Tile: I was adamant about adding character to the house, all while cleaning it up and really giving it a fresh start. For me, the subway tile was a no brainer. It fit seamlessly into the design, and really makes the house look more expensive. Especially the tile wall in the kitchen, which I went back and forth on. I didn't know if buyers would appreciate it, or "get it". It was certainly an extra feature for the house that could have been cut, but I really wanted the kitchen to be a focal point area, and the tile wall adds that extra punch of character.
Would I do it again? Maybe. It really depends on the house and how it applies to the room. This kitchen had the perfect place for it, so I went with it. The house would really determine it. And, while the subway tile itself is really cheap, the labor is not. Subway tile can get expensive, and it's not something you throw together. Out of any tile, crisp white subway tile with dark grout lines will really show all errors. If you're thinking about installing it, make sure you take that into account. It's not something that hides errors.
Tile Patterns: I wanted the house to have a few unexpected elements, and adding a herringbone pattern to the laundry/ mudroom flooring was an easy way to do it. The hall bathroom hex tile was another area where I brought in a little bit of "different and fun". It still fits in beautifully with the rest of the house, but makes it fun and interesting.
Would I do it again? YES! I think it's fun to find those few things that you don't expect, or notice right at first. I love the element it adds.
Lighting: So much of adding character and a "feeling", is lighting. It's very important to remember that. Not only the actual part of "light", but the fixture itself. Lighting can easily change the vibe of a room, which is why I spent so. much. time. searching our best options, in the best price range. Lighting is expensive and you can easily blow the budget with it. Traditionally, I recommend to friends, family, and anyone else I know who's building and on a budget, to choose cheaper lighting sources that you can replace after a while. And I think that's the opinion of several fix and flip people. Adding a cheap light and calling it good is one thing, but does it match the house? Does it throw the design? Are they the right size? Lighting choices can really make a room look big, or small. It's all about proportions. I took all of that into account and am really happy with the mix throughout the house. There's a consistency, which helps make the house flow.
Would I do it again? YES, YES, YES! It's such an important addition to any house, and can really make it feel cheap, or expensive.
No Tub in The Master Bath: Boy. Here's another area that I went back on forth on. Once we actually had the space to have a master bathroom, I was thrilled. Then, I started adding all the actual pieces, and that bathroom filled up fast. There was no room for a tub and master closet, so we made the decision to remove the tub. It was easier knowing the hall bathroom had a tub, but I didn't know how much it would hurt the house.
Would I do it again? YES. In a small space such as ours, adding a tub would have made the function of the bathroom much more cramped. And because we didn't add the tub, we were able to add an extra storage pantry, which is always a good thing.
New Appliances: I really felt like the kitchen would be a much better representation with appliances. Plus, I think it makes the kitchen seem more extravagant. We didn't buy top of the line appliances, but we also didn't buy the cheapest either. They're all right in the middle, and have extra features that make you really excited. It's just another thing that gives the kitchen a punch.
Would we do it again? Yes! It delivers a finished product, and buyers love to have new appliances. It's like a cherry on top!
Now, for the actual work and remodeling of the house…
No, we didn't actually do the work. My mom and I did paint the interior of the house, but allowed all touch ups, door painting, etc. to be done by our contractor and hired hands. I was, however, the general contractor and lined up everyone for the different stages. The most important part of this job, is knowing the next move before it needs done. I tried to always be ahead of the game by having the proper supplies on hand, should they need them. We didn't really have any big lapses in time, but the contractor doing the majority of the demo and re-building did have a few jobs at the same time. It did make it difficult a few times, but overall it went smoothly. After doing this, I can see that a lack of communication can really make a situation like this frustrating, tense, and zero fun. Should you try your hand at it, know what you want, be picky about quality work, and have your ducks in a row.
I would also highly recommend reserving/ having extra money just in case something comes up as you make progress. As with most fixer upper's, there's always something unexpected that happens. How you handle it, is where it's at. Getting frustrated is understandable, but by buying a fixer upper, you are signing an invisible contract that says you can handle the unexpected problem that will most likely pop up. Be ready.
Another big tip, would be knowing your local real estate market. My mom is a licensed realtor, and I know the market as well. Knowing what you can change, what you should change, and how much money you can sell the house for once it's completed, is crucial. Study the local market, find comparable properties, and keep that in mind as you make changes. Sure, the house may be a stunner once it's done, but is it above the market value? It's no fun to be above the market, and sit on it while you wait for an offer, or as you drop the price and loose money.
Now, for the big question. Would we do it again? YES, and YES! As a matter of fact, we are getting ready to start building a spec house. We've already bought the lot and picked the floor plan, but we still have a few months before anything starts happening. I am really looking forward to building another house. Now that I've built my own (and helped others with theirs), I feel like I can really use my knowledge to build a great home to sell. My mom and I are looking forward to it, and I can't wait to share the progress with you as it happens. Stay tuned!
I hope that answers any questions you may have about the fixer upper. If you'd like to know anything else, just leave a comment and I'll get back to you!
Have a happy Friday! 😀