I'm slow to the house decorating scene this year, but today's post is all about our fall living room and entry! I've really wanted to change things up in our home. We've had everything the same way for so long, it was starting to feel a little bit stale to me. I recently took a trip to Gordmans, and I was immediately filled with so much decorating energy! Their home décor selection is amazing, and the prices are just as fabulous! Win and double win! Needless to say, I couldn't wait to get everything home!
I find it completely amazing how just a little bit of new décor and a fresh placement of existing items can entirely transform any space. Our living room and entry feel like new rooms! Let's take the tour shall we?
Do you remember when we added the new shelving to our living room? That was such a huge change for our living room and entirely transformed the space. For fall this year, I knew I wanted to keep it pretty simple. I spread fall décor and accessories throughout the shelves, and onto the coffee table…
I found those amazing lanterns at Gordmans, and I knew they'd be the perfect, versatile piece that would become my favorite item to decorate with! Filled with candles, (also from Gordmans, and such a big selection of them!) they make a beautiful display!
I also grabbed some of their faux fall greenery and combined it with some of my existing fall florals to create this arrangement…
I love the way it stands out in our neutral living room, and that it adds the perfect touch of fall..
The one thing I wanted to focus on in our living room, was the cozy element. I combined blankets, pillows and textures to really make the room feel like a soft, warm place to curl up…
These pillows are what my pillow dreams are made of… They're all from Gordmans and under $25 each!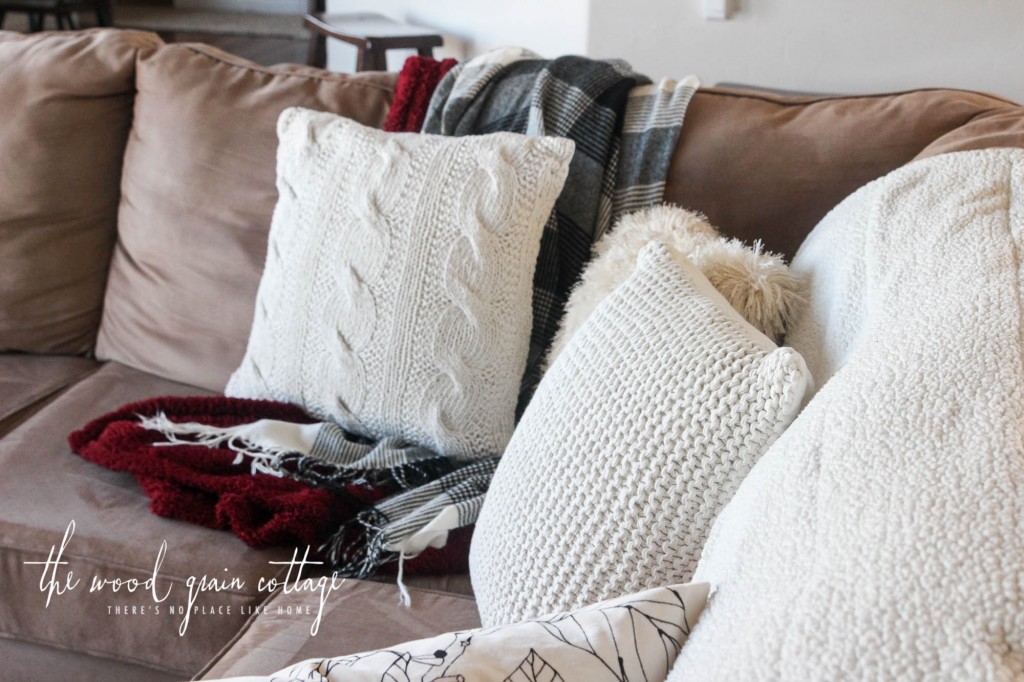 They're going to transition beautifully into the holiday season!
And as for those awesome shelves…
Well, I had fun decorating them as well…
True to my nature, I kept them neutral, but filled with elements of the fall season…
I've also been on the hunt for two perfect baskets for the bottom of the shelving units, and found them in the basket section at Gordmans… I was thrilled! They're exactly what I was looking for!
Overall, I am thrilled with how this room is coming together! It's so warm and cozy!
And our entry way got a pretty makeover too…
I've been wanting to switch things around in here for a while, and I found a few key pieces I'd been looking for. Like this amazing clock (also a Gordmans find!)…
It was the perfect fit for this little wall…
The brass barrel was another new addition, and in-store find. I loved the size, color, texture… pretty much everything! It's perfect for shoes, blankets, pillows… you name it!
This corner is one of my favorites at the moment!
And even though I moved the coat tree to the other side of the entry, I still wanted a little hook on this wall for quick things we need to grab. It's as cute as it is functional…
The coat tree went to this side of the entry, and I love how it creates a "defined" entry space…
And can I just tell you how much I love concrete lamps? It's a lot, and they have a nice selection of them in stores right now…
This corner is another favorite of mine…
Overall, I couldn't be happier with how this area of the house is shaping up either!
So there you have it, our fall living room and entry! I'm loving the neutral elements! I can't wait to show you what else I have in store for the rest of the house! Stay tuned for more!
But in the mean time, if you haven't shopped at your local Gordmans, I would highly recommend it! I love their wide selection of home décor and their low prices! It's basically like Christmas for me anytime I walk through the décor aisles… and if I'm being totally honest, it's the same way in the clothing section too! Just keeping it real! 😉