Hi friends! I am so sorry for the blog silence… it's hard to believe it's been just over 10 days since I published my last blog post. There's been a few reasons behind it, but mainly I've been working so hard to finish any last minute things for my e-book, which launches Monday!
When I first created my timeline to write and finish this e-book, it felt like Monday, May 30th wouldn't be here for a while. Now, it seems this month has completely flown by in a simple blink. Funny how things like that work, huh?
I know I've mentioned previously what the e-book is all about, but I wanted to share a refresher just in case you missed the previous post, or want to hear more about. I am so excited about this e-book, and all of the helpful information you'll be receiving with it!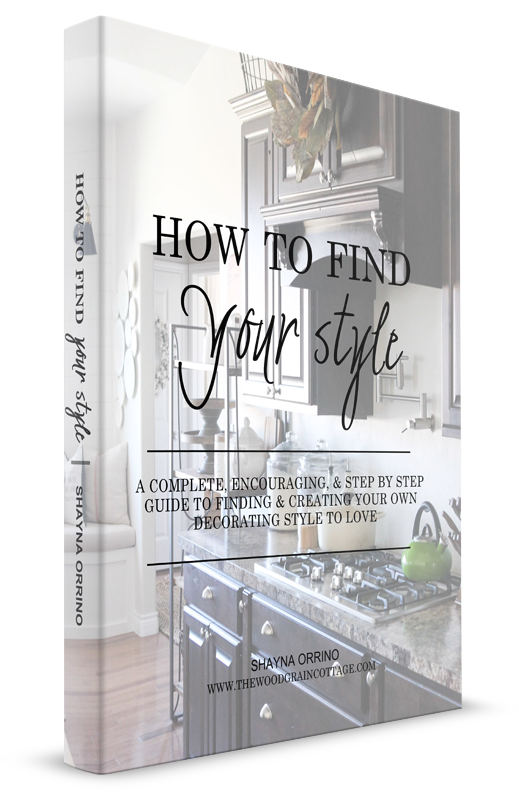 I've received so many e-mails asking how I found my style, how I was able to narrow down my decorating purchases, and how I've been able to create such a cohesive look for our home. After responding to the same questions in great length, I realized I needed to write an e-book and make it accessible to anyone (and everyone) who wants to love their home and find their decorating style.
Having a home you love is such an important thing. Not only does it boost your spirits, but it does the same thing for everyone else who walks in the door too. It's utterly amazing how much more welcomed the people we love feel. (You can read more on why you should find your style here.)
I've previously mentioned it earlier, but there will be three different packages you can choose from, depending on the level of help you'd like. I'll share more detailed information about each package on Monday, but just know, if you need decorating help, are feeling frustrated, overwhelmed, not good enough, or you don't even know where to start, what to include in each room, or where to buy house items at the best price, this e-book (and the supporting documents) will help to have you decorating in a way you love in no time!
I've had several of my family and friends (and bloggers) go through and read the e-book to make sure it was good enough for you to enjoy and learn from. Here's what a few of them have said, and I'm completely honored that they loved the e-book as much as they did…
Monday will mark a very big day for me… but also for you. If you're frustrated with your home, you feel like your decorating is forced, or you simply don't know what to do, or where to start, this e-book will help, truly.
In the mean time, I've also created a free, 5 day mini course where I'll be sharing my top tips and tricks to finding your style… the e-book covers all of it in much more depth, but if you're feeling motivated to start now, sign up below.
I can't wait for Monday… what an exciting day it will be!
Here's to finding your style, and to loving it…