If there's one room that we really need to focus on, it's our home office. I'm dreaming of it big time!
We do currently have an office,  but I haven't spent much time on it. We really need to change that. Anthony and I have both agreed that it needs to be a priority.
Our simple organization system isn't cutting it. I have boxes full of supplies, fabric piled on top of them and more stuff on top of the fabric. That makes it a bit hard to find things. And I hate not being able find things! Nothing gets me more irritated.
We've been thinking of different ways to add storage while still making everything pretty and functional. I think we've got it figured out, and I've even scored a few items that we're going to use (currently sitting in the garage…), but figuring out when we're going to make everything it happen is another thing.
Needless to say, I've been spending a bit of time looking for & collecting office inspiration. Here are my favorites!
When I saw this office in the new Pottery Barn magazine, I was in love. Ideally, this is what I've envisioned from the beginning.We already have similar furniture!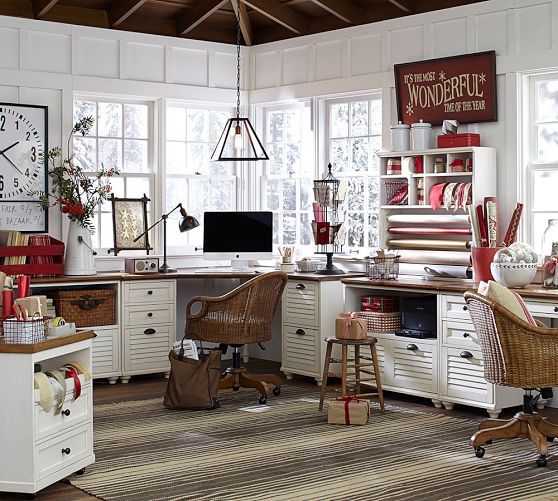 And I've always loved this office… We're definitely going to have something similar for shelving and storage. It's a must on my list.
I'm also in love with this desk, the open shelving, walls and ceiling… It's all fabulous!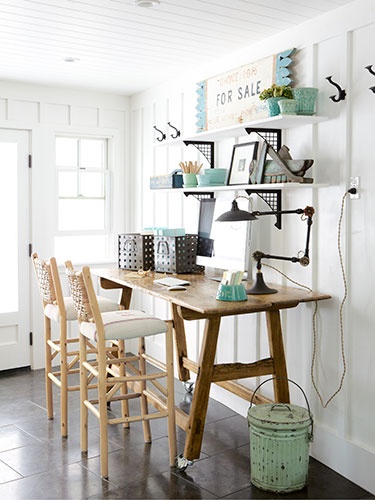 This wall of clipboards is also ridiculously neat and I'm completely drawn too it. Plus, I love that it's also functional! I can already think of so many ways I would use them!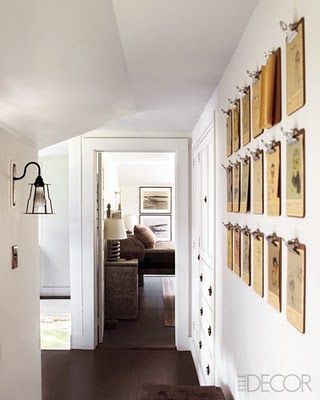 I'm also wanting to add plenty of personal touches too. I love this!
Source not found. Let me know if you know where it's from.
And I really want to find some cool lighting. Not only do we need to get rid of the current ceiling fan, which we never use, but I really want to find neat task lighting too! This floor lamp is fabulous!
I'm so excited and beyond ready to slowly start making changes to this room. I use it every single day and would happily spend more time in there if things were better organized. Right now I feel about 0% creative while I'm in there. It's time to change that!
I'll be sure to let you know as we make changes and progress. We have a few other projects that we need to complete before we start…

Psst- You can see more office inspiration on my home office pinterest board.