Perhaps one of the things I love most about Christmas and the Holiday season, is the cozy and relaxed atmosphere that it brings. I absolutely love snuggling up on the couch, watching Christmas movies, sipping hot cocoa, all while sitting beside a lit up tree. I love, love, love that.
Lately, I've been spending quite a bit of time in our local fabric store, more on that later, but while I was in there, I spotted some lovely white faux fur. It looked so cozy, so I knew I had to touch it. Well, one thing led to another, and before I knew it, I came home with 3 yards of that cozy fabric.
And today, with it being $30 Thursday, I knew it would be the perfect project to share! In case you're new here, $30 Thursday takes place on the first Thursday of the month. April from House by Hoff, Jen from Migonis Home, and I all team up to bring you new ideas that are $30 or less!
After a quick trip around the sewing machine, here's what my blanket looks like…
This was such an easy project, promise!
After I washed the fabric in cold water, and dried it on medium heat, it came out sooo fluffy! I will tell ya, be sure your lint trap is cleaned before putting it in the dryer. It will easily fill it up!
Then, I laid it on the floor, right side up, and folded it over (length- wise) onto itself…
With all the edges matched up, I added a few pins to hold everything in place…
Then, I just started at the long edge (near the fold), and started sewing the two edges in place, pulling out the pins as I went…
Seriously, I know sewing scares a lot of people, but this couldn't be more simple. Promise!
After I had almost sewed all the edges, I stopped near the fold on the opposite side. I left a pretty good gap so that I could turn the fabric right side out…
Then, I just pulled the fabric right side out and sewed a seam on the outside of the blanket to close the hole. So easy.
And you can't even tell where I sewed the last part of it together…
I am so completely thrilled with the end result…
It adds such an amazing amount of soft, cozy texture… and paired with this adorable plaid pillow from Shabby by Melissa, our breakfast nook corner is the perfect place to curl up and enjoy the season…
And how about it wrapped up for a gift? Fabulous!
Also, our local fabric store carries lots of different patterns & colors of this same material, so. much. fun. I'll probably be making another one really soon! Eekk!
Now, here's what April and Jen have came up with for the month…
April is sharing such a fun and easy way to spruce up throw pillows! Such a fabulous idea for guest bedrooms to make visitors feel extra welcome!
And Jen is sharing a fabulous way to decorate! Her ornament topiary is so beautiful and easily customizable to fit your color/ decorating scheme!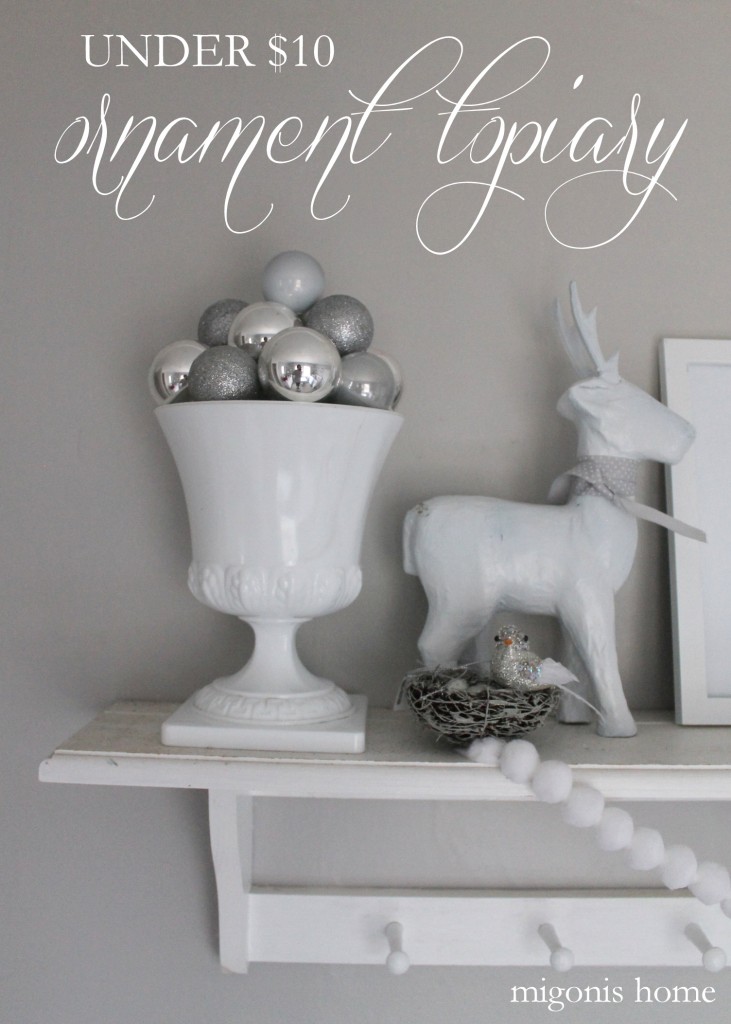 And there you have it! Easy ideas that you can bring into your home on a budget! Love, love, love! If you're looking for a few more ideas, be sure to follow our $30 Thursday Pinterest board. There are lots of great project ideas! 😀
More Christmas projects/ decorating to come!