I haven't posted an office update in a bit, but Anthony and I have been busy working on it and adding as much organization that we can…
This DIY ribbon caddy is the perfect solution for organizing my ribbon. Before, I'd just toss it in a basket and then forget about it. I wanted something that would be pretty enough to sit out, and big enough to hold several rolls of ribbon and store a few extra rolls too.
Here's what we came up with:
I'm completely in love with the result!
After sketching what I wanted, Anthony and I got to work! The overall dimension is: 17″ long x 5″ tall x 5″ deep.
We started by drilling the holes for the ends. Anthony found the center for each end…
Then drilled a hole at 5/8″ with our drill press…
Then, he built the two ends…
He clamped the pieces together, then used the nail gun to attach them…
Once that was built, he did the exact same thing to the other end and began to clamp the two sides together…
He nailed the two sides together, then added the opposite end…
Then we had this…
To enclose the sides, we used pine tongue and groove and cut the pieces down to size…
Then we nailed it in place…
And cut the other piece…
Once we nailed it in place, this is what we were left with…
Then, we just did the exact same thing to the other side and started on the ends…
For the bottom we used a an 1/8″ thick piece of floor underlayment, which is the same thing that we used for our plank wall…
We nailed down the corners…
Then added a piece of the pine 1″ x 2″ for added strength…
We used our nail gun to secure it in place, and added additional nails to the bottom into our bracing.
For the spool, we measured and cut a section of the round 5/8″ bar and set it in place…
I used Minwax's Early American stain to finish it…
Then waxed it with the special dark finishing wax by Minwax…
After that, it was ready to use!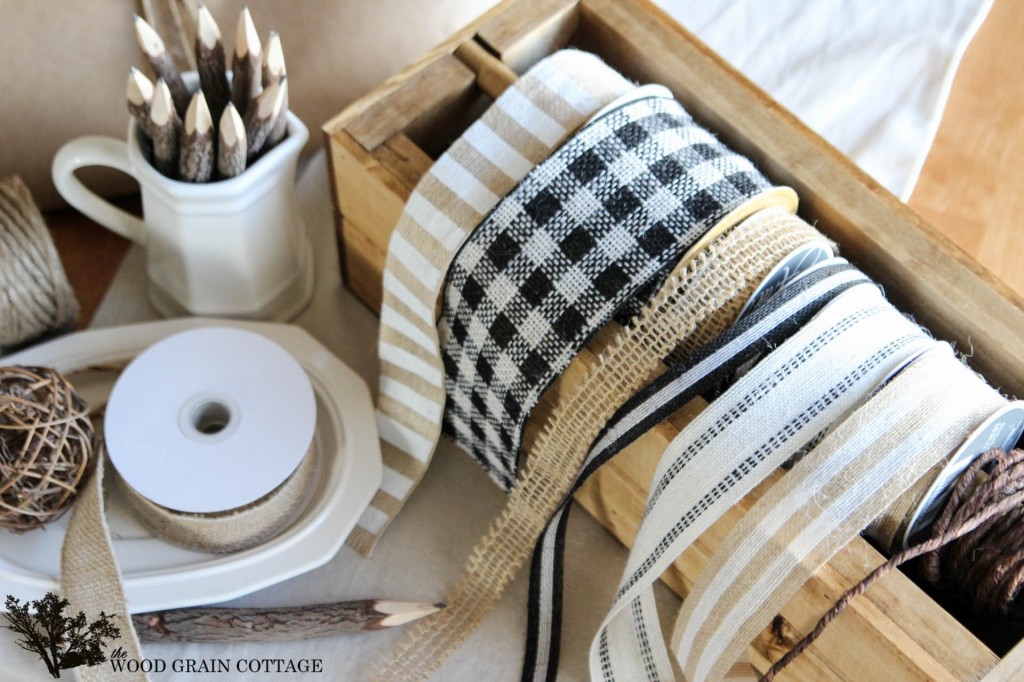 I can't tell you how much I enjoy actually seeing my ribbon…
And it gives me that much more of an excuse to use it!
I also love that I can store extra ribbon beneath the ribbon spool… If that's not organized, I don't know what is!
And the fact that it's pretty to look at, well that's just a huge bonus!
Let's just say that I'm even more obsessed with my ribbon now…
The office is coming together… one project at a time! I can't wait to show you the other things we've been working on too! Soon, I promise!
Happy weekend!