I've wanted to make numbered clay tags for a good while now. It seems like everywhere I look, they keep popping up. They're just that cute.
So, this weekend I set out to make my own.
First, I tried to use the ever popular salt clay recipe, but I didn't like the outcome and ended up buying my own polymer clay at the craft store.
Because I tried both methods, I thought you might like to see the outcome of  both… and to see the better choice if you want to make your own!
To start, I used my Silhouette to cut out the numbers on card stock.
Then I made the salt dough recipe. The directions said to mix 1/4 cup of flour, 1/8 cup of salt and about 1/4 cup of water, or until it was consistent and play- dohy in texture.
Then, I rolled it out onto a lightly floured surface and used a round cookie cutter to cut the dough. Everything about this reminded me of sugar cookies. The dough felt & looked just like it. Made me want to eat the dough really bad…
With enough cut out, I used a straw to punch a hole in the top of each one, and used a toothpick to trace around my numbers. This was quite frustrating because the dough wanted to keep pulling and sticking up… I didn't even finish tracing all of them. I figured it would be easier to trace the shape on once they were baked.
Then, just like the instructions said, I baked them at 250 degrees for 2 hours.
When they came out, a few of them looked okay, but the rest of them had puffed up in the middle. They just looked plain bad. Even Anthony said they were a flop….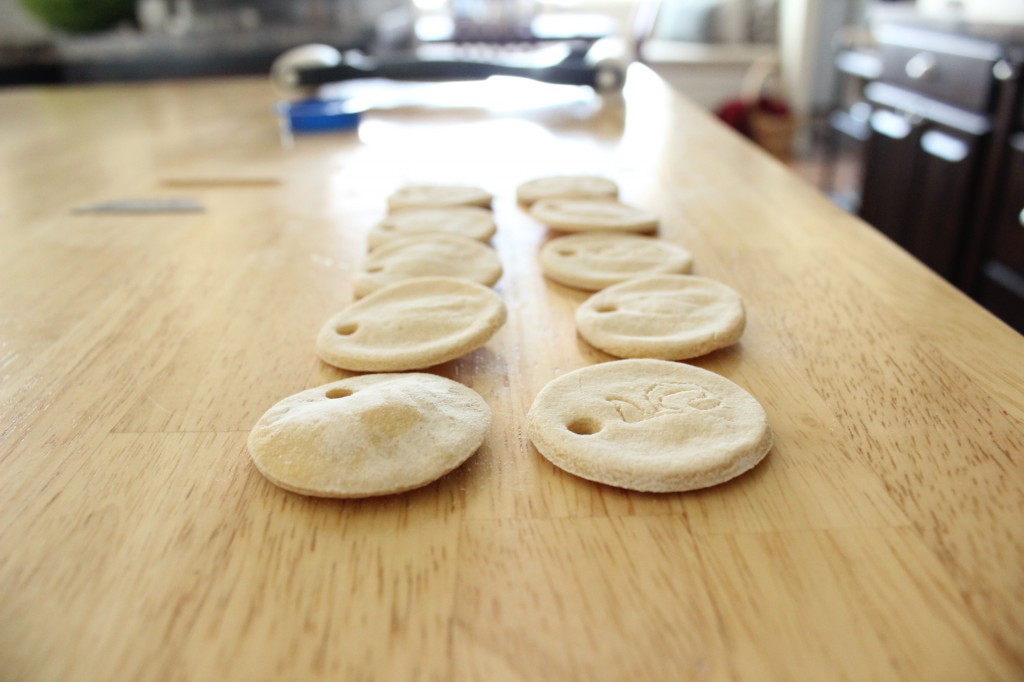 Frustrated with the outcome, I decided to visit our local craft store to pick up the proper clay. I was determined to have those cute clay tags.
Let me just tell ya, this was the way to go!
After rolling the clay around in my hands for a few seconds, I grabbed my rolling pin and started rolling it flat to about 1/4″.
I used my cookie cutter to cut the shapes…
Then, I used a razor blade to lift them up and place them on a cookie tray with a parchment paper lining.
With a straw, I cut out a small circle for the tag.
Then, I placed the numbers on the clay. But, instead of using the toothpick to trace each number, I decided to lightly roll the number into the clay.
This left the perfect number outline!
Then, I baked them at 275 degrees for 15 minutes.
They looked so much better then the first batch, but there are a few little bubbles here and there.
Once they had cooled off, I used some metallic paint to paint inside the number outlines.
I let them dry, then grabbed my hemp string for the the tag.
I think they turned out great. And it was quite the interesting project since I ended up trying both popular methods.
They're just so darn cute!
The hemp string is so simple, but perfect for the tags.
The tags really shine!
And, they look fabulous with just about anything!
Especially baskets.
So, there you have it! The easiest way that produces the best results is without a doubt the polymer clay method.
Now, I'm thinking that I need to make a few more… only bigger this time and with a few words! I'm thinking an organization project is in order!

P.S. I guest posted on I Heart Nap Time this weekend for Jamieyln's Hello Summer Series! Stop by to see our latest addition to the patio!
Linking up to: