I don't know about you, but I'm reallly ready for spring. I've been feeling a little cooped up, so I decided to make a new pillow to brighten my spirits. Contrary to what Anthony may think, I'm not sure I can ever have enough pillows.
This DIY Home Sweet Home Pillow, well it's one of my very favorites, just like my DIY rosette pillow.
I know sewing a pillow cover can seem a bit intimidating, but if you can sew a straight line, you can make a pillow cover. Truth be told, you could probably hot glue instead of sewing, but I find that each time I sew, I get better, and that keeps me motivated. Here's how I made the pillow:
Please note: Some of the links in this post are affiliate links, which allows us to make a small commission from your purchase, but your purchase price stays the same. Thank you for helping support our blog! We greatly appreciate it!
Supplies:
Pillow Form
Iron
Ruler/ Yard Stick
Razor Blade
Polyfil, this is similar to what I used
To make the pillow form, I followed my instructions for the DIY rosette pillow…
Then, I designed my wording in my Silhouette design studio and used the Silhouette to cut it out on freezer paper…
I made sure my words were centered on the pillow…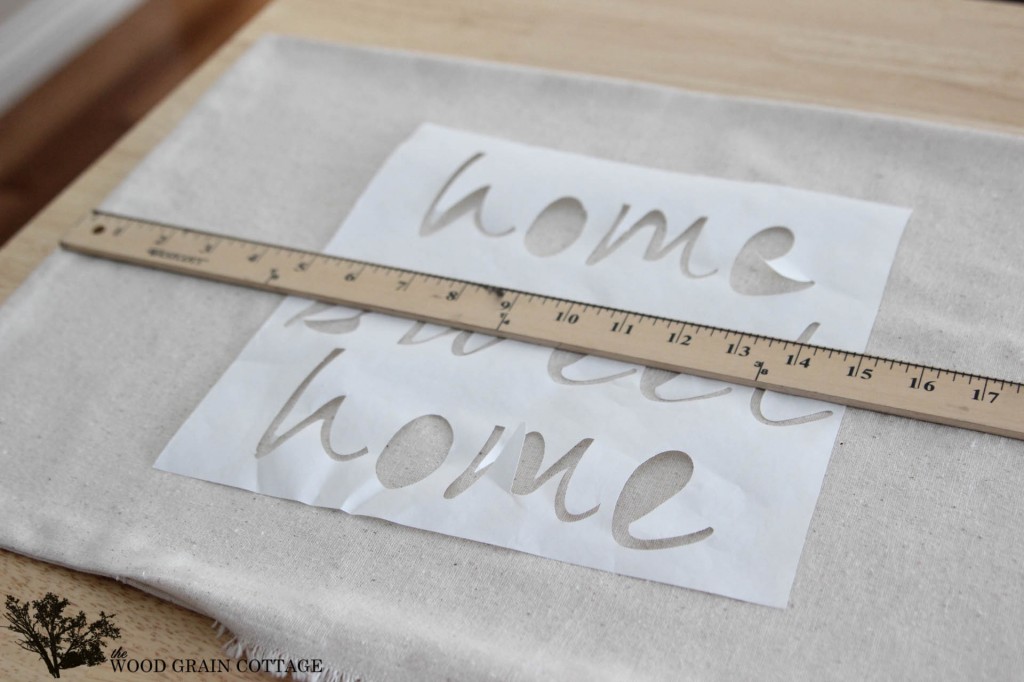 And ironed it in place…
Once all the letters and edges were stuck really well, I used some black craft paint and dabbed it over the letters…
I covered the letters for the most part, but I did leave a few areas of the fabric showing through. Once I was done with the paint, I peeled off the freezer paper…
Then used a razor blade to gently lift off the letter centers…
Once everything had dried, I used one of my stencils to add the olive branches…
I just placed it where I wanted, then taped it in place and used the same black paint…
Once I finished painting, I washed the stencil to remove any paint, then flipped it over and placed it on the other side of the wording…
I did the exact same thing as the opposite side, and was I was done, I let the paint dry for a few hours.
Once the paint was dry, I began stuffing the form…
Once I had it filled to the thickness I wanted, I used my sewing machine to sew the bottom closed…
If you didn't want to sew it with a machine, you could easily hand stitch it closed, but I find the machine much quicker!
I couldn't be happier with the finished result:
It's such a happy pillow… and the wording is so true!
It looks great in our living room reading corner, which has quickly became one of my favorite corners in our home…
This pillow… it might just complete me!
Home Sweet Home… that just about sums up how I feel!
And here's the sources for our cute little reading corner:
Chair- Thrift Store
Wood Side Table- DIY
White Ceramic Vase- Local Store
Dried Lavender- Our Shop
Glass Vase- Walmart
Swing Arm Lamp- DIY