Looking for a great way to build extra storage? Our DIY Basement Shelving is the perfect solution for so many problem storage areas! Customize the size to fit your space. 
You may remember from my 2016 goals post, that I would really like to to can and preserve more food this summer. Last year I didn't do anything, and our pantry showed the results. Almost all of our jars were empty, and it was a hard thing to look at.
This year, I made a promise to myself… I am canning. The hardest part about canning though, is that you need somewhere to store all of those full jars. And since we have a basement, we've had the perfect place, with one exception…. the shelving space. I begged and pleaded with Anthony to please (and pretty please) help me build some shelves this year. He typically has more time in the winter for these types of big projects, and he made time for my shelves.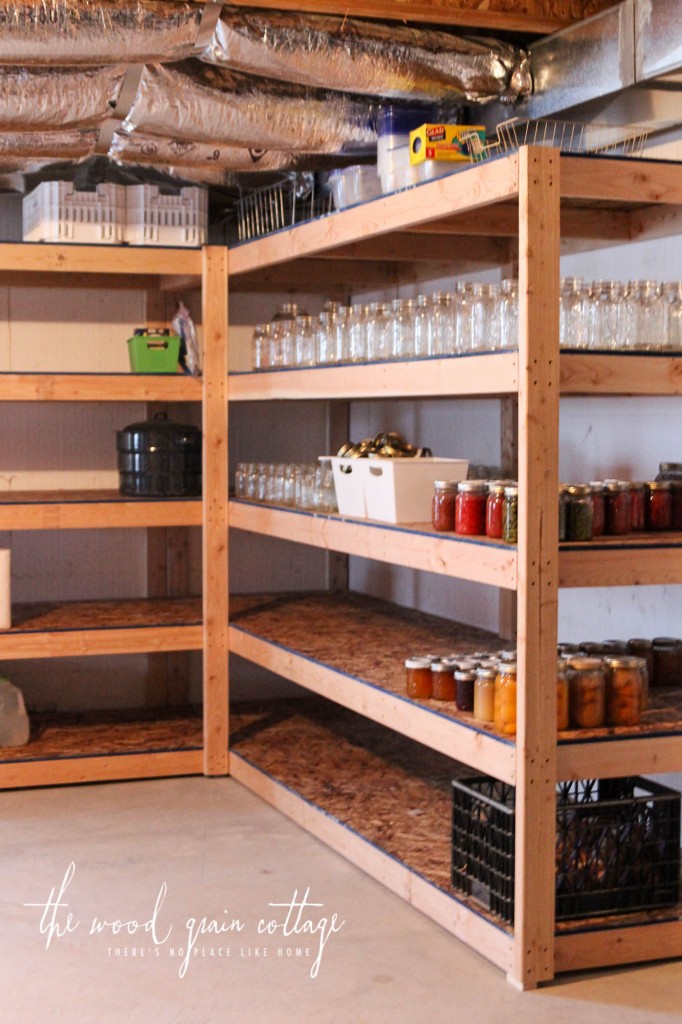 So, today I'm sharing the tutorial on how we made our DIY basement shelves. Mind you, this isn't a *pretty* post, but rather a real life project that's made a world of difference.
How How We Made Our DIY Basement Shelving:

Affiliate links are provided below. Full disclosure here.
Supplies:
2″ x 4″ x 10′ Boards, cut to size
3/4″- 4′ x 8′ OSB, cut to size
Straight Edge
Sandpaper, medium grit, to remove any rough spots from cutting the wood to size
Step One: Determine Shelving Size
First, I decided on a size for our shelving. Our basement isn't finished yet, but we do have a pretty good idea for the floor plan down there, so we built the shelving to fit the space that will be for my fruit room, or also known as the cold storage room. Because we basically knew where the walls would go when we finish the basement, the size of our shelving unit fits into those specifications. If you use this tutorial as a guide, feel free to adjust the size.
To get the most use out of the shelving, I wanted them to be in a "L" shape. Not only did it fit the "room" best, but it would provide ample storage space, which made me extremely excited. For the small part of the shelf, we made it 4′ wide x 32″ deep x 77″ tall. For the long side piece, we decided on 10′ wide x 32″ deep x 77″ tall.
Step Two: Build Shelving Frame
Anthony started by making the actual frame for each shelf. This picture only shows one middle bracing for the shelving support, but he went back through and added two more on each side for extra support.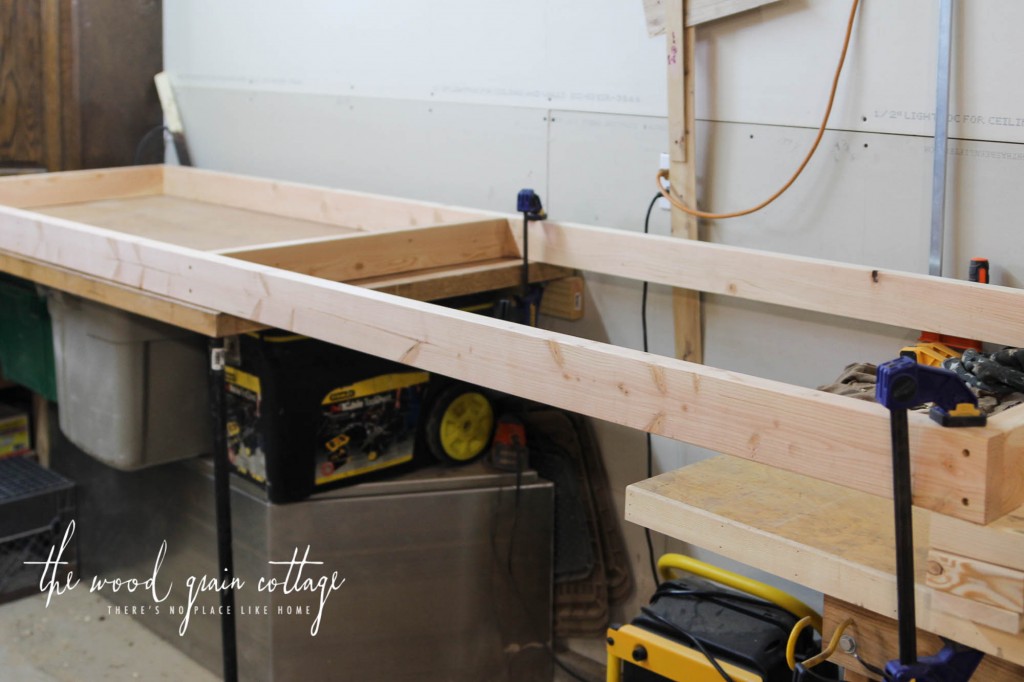 Step Three: Cut Shelving Material
Then, we used 3/4″ OSB for the shelf. We ripped down the 4′ x 8′ sheets…
Once he had the OSB cut, he screwed them to the shelf frame, and we were left with this, our shelf…
Step Four: Assemble Shelves
When he had all of the shelves put together, we began building the shelving unit in our basement. We started with the small shelf first, adding the top and bottom shelf. We used two 2″ x 4″ boards, cut to length, as the actual "frame".
Anthony pre-drilled all of the screw holes…
And we used screws to attach everything…
Once we had the back side done, we rotated the shelving unit and added the boards to the front…
Then, we tipped it right side up, and added the middle shelves…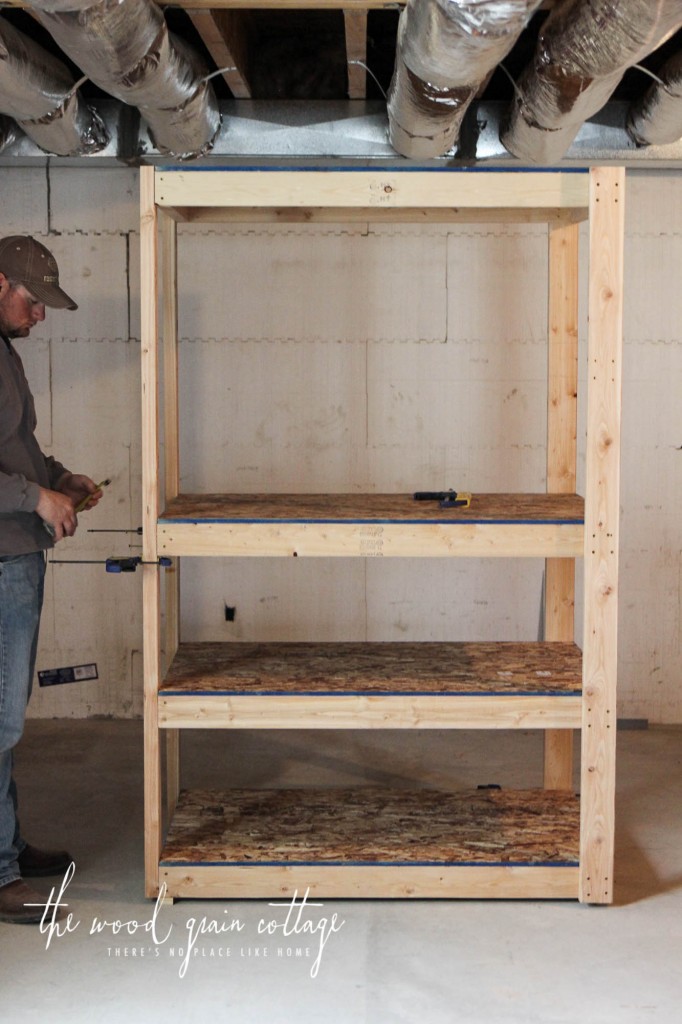 Once we had all of the shelves in place, we were left with this…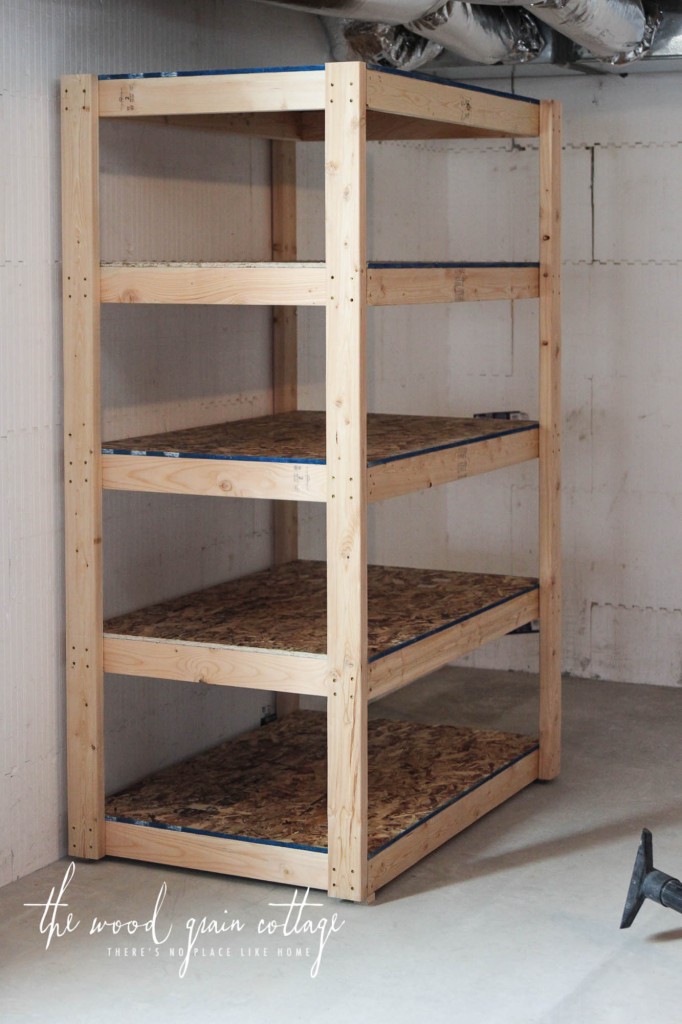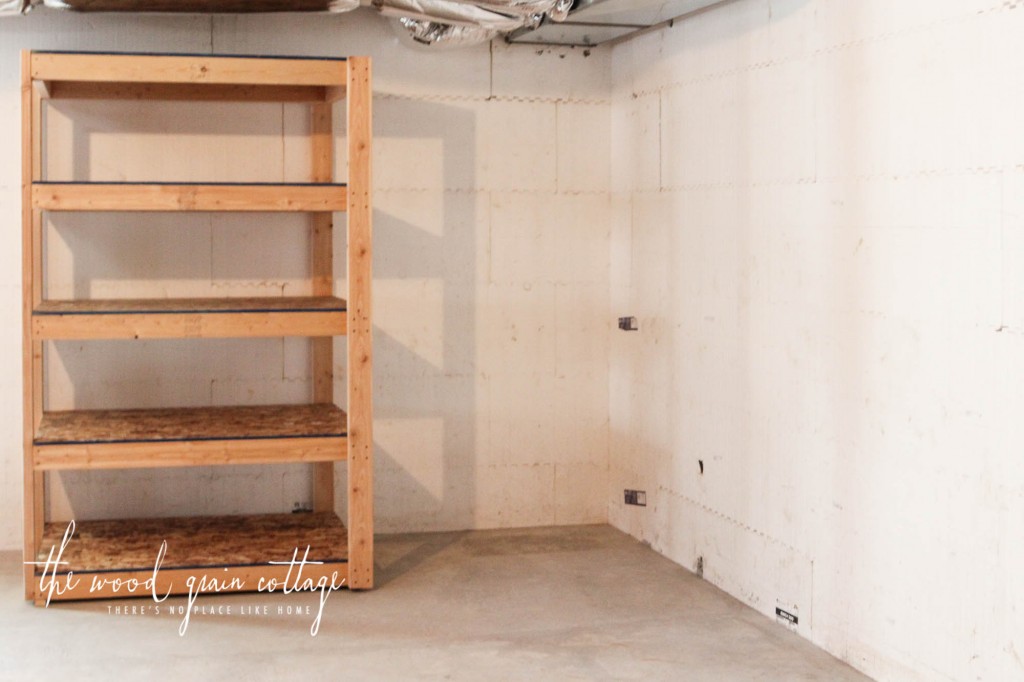 With the small side done, we started working on the large side. Carrying the huge shelves down into our basement is a memory I want to forget. It was partly brutal, partly exhilarating, and partly exciting…. but if I had to pick one to stick with, it would be brutal.
We followed the same steps as the small section of shelving, but this was definitely more time consuming.
We added the side boards and screwed them in place…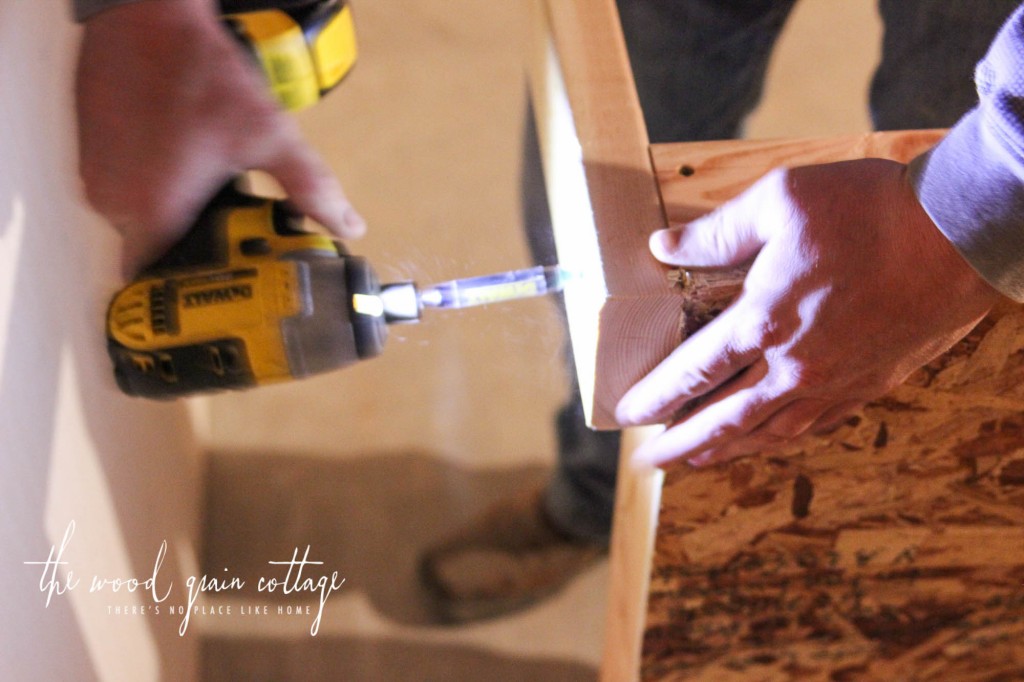 Once we had the frame attached, we flipped the shelving unit over, and had this…
With the large unit in place, we moved over the little one, and Anthony connected them with screws…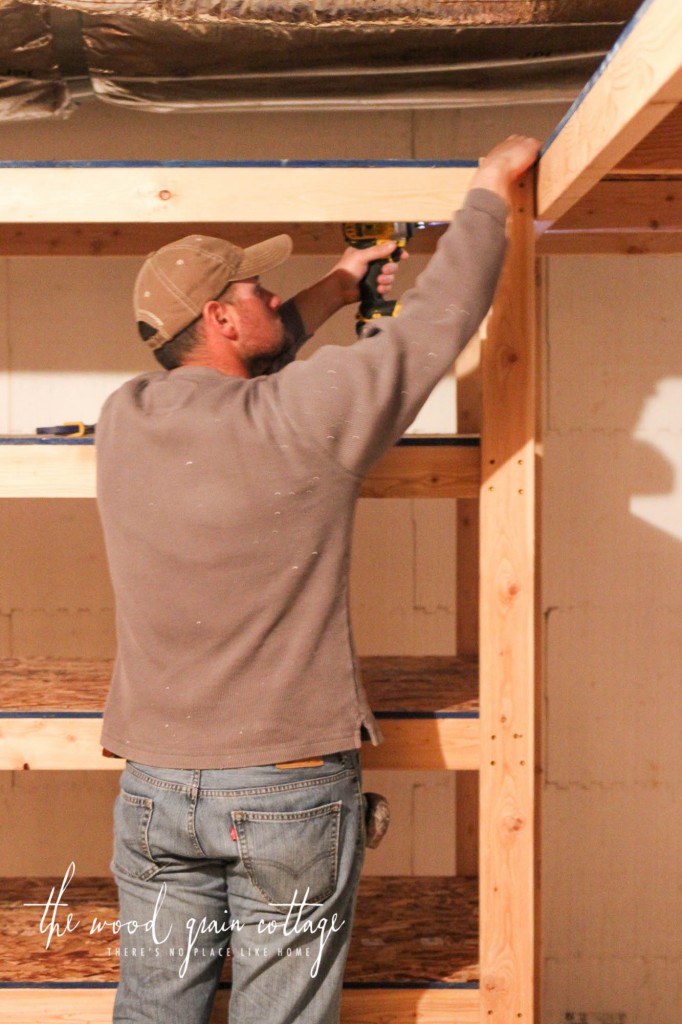 Once they were attached, we added the bottom shelf first, using clamps to help hold the shelves in place while Anthony attached them with screws. No pictures of this step, because I was holding onto the other end of the shelf for dear life…
The picture below shows how we used the clamps as a "bracket" to keep the shelves in place. Thank goodness for those!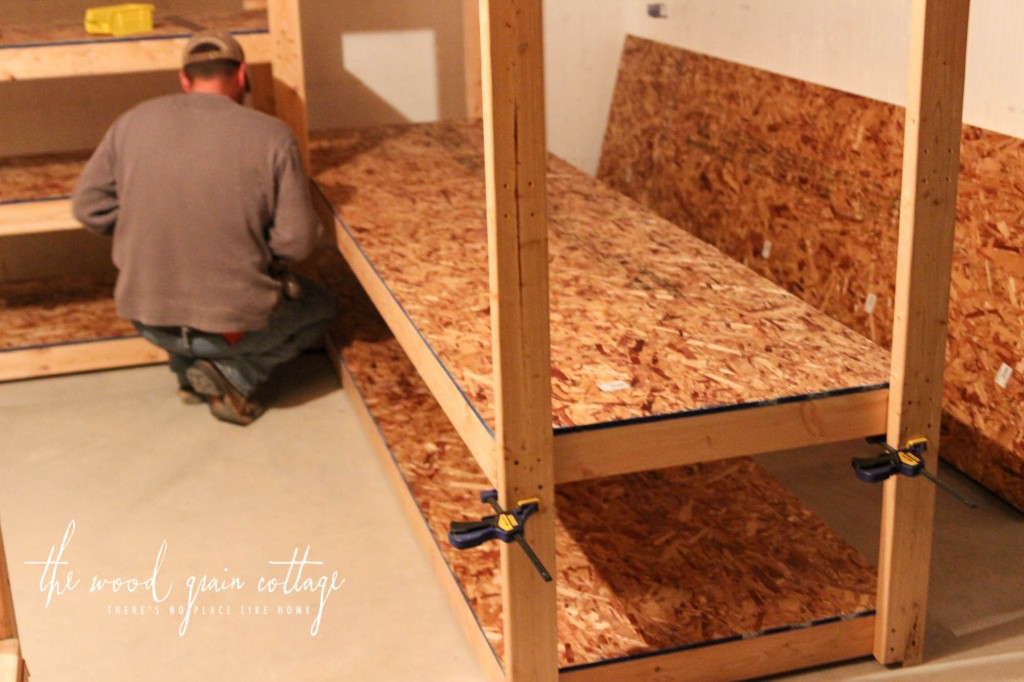 Then, we added the top shelf…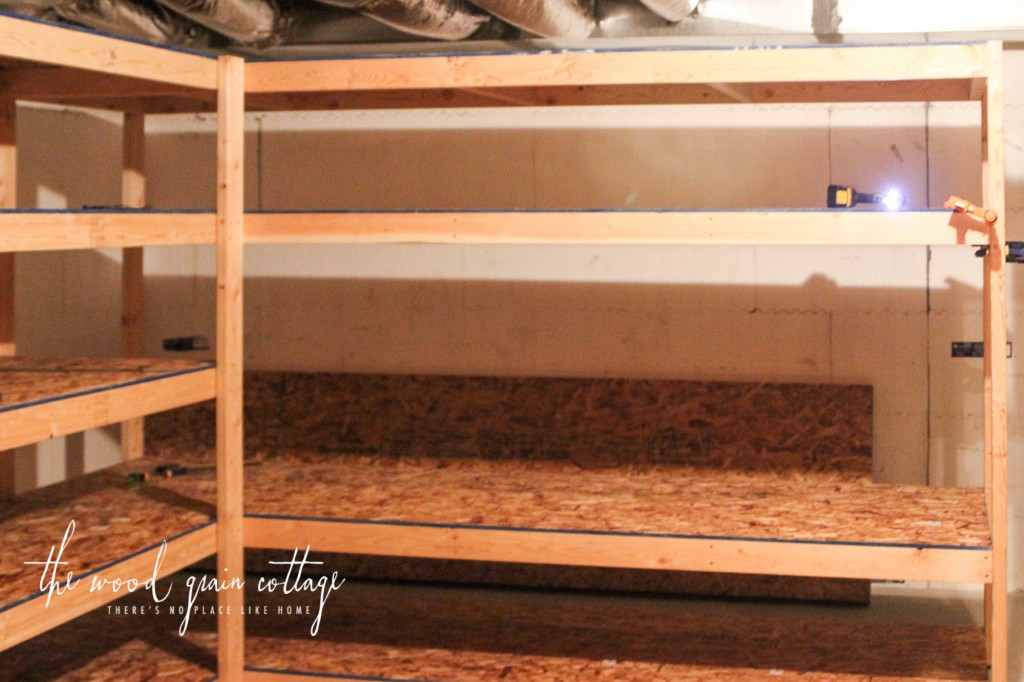 And finally, the middle shelf…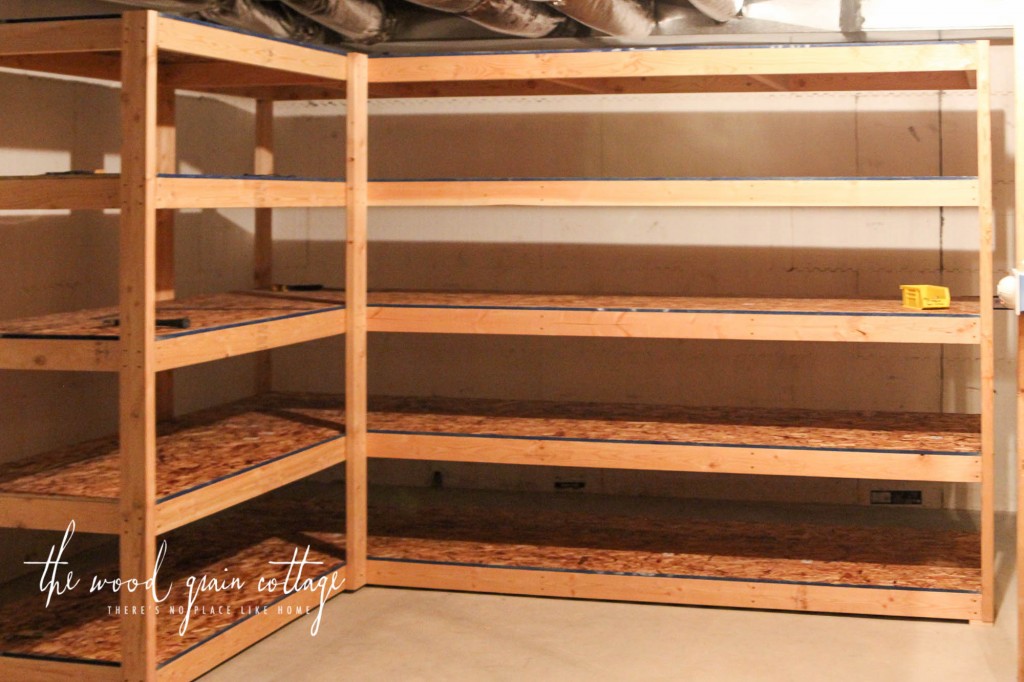 Oh man. This is such a beautiful sight!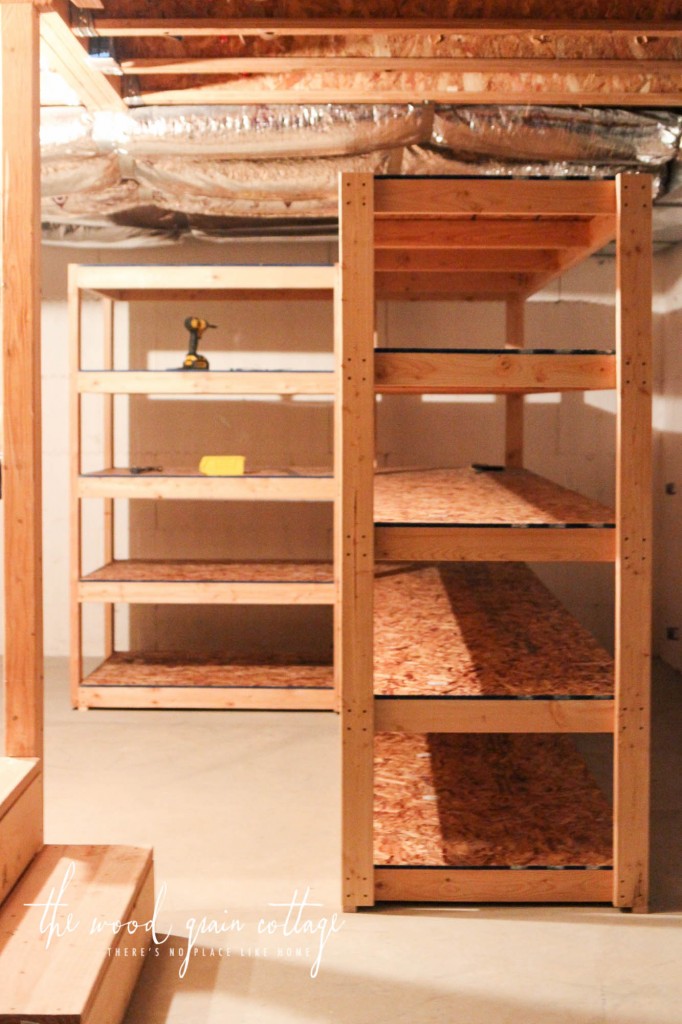 For some extra support on the large shelves, Anthony cut extra pieces of 2″ x 4″ to stick in the middle of each shelf…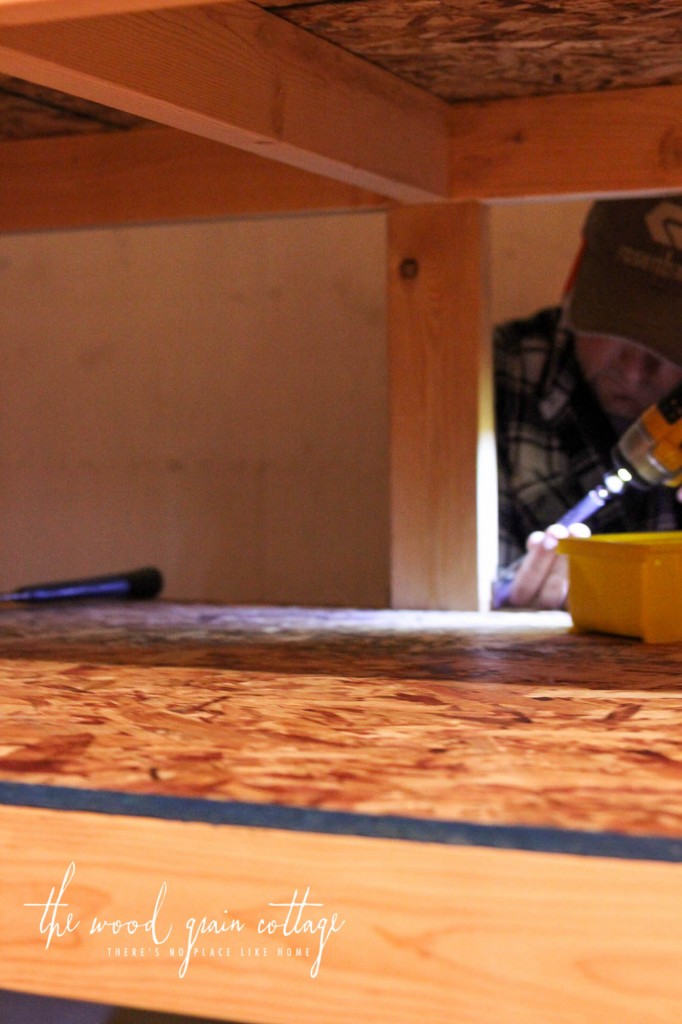 Step Six: Enjoy!
After that, the shelves were finished…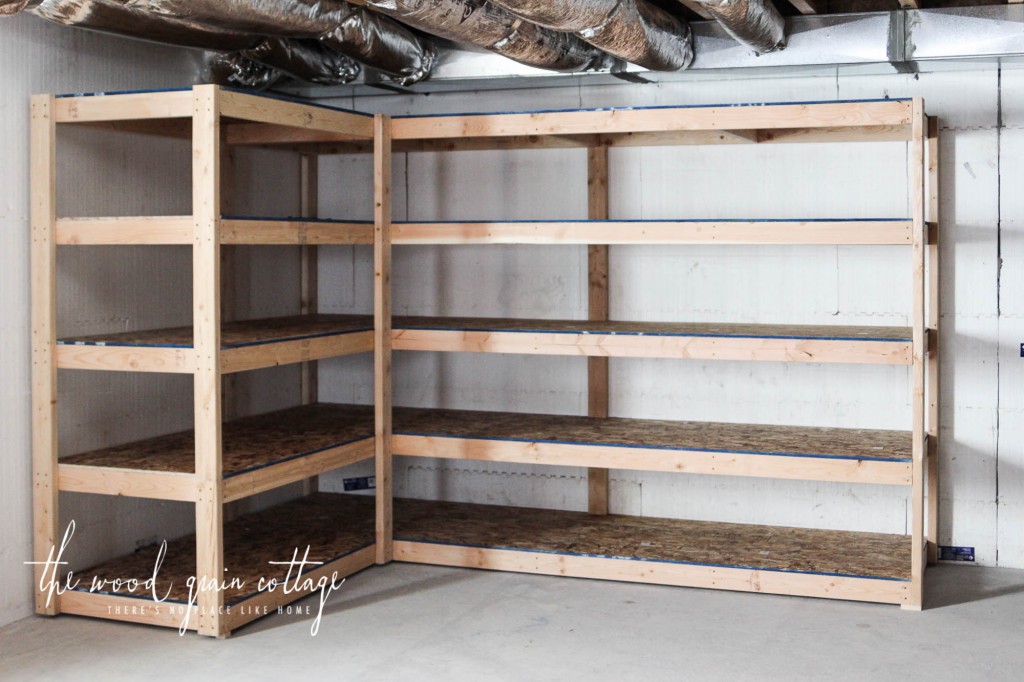 At some point, Anthony and I will probably install some fronts & sides to each shelf, that way jars won't slide off, but for now we're calling them done.
I couldn't wait to start adding to them! Total happy dance moment!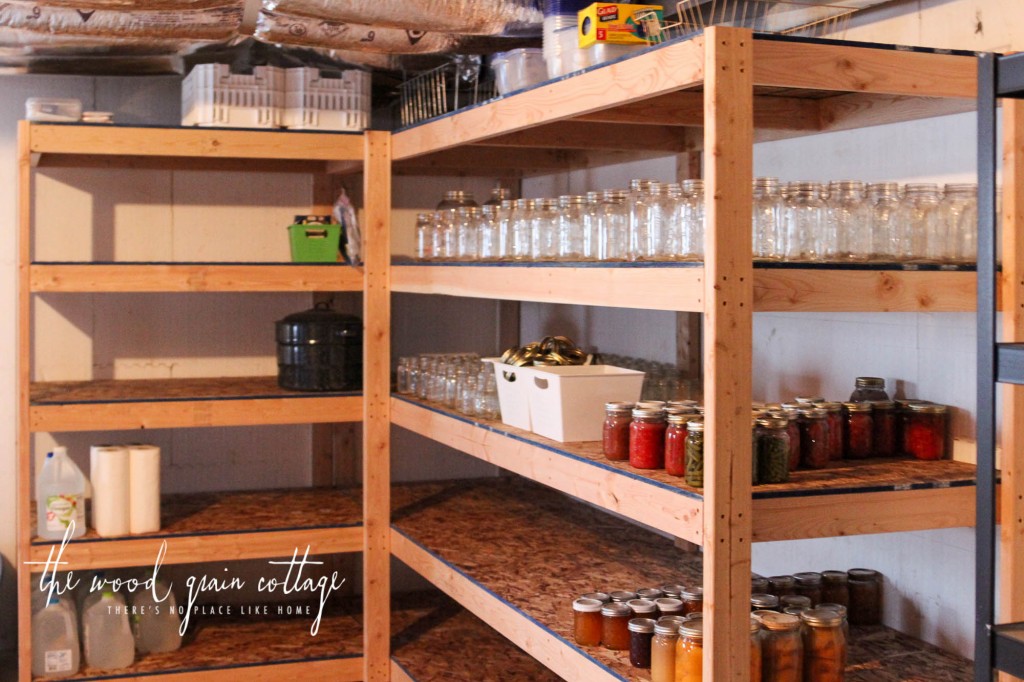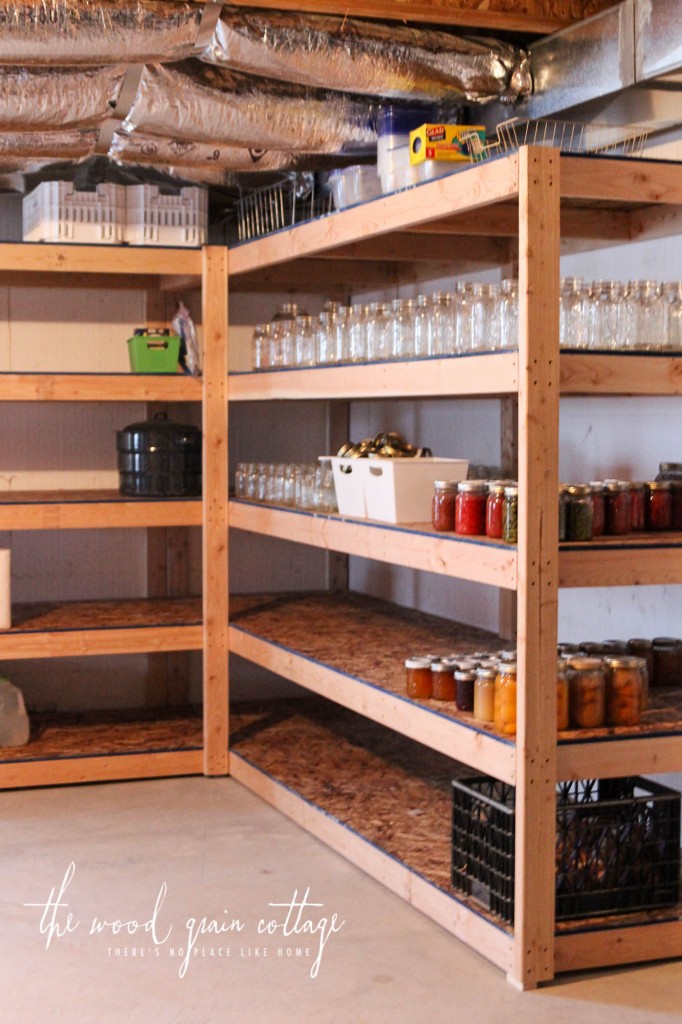 I have plenty of space to keep adding, and after I had all of the jars out of boxes and placed in an orderly fashion (I was lucky enough to get the old jars from two of my great grandmothers!), I found three more boxes in our garage. …sigh…. So back to organizing I went.
I just love that I have extra space to keep adding to our food storage, and pantry items.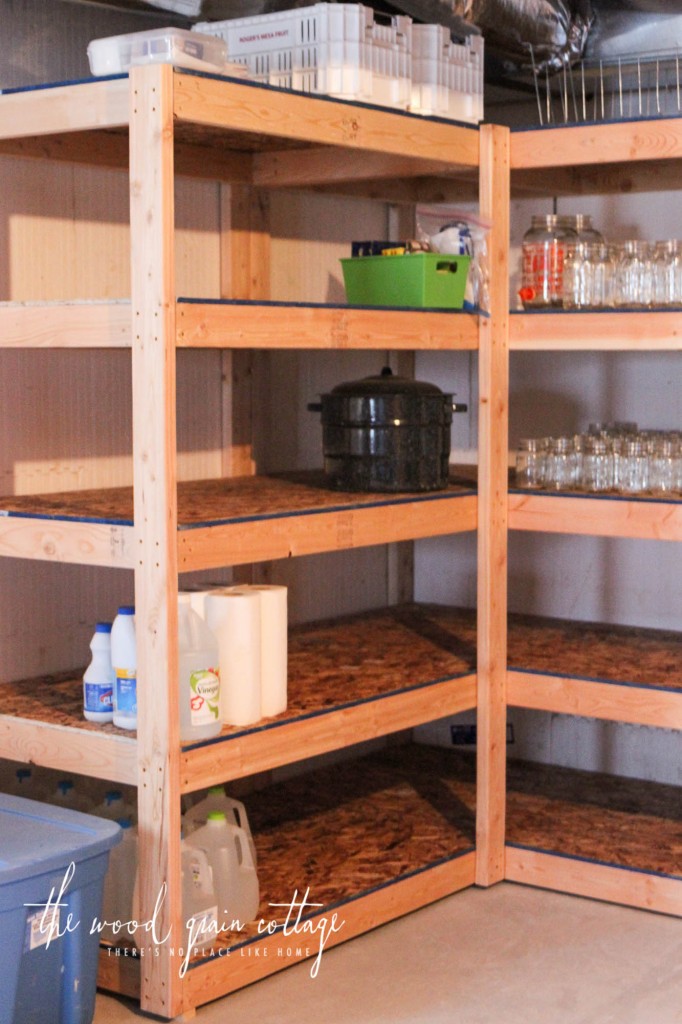 I mean, anything is better than this, right?
At any point, a few jars could have fallen off…
I'll take my new shelves any day over those!
Don't forget to pin this project! 🙂