There's something fun about completely taking a room down to the original studs and starting over. That's certainly the story of demo'ing the hall bathroom. It was interesting to say the least, and because of everything we uncovered during demo, the design/ layout plan for the room changed.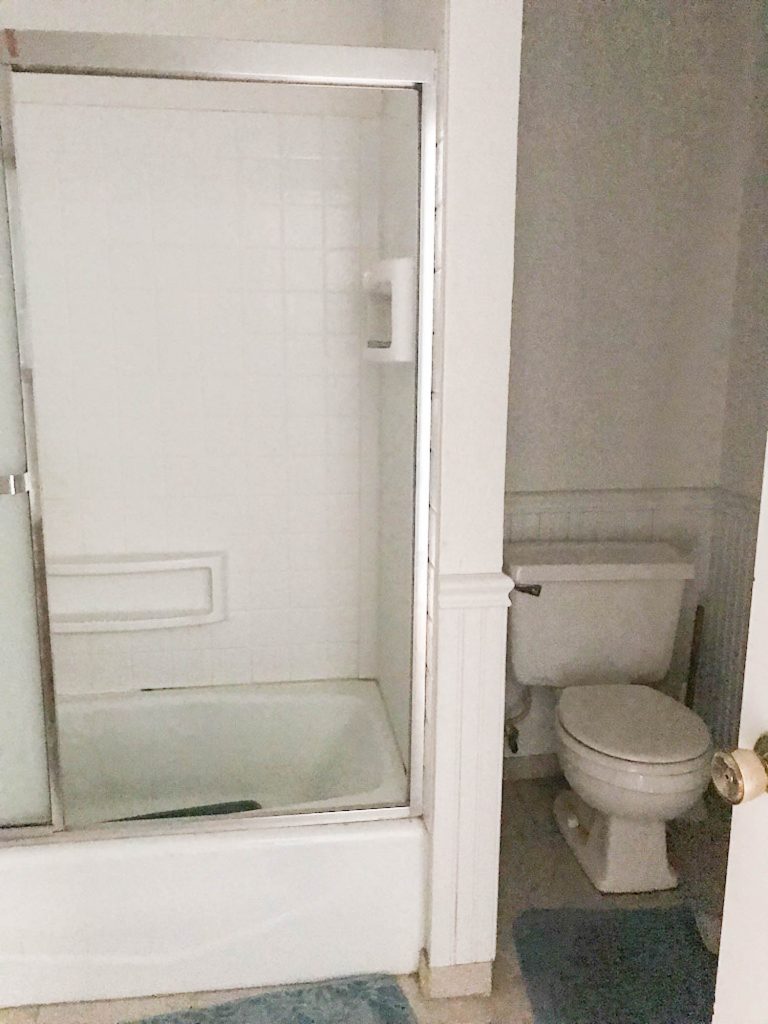 With one of the weirdest layouts in the house (actually, every bathroom in this house had the oddest layout), everything about this hall bathroom had us wanting to pull out what was previously installed. We both agreed there was no way we could possibly go to all the work, or demo everything out, to put it back in the same bad layout. Especially when we discovered yet another water leak around the tub with sub-flooring so rotted it was a wonder part of the ridiculously heavy cast iron tub hadn't fallen through to the basement.
As soon as we pulled the tub out, we discovered why there was a leak in the first place… all the plumbing was loose and leaking, for who knows how long. New sub-flooring was definitely required.
We also discovered that the other shower wall had mold, so that wall came out too…
A majority of the tile was already cracked and ready to pop up from the water leak, so it came up easily.
Once the tile was gone, we pulled out the old shower wall separating that, and the toilet…
Then, we pulled out the old linen closet, which was key to opening up the room…
With an empty room, we started working on the new layout. We went through every possible option. We taped off shapes, we measured and we measured again. Here's the layout before…
And here's what we changed it to after demo…
(Please note, those aren't to scale, just a rough drawing to show the layout change.)
Moving things around drastically made the room feel bigger. Instead of walking straight into the shower wall, you walk into a spacious bathroom. We were able to bring in a larger vanity (47″, rather than the previous 36″), still have a linen closet, and create a larger space for the toilet rather than the tiny hole is was previously in. Everything about this new design works so much better. It's also much prettier to walk by and see into with the different layout.
With the new floorplan in place, we started ordering all the materials and met with the subcontractors to go over the new design. It's been so fun to see the progress happening…