The Holiday shopping scene can be a bit overwhelming… This is coming from someone who hasn't even bought one. single. gift. yet. Yikes, I should probably get on that. Like, this week. 😀
But can I share a secret with you? I really love getting gift cards. Like, really. I know to some they seem impersonal, but I actually think they are a fantastic way to shop! Don't get me wrong, I love the thoughtful gifts too, but there's just something about a gift card. It's kind of like Christmas any day. Shopping for fun, without stressing about it coming out of the bank account. Been there, done that.
So, that's why I thought it would be fun to partner with Target as part of their GiftCard Cheer campaign. They love gift cards as much as I do, if not more! With that in mind, I'm sharing a creative way to give that gift card in case you're struggling with a unique or creative way to present it.
Here's the end result!
Here's what I started with… all of it, besides the gift card, were under $20!
I loved the ceramic container, so I used that as my base. I started by stuffing a white piece of tissue paper inside…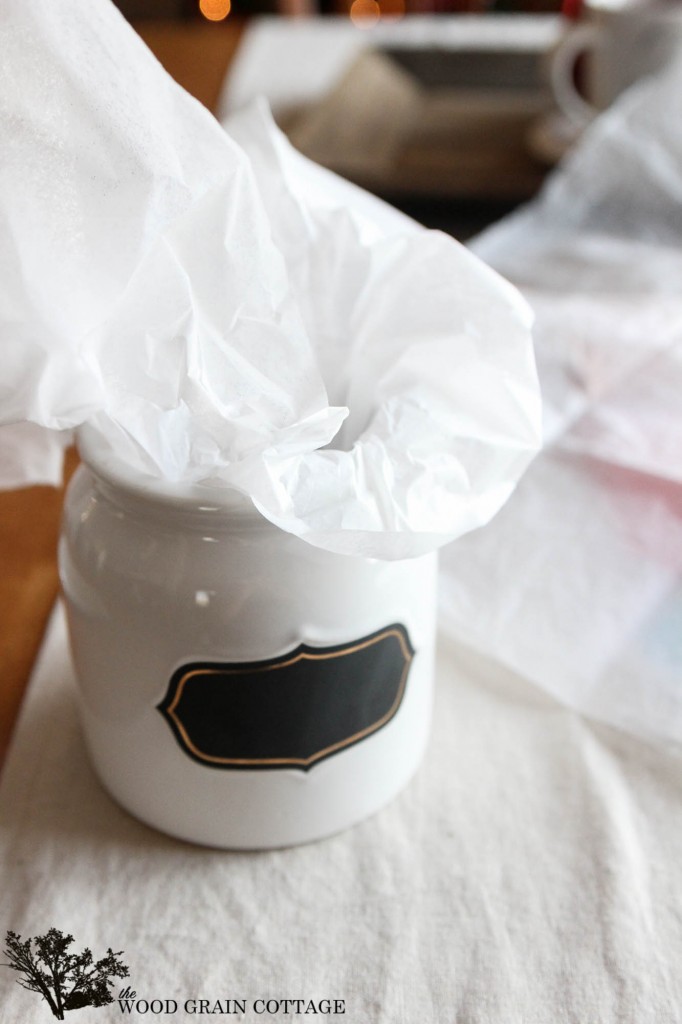 Followed by a red piece…
Then, I slipped the gift card inside. Side note, how fun would it be to tuck in some of their favorite candy?! Yummy!
With the gift card inside, I pushed the rest of the tissue paper into the jar…
And added the lid…
It was cute like that, but why not make it feel a bit more special? I found that adorable ribbon in the gift wrap section, and the monogram was by the stockings!
I simple ran the ribbon through the back of the monogram, then wrapped it around the jar and tied it in a knot…
Once the monogram was attached…
I used a piece of chalk to add a greeting to the blank chalkboard… How cute is that?
And the best part? That container is completely re-usable! It would be fabulous for office accessories, cotton balls, yummy treats, the uses are endless!
Now that's a gift I would love to get!
I'm sure I will be getting a few gift cards this year. My family knows me, and they know I like to shop for home decor goodies. Me + gift cards= happy day!
If you'd like to give a Target GiftCard®, you can get one right here!
We partnered with Target to bring you this slice of holiday cuteness as part of their #GiftCardCheer campaign.
Disclosure: Compensation was provided by Target via Mode Media. The opinions expressed herein are those of the author and are not indicative of the opinions or positions of Target.