We've been working on adding custom finishing touches to our home since we built it 4 years ago. We've updated much of lighting, built a bench for our breakfast nook, and added board and batten and plank walls throughout the house. In my opinion, the biggest and most custom changes have come from the board and batten walls, and the plank walls. They have added a craftsmanship to our home, which it was lacking. Adding the custom wall treatments has also clearly distinguished certain rooms in our open floor plan.
Like most, I would agree that having an open floor plan is a wonderful and beautiful thing. But, it also makes it hard to establish different rooms because of the open feeling. Transitioning paint colors, adding different wall treatments, and choosing finishing touches can be hard. When we first built the house, I was worried about our light fixtures matching in color throughout the main portion of our home. Since you would see all of the lighting from any room, it made sense to make them match in color. I took the same approach with the paint colors, and most of the accessories in the main room. But as we began living in the house, I had this nagging feeling something was missing.
We have such an open floorplan, that all our rooms felt like one giant room, rather than having a kitchen, living room, entry, dining room and breakfast nook. I decided to try and "create" the feeling of different rooms through paint, planking and board and batten. After a bit of trial and error, I have found that combining board & batten with planked walls was my best decision ever. And in the beginning it scared me.
The board and batten in our living room was an easy decision. Our vaulted ceilings aren't really tall, and the board and batten made the ceiling look taller by drawing attention to the vertical boards. It also made the room feel like it's own because of where we installed it. Before, it looked as though everything was combing into one.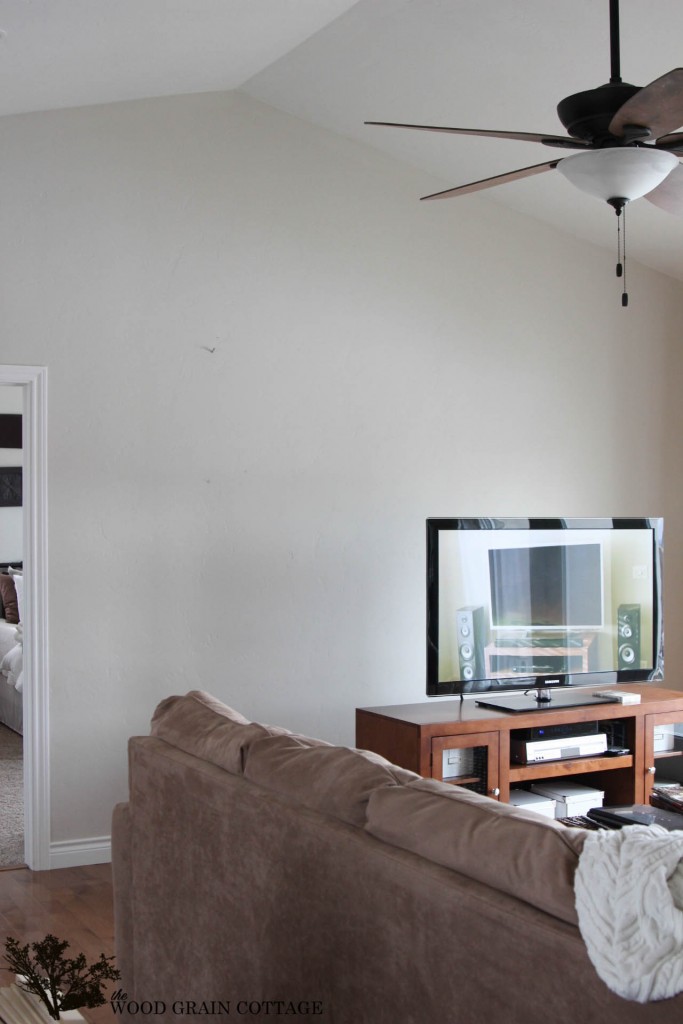 Now, it clearly looks like it is its own room.
And while we already had stripes in the entry (my way of using paint to create distinct room lines), and a planked wall in the breakfast nook (our first one in the house), the idea of mixing the board and batten with other walls treatments, mainly planking, became a clear vision in my mind.
But with that vision sat the nagging fear: What if the planking didn't mesh with the board and batten? Would the planking look like an after thought? Would the two transition into each other? In my head I could see that having a planked breakfast nook and a board and batten living room would mesh, because it sat right in front of me, but what about a planked entry way? Would it be too much planking in the main room of our house, or would it feel like a clearly thought our plan?
Those were all question I rolled around with for months.
Then one day, I decided to just do it. I decided to trust my vision and move forward. That was honestly one of my best decisions to date.
Planking the entryway accomplished the great task of creating a separate room, and it also lead you into the board and batten wall treatment in the living room. The two flowed seamlessly into each other.
And while I had momentarily thought about extending the board and batten into the entry, I was so happy I didn't. For one, it would have created the feeling that the two rooms were combined, and while that wouldn't have been horrible, but not ideal, it also would have made the entry feel taller, which it doesn't need. Our entry way is a decent sized space, but it's filled with doors and very little wall space. The planking created a sense of additional wall space, and it brought your attention to the walls, not the ceilings.
To create an even flow, I chose to paint the planking the same color as the board and batten, super white by Benjamin Moore. By using the same paint color, I was able to not only create flow between the two rooms, but I was giving myself the ability to create the same type of style as the rest of the house. That being, white with wood, and plenty of texture.
So with the entry way planked, painted and ready for a fresh start, I turned my attention to the remaining wall in the breakfast nook. It was the only wall left that needed to be planked in order to create a "frame" around the board and batten living room.
Once it was planked, I could instantly see what we had created. We had three separate, but combined rooms. We had three rooms that flowed beautifully between them, and three distinct rooms all on their own.
And because I had already painted the plank wall in the breakfast nook White Dove by Benjamin Moore, I followed my gut and painted the new plank wall the same color. That meant, the breakfast nook wall that touches the living room wall is a different color of white. White Dove is a creamier white, while Super White is a bright, clean white. For a split second I was worried the White Dove would look dirty in comparison, but it absolutely doesn't. In fact, because of the abundant amount of natural light in the breakfast nook, the room already has a slightly warmer appearance than the rest of the rooms in the house. There would have always been a variance, even if I had used the same paint color.
After going through this process, I can truly say that mixing and matching different wall treatments shouldn't be a worry that holds you back. I almost talked myself out of it, and I'm so happy I trusted my vision.
Now more than ever, our home is really feeling like us. My visions have slowly become the reality and we are closer to a home that we define, and not a home that defines us.
Go with your gut.