Lately I've been daydreaming of my most recent obsession: Sunny breakfast nooks with bench seating. Yes, you read that right. I've been obsessing over breakfast nooks. And bench seating.
It's what I do… my mind is constantly changing, organizing or decorating something. You'd think that I would get tired of it. Actually, it's the exact opposite. I thrive off of it! Honestly, the more that I let my mind wander, the better my ideas get.
Does that happen to anyone else?
Anyways…
Since we have a dining room and a breakfast nook, I've recently decided that I want to make our breakfast nook, well, breakfasty. I want to add a comfy bench with usable storage and numerous pillows, a  pedestal table with new chairs and a round sisal rug.
I can't even begin to describe my excitement. The best part? My Mr. totally agrees with me! My smiles are endless.
Since I have this enormous amount of excitement, I couldn't wait to share our plans and inspiration.
This is our current breakfast nook:
And here's what we're planning on doing:
-Make a bench out of existing cabinets the full length of the window. Hopefully I can find the cabinets at Habitat for Humanity to save on cost. Fingers crossed!
-DIY a bench cushion.
-Hem curtains to allow for bench.
-Get new pedestal table. I've been searching Craigslist and think I might have found one on the cheap. Just a little paint and elbow grease and we'll have a show stopper.
-Find new chairs for the table.
-Find & install a new light fixture.
-Make new DIY artwork.
-Find new rug.
-Accessories, Accessories, Accessories!
I would love to be able to set a budget, but not knowing if I can get cabinets at the second hand store will be a total game changer.
This is ideally what I envision for our breakfast nook:
Source
Are you in love as much of me? This is my favorite…. and what I completely want to copy and paste into our space. It looks so inviting. I want to sit in the sun, sip on hot tea and nibble on a scone. Mmmm…
The bench is amazing. And the textures… wow!
Source
So crisp and clean, it makes me feel happy!
Source
This bench is nearly perfect…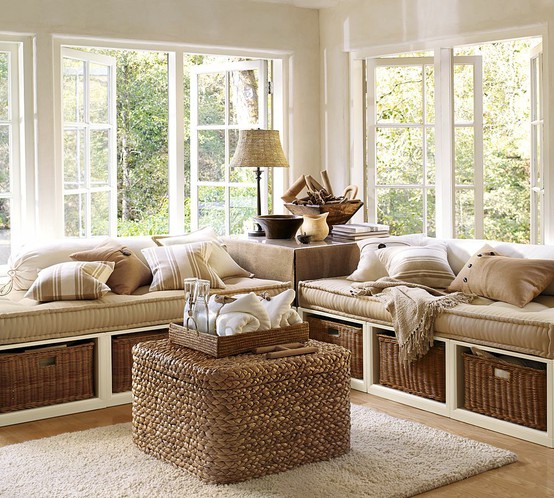 Pottery Barn, but couldn't find the direct source… SORRY!
Every one of these rooms has completely inspired me… They all make me want to curl up and soak in the sun.
I am beyond excited to get this project under way! I'll be sure to keep you updated along the way!
Big Smiles!