Last week I showed you our newly transformed dresser. And because I am so happy with the way that it turned out, today I'm showing you what I did.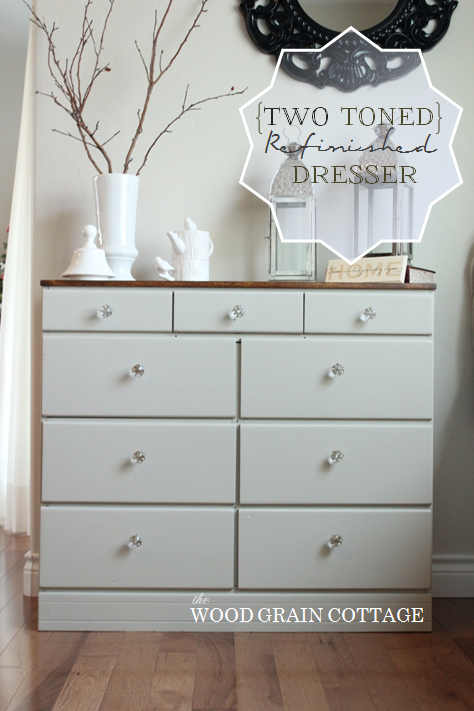 First off, I headed to Walmart to buy some paint stripper. I followed the directions on the container and ended up doing it 2 times to remove most of the paint. Very easy, but just make sure you apply a nice thick & even coat!
After I scrapped off all the paint, I got busy sanding! With our large sander, going with the grain, I sanded down the entire top until the black paint & gray primer was completely removed. Be patient.
Because I was staining the top, I sanded down the front and sides as well. I also made sure the surface was super smooth.
After the sanding was finished, I wiped down the top & sides with a microfiber towel, followed by a cheesecloth. Leave no dust behind!
Next, I picked out my stain. I originally planned on using Minwax Early American, but I tested a small spot on the side of the dresser and it was REALLY dark!
(I freaked, which I shouldn't have, because I could have just sanded it off….)
After that I played around with several different colors, some together & some not, and ended up with Provincial by Minwax.
I found that the sides of this wood (pine) stained darker than the top. I barely wiped the stain on the sides before I wiped it off again and it was DARK. It threw me for a loop. So, I tried about 4 colors on the side, but I didn't like any of them. They were too light. The dark color looked the best, so I decided to do it on the top.
Thinking it would do the same as the sides, I wiped it on and off again quickly. It hardly touched it. So the next time I let it sit a tad longer…. still not as dark as I was going for.
I could see that I wasn't going to get the color I wanted with the Early American stain, so I grabbed the darkest stain in our cupboard, Provincial by Minwax. Boy did this scare me… it was dark…
I spread the entire top with the stain, wiped it off, and it gave me a slightly darker color… rather than doing the same, wipe on, wipe off for the next hour, I decided it was time to just go for it. I put a thick coat of stain on the top and waited.
After about 10 minutes I wiped off the stain and could tell it was getting darker. I did it again and waited another 10 minutes. This time I wiped it off and it was perfect! Finally!
I called it a night and waited until the next day to spray on a sanding sealer. Once that was dry, I LIGHTLY sanded the top with 220 grit sandpaper, going with the grain, and wiped it down with cheesecloth. Then, I sprayed on two coats of a satin poly. I didn't want a super thick or shiny coat, so satin was the way to go.
Once the top was dry, I taped off the edges with Scotch Blue Delicate Tape and started painting. For the color, I chose Martha Stewart's Mourning Dove. I had it mixed in a water based enamel with a semi gloss sheen. Not too shiny, not too dull. Just right. 😉
When it was dry, I reinstalled my knobs and waited a day or so before moving it back inside the house.
Honestly, nothing about this project was hard. A little time consuming, yes. But not hard.
It was totally worth the work and we love the outcome! Plus, it has totally changed my feelings towards our current table. Without planning it, the stain on the dresser matches the table. For now, the table stays.
Here's my advice to you: if you have a piece of furniture that you really want to transform but are frozen with fear, quit it! Trust your instincts! Don't let fear stop you. And certainly don't be afraid of paint or stain. They don't bite!
Now get out there and transform- you won't be sorry!
Big Smiles!

Linking up to: