You all got to see a small glimpse of our new drapes in the breakfast nook when I showed you our new light fixture. And today you're going to see even more of them!
🙂
Originally, my plan was to keep the drapes that I made for the breakfast nook. But then I got to thinking about the way I wanted the room to feel and I changed my mind. Plus, I REALLY didn't want to hem the current curtains. The thought of cutting apart what I had worked so hard on made me sad. Those drapes were the first big sewing project that I've ever done. I even lined them, which made my heart hurt even more when I thought about tearing them apart.
I was at TJ MAXX a while back doing some Christmas shopping and happened to find a lovely set of drapes that I new would work. I loved the color, the pattern and the length. Call me lazy, but I really didn't want to hem or add on to them in any way. They were also cheap ($20), so before I walked around the store doing the whole "do I really want these? will they look good? do I really need them? are they the right color?", I put them in the cart and checked out. No time to second guess, right?
Best. Decision. Ever.
They let in so much more light, probably because they're not lined, and they make the kitchen so much brighter! Love them!
Plus, the old curtains are happier too. They love their new home, which I'll be showing you soon. 🙂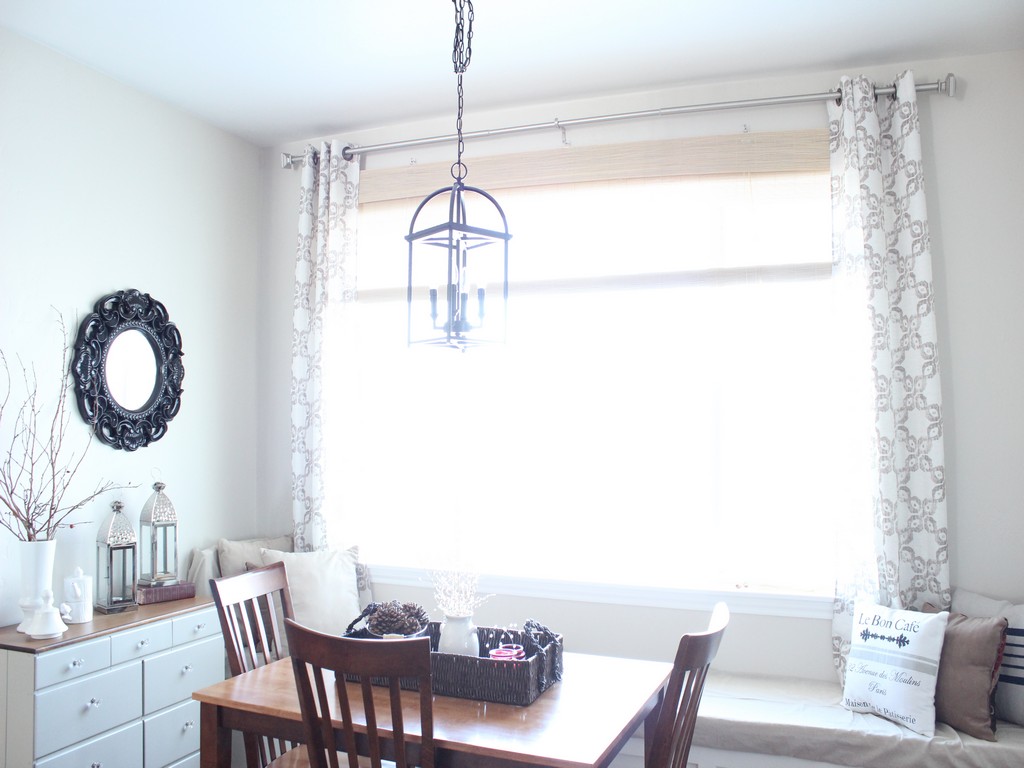 They're the perfect pattern. And I love that they are neutral, yet striking.
My next task is to find fabric and cover all the extra pillows that I found laying around the house. The bench cushion is also still in progress. For now, the foam is just wrapped with fabric. I'd be lying if I said I wasn't a smidge intimidated to make such a big cover!
Bring on the sewing projects!
And let's check another item off the dwindling list!
-Make a bench out of existing cabinets the full length of the window. Hopefully I can find the cabinets at Habitat for Humanity to save on cost. Fingers crossed!
-DIY a bench cushion.
-Hem curtains to allow for bench.
-Get new pedestal table. I've been searching Craigslist and think I might have found one on the cheap. Just a little paint and elbow grease and we'll have a show stopper.
-Find new chairs for the table.
-Find & install a new light fixture.
-Make new DIY artwork.
-Find new rug.
-Accessories, Accessories, Accessories!