A while back, I gave you the opportunity to ask me any question, blog or personal, that you were curious about. We spend a lot of time together, so it's only natural that you would have questions.
You asked, I answered!
How did Anthony and I meet? How did he propose?
Anthony and I met through a mutual friend, who I met at college. Anthony was her longtime neighbor. She knew we had to meet and I'm so thankful for that! I'll never forget the first time I saw him… I just knew.
We started dating in 2007 and shortly after that, Anthony began the process of buying his first house. I was lucky enough to tag along and give my opinion. He ended up buying a bank owned home that needed a lot of love. We spent months working on the house- that's how we dated, fixing up the house, working on projects and  giving it the attention it so desperately needed. We were getting so close to finishing the house and I was scrubbing on the hardware floors. He came in and said he wanted to go to dinner, which I found odd because I was covered in chipped paint and old carpet pad. He was persistent. And I wanted to finish the floors.
With much persuasion, I finally agreed. He took me to the cutest local Italian restaurant and was very quiet the entire evening. I couldn't quite figure it out. When we were leaving, he opened my car door and as I turned around, he pulled the ring out. He asked if I would marry him. I was so choked up with emotion that I couldn't talk. He told me that I could think about it if I need too, but I managed to say "YES"!  After that, I moved into the house and he stayed at his parents until we were married in May of 2009.
Do I enjoy coming home to my newly finished projects?
YES! With each and every project that we complete, our home feels more like ours. Even though we built it from scratch, it's all about the details. Adding them is the fun part!
Does Anthony expect me to have my project cleaned by the time he gets home?
Because I work full time (more on that in a bit), I generally do my projects at night or on the weekends. Sometimes I'll have the project laying around for a couple of days, but generally I pick everything up really fast. I don't handle clutter very well and it makes our lives easier to keep everything organized. So, no he doesn't expect me to have everything picked up. We both just like things clean and tidy.
How do you take the time to do all of these beautiful projects and keep your home so beautiful and clean?
By nature, Anthony and I are both very clean people. When we make messes, we pick them up. But we absolutely make messes! I just can't handle to live in them very long.  Since I try to do the majority of our projects on the weekend, that means that I might not always stay up to date with my dusting schedule and the floors probably aren't sparkling, but the second it starts to bug me, I can't think of another thing until it's cleaned, which usually falls in the middle of the week. I do stay up to date on the laundry. I'll do a few loads throughout the week and the majority of it on the weekend. I'm all about muti tasking. If I can be doing laundry while doing a project, or dusting while something is drying, I'm all for it.
I've also found that it's best to do a quick pick up every day. At the end of the day I'll put everything away that's lying around.  And I take care of the mail the second I get it. Paper clutter gives me hives.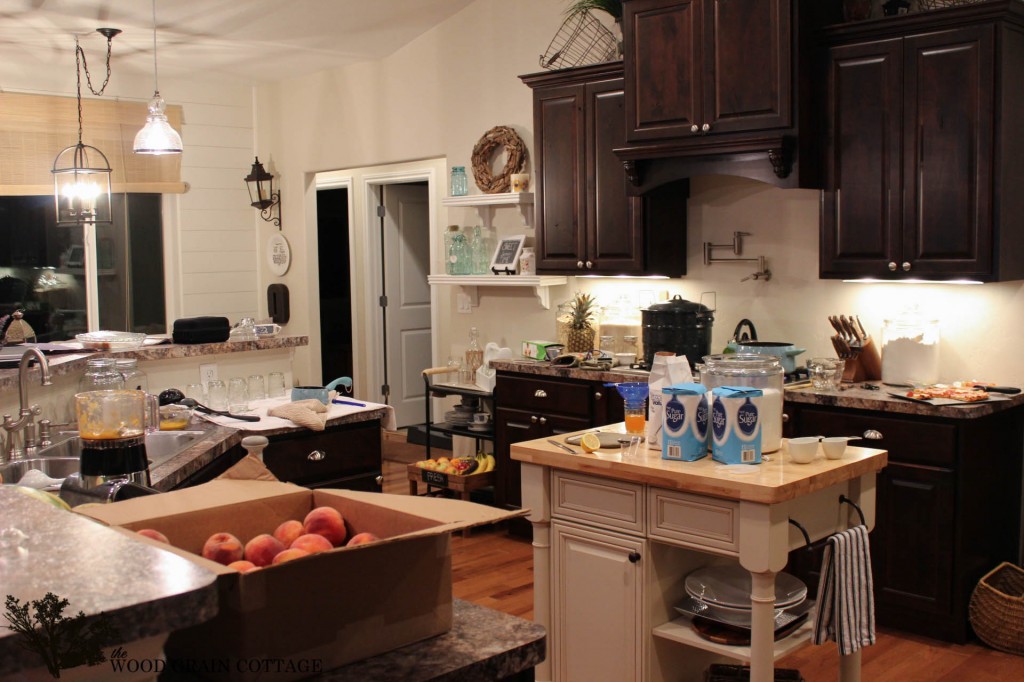 Do you work outside of the home, or is your full-time job to be an awesome blogger, wife, and DIYer?
Yes, I do have a full time job. Most days I do projects for therapy! Ha!
Where do you find inspiration for your projects?
Oh boy, everywhere! From restaurants to movies, magazines, the internet and nature, I'm constantly always so inspired. A lot of ideas randomly pop into my head, so I've learned to keep a notepad and pencil with me at all times to quickly jot down my latest idea or inspiration. I've also started sketching. I've found that if I sketch a specific item, I'm better off remembering it than just by writing it down.
Does Anthony always jump on board willingly, or do you have to drag him into your projects?
Anthony doesn't always welcome my new ideas and projects. He gets more excited about some projects than others. Sometimes I beg. Constantly. Other times he does them right away. I think it depends on what's going on with his own schedule. One way or another, he always does them because he knows how important it is to me. A lot of times I'll throw ideas at him and ask him if it's possible. One way or another, he makes them possible. And I fall a little bit more in love with him everyday. Really.
What do you do for fun? What are your hobbies (besides the blog)?
When I'm not blogging, I'm typically doing a project for the blog. But when I'm not doing that, I enjoy cooking, baking and reading. In the fall and summer, I also play on a a co-ed softball team. I've played softball pretty much my entire life, so I really enjoy playing one night a week for fun.
Do you get tired of constantly doing projects? What about Anthony?
Sometimes I do get tired of doing projects, but for the most part I really enjoy it. There are days though, when I can't even think about doing another project. It's those days when I typically come up with my best ideas. It's when I walk away and forget about everything that I have new ideas pop into my head.
Anthony does get tired of my projects. But, bless him, he always does them. Generally if I'm really excited about something, he gets excited about it too. And I have to know when to bring up a new project. I know him well enough to know that if I spring on a new project idea when he first comes home from work, he'll brush it off. But if we're sitting down at the end of the day, or eating dinner, I usually have time to bring on the project details.
What's your favorite project to date?
This is a tough question! I have so many projects that I've absolutely fallen in love with. Picking one is almost impossible. For a house project, our entire laundry room has come such a long way. Every day I tell Anthony how much I love that room. The breakfast nook bench and plank wall is another favorite project too. Both of those rooms feel so much like us, that it's hard not to love them!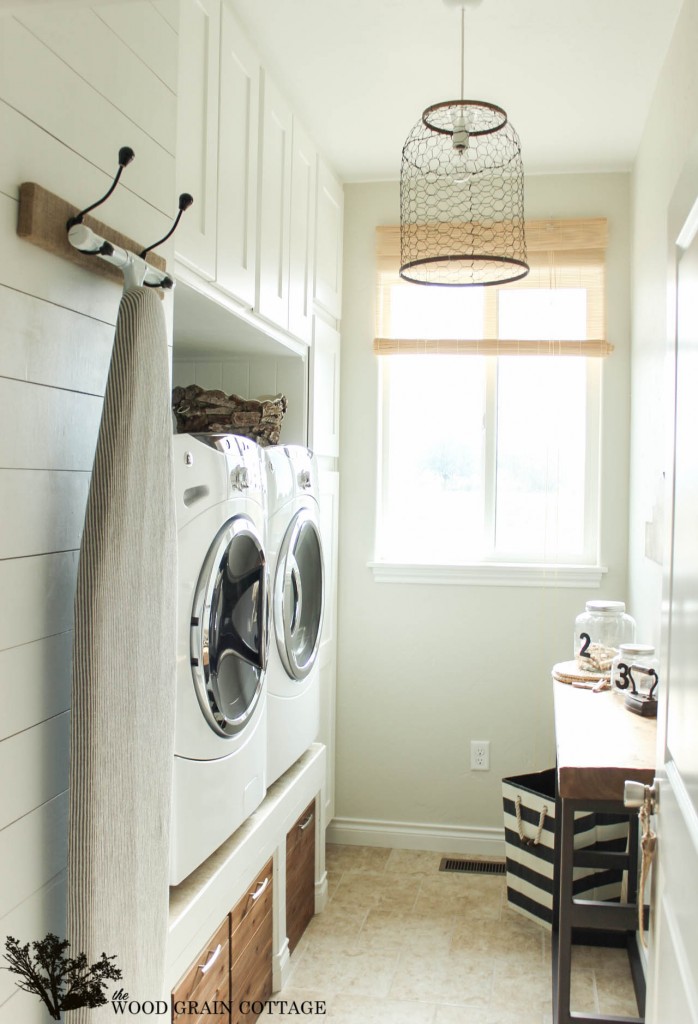 What is Anthony's favorite project to date?
The laundry room crates. We really use them. A lot. They're as functional as they are pretty.
Would I change anything about our house?
Yes and no. We custom built our home and spent months dwelling on the floorplan. I wish that we would have made our living room a bit bigger, but we have a huge unfinished basement that will entirely change how we use our upstairs living room. We wish that we would have vaulted our ceilings more, but we didn't want to spend the money to do it. Overall, we're very happy with how our home turned out.
What are the colors in your entryway?
The darker color is Edgecomb Gray and the lighter color is White Dove. Both are Benjamin Moore colors. I need to do a paint color post, this is one of my most popular questions!
And there you have it! THANK YOU all so much for your questions!