Yes, the office has a new chair. We sold the other one, which really wasn't an office chair at all, more like a dining room chair that had 5 other identical friends and a table to call home.
It was time. I went weeks without a chair. It was miserable! Every time I went in to pay bills, I had to stand! I hate bill day anyways, but with no chair it was pure torture.
One day I went on a very productive shopping trip with a dear friend. We hit up American Furniture, for her, and I walked past the chair of my dreams… seriously. It was exactly what I was wanting! I simply couldn't imagine my office without it. And the best part? It was so reasonably priced! I had been searching high and low for a chair that would be comfortable, yet stylish, without putting of the, "Hey, I'm a total office chair on wheels" vibe. Know what I mean?
It wasn't until I came home and was completely giddy with my new purchase and telling my husband how AWESOME the office chair is and how I hated spending time in there because I didn't have a chair to park my tush, that he was like, "Why didn't you just pull one of our other dining room chairs or folding chairs and put it in their temporarily?"……….
Well, I hadn't thought of that… True story. I was so focused and motivated to find "the chair", that I completely skipped the obvious temporary solution.
I tell ya, those husbands, they can be smart! 🙂
(Are you still listening, er… reading?… Crickets…. Ok, Great!)
So here's my new office BFF: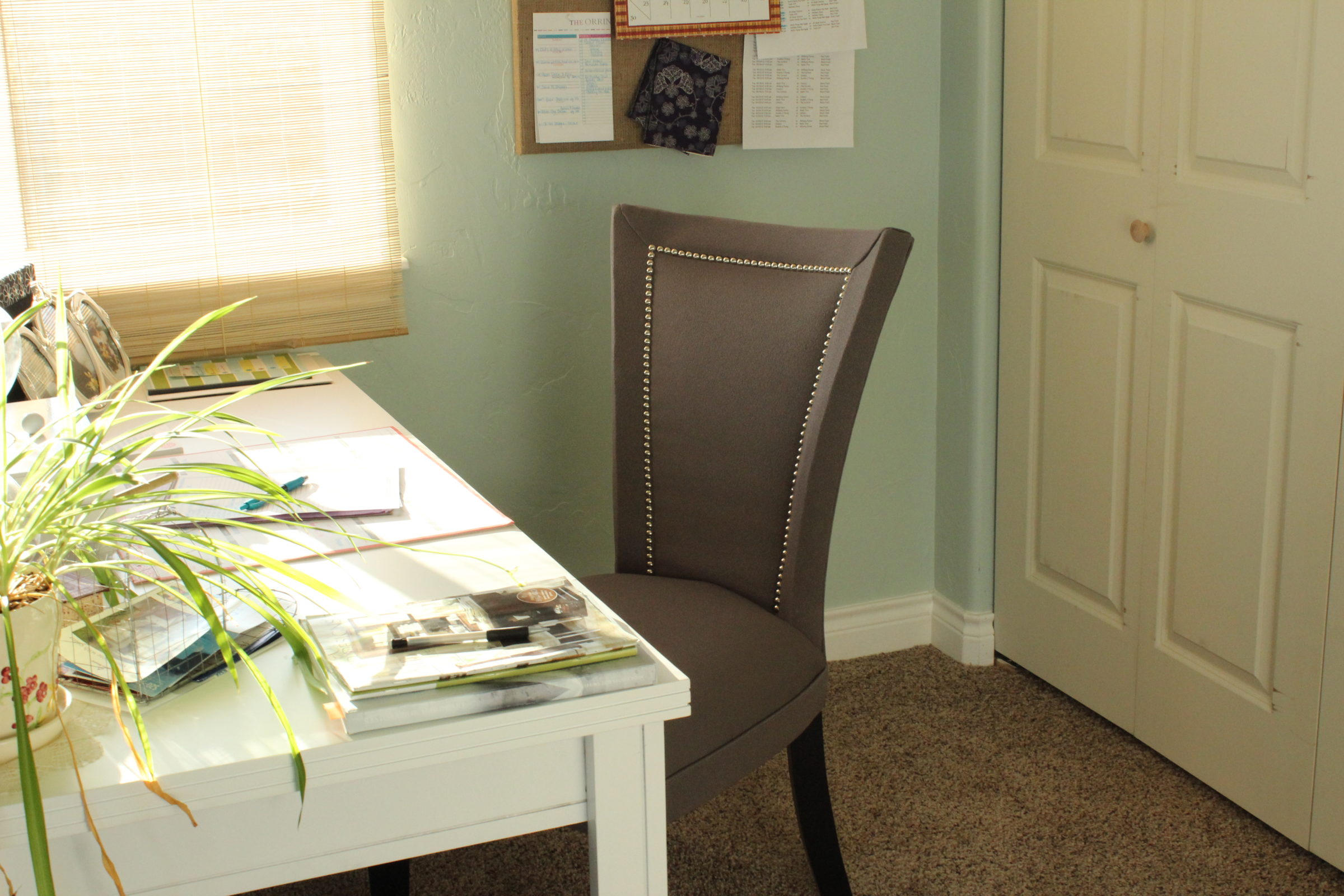 There's a whole lotta love up in here! That nail head trim had me hook, line and sinker! Seriously. I wasn't leaving without this chair.
Don't mind the shedding plant. It needs a good cleaning up. Or the pile of random stuff to the left of the desk. Just more projects that are coming your way!
There's still a lengthy to do list for this room, but we're totally making progress! And that's something to be happy about!