You're in for a real treat today friends, because I'm sharing an absolutely gorgeous peek into my beautiful friend Chelsea's kitchen! Remember her dining room? Swoon! Her home is utterly fabulous, and I love being able to share it with you… major inspiration, and I know you all love it as much as I do!
Chelsea has always mentioned how much she loves how I use the outdoors so much in my décor. Be that just as my initial inspiration, or when I bring the outdoors in with fresh clippings. You know how much I love using tree clippings as my focal point, but for her kitchen, we decided on some Alfalfa clippings. Gorgeous!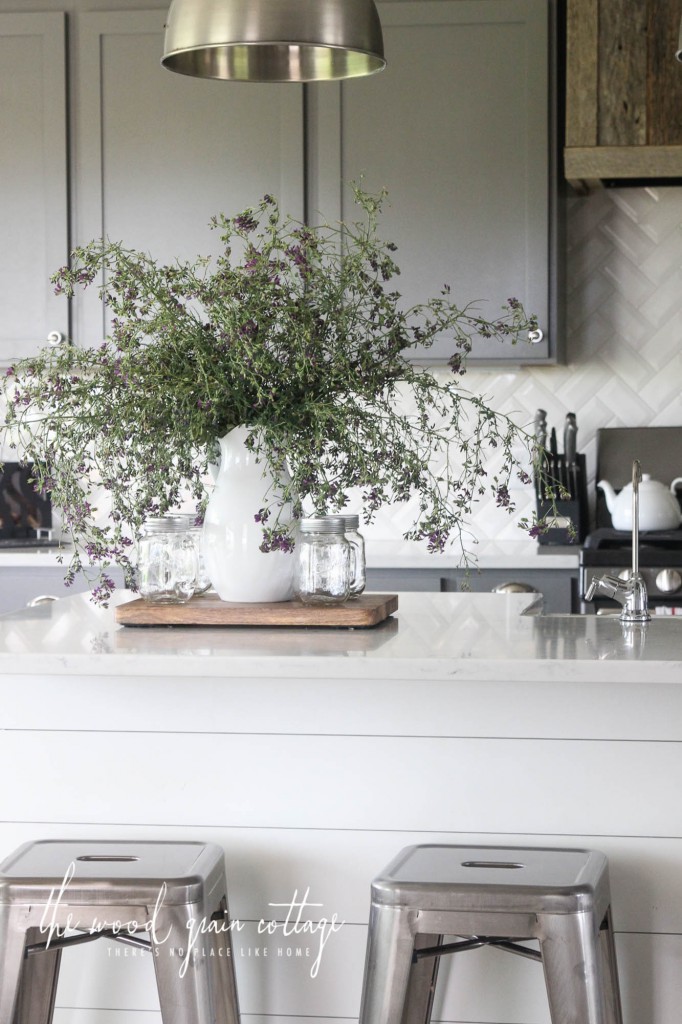 Living in a very rural area like we do, it's easy to run into a variety of foliage that seems to shine indoors. After we got done clipping the alfalfa from the field, we put the stems in a beautiful white pitcher, which you can find here.
It was all so beautiful, I couldn't help but share it with you. Everything from her awesome kitchen, to the clippings, I just knew I had to share.
It's absolutely amazing how much fresh clippings can transform and brighten any space. For this bouquet, I helped her place them in the vase in a very messy, unorganized way. It makes it that much more beautiful.
And the alfalfa is absolutely breathtaking. The bright purple blooms, and the wispy look of the plant…
Here's a few more beauty shots…
I hope you enjoyed this peek into her kitchen, and the gorgeous alfalfa blooms! I'll be back with some fall decorating really soon! And see below for her kitchen sources!
Please note: Some of the links in this post are affiliate links, which allows us to make a small commission from your purchase, but your purchase price stays the same. Thank you for helping support our blog! We greatly appreciate it!
Sources:
Faucet
Pendant Lights, Joss & Main- These are similar
Kitchen Cabinets, in Slate Gray
Island Paint Color- Super White by Benjamin Moore