If there was one room in our home that just felt… bleh… it was our living room. It just didn't seem to be working for us, no matter what I tried, and there were so many different elements that needed addressed. We needed a big living room refresh to get the room back on track, and that's just what we did with the help of American Furniture Warehouse!
First off, we only have one wall in the room that can have furniture up against it, and that's the wall with the T.V. Until we finish our basement, which won't be for a good while, the T.V. stays upstairs, making the rest of the living room a little tricky to layout. We also have a solid wall of doors/ windows, which we planned intentionally and absolutely love, but it doesn't leave us any extra room to "widen" the space out, if you will. We can't put furniture up against it, but instead we have to pull furniture into the room in order for the doors to be able to function and open.
The other big tricky element to the living room, is that the main wall of the living room, also has the door that leads into our bedroom… and it's almost right in the center of the wall, making the center of the room shift over to the right, and off from the actual center of the room, as defined by the peak of our vaulted ceiling. And as much as I want to pull furniture out towards the entry way, which has plenty of space, I can't, specifically because that's a main walkway from the kitchen into our bedroom. Tricky, tricky.
But, the first place I knew we needed to start in order to give our living room the big refresh it was needing, was to eliminate our sectional couch. While we essentially still really liked our sectional, there were so many elements it was hindering, just because we couldn't move it around or arrange it in a different way. It was basically a one way wonder… or was it?
When we first bought the couch, I was all about it, but after a year or so in, I could see just how confining the sectional was to our space. It defined the room, and didn't allow for any extra furniture or movement, specifically because of its size and shape. So with all that said, we've had a very small and confined living room with limited seating area and a lack of conversational space. We knew it needed to go, and we also knew we wanted to replace it with a couch and two chairs for optimum seating and to create a bigger living room space overall.
Enter in American Furniture Warehouse! If you've read the blog for a while, you know how much I love their furniture store, and so much of the furniture we have in our home is from their store. (Remember the addition of our new breakfast nook chairs? You guys love them as much as I do!)
This time around, I knew exactly what I wanted… a couch and two leather club style chairs. AFW had exactly what I was looking for, but at a price point that made us feel comfortable. We were lucky enough to partner with them to do this fun living room refresh that makes so much more sense for both our living room and us, and it's all something we absolutely love! Welcome to our new living room…
Furniture placement is very important in creating a great space. The furniture needs to fit the room in size, but also make the space shine rather than distracting away from the focal point of the room. When choosing which furniture we wanted for our living room, I knew I wanted to incorporate leather into the space. I like the subtle masculine feeling it adds, but I also wanted to pair it with a fabric couch. I also love the clean look of track style arms, and both the chairs and the couch compliment each other with the similar style…
I also love how the dark color of the leather chairs tie in with our kitchen cabinets. It flows so much better with the rest of the house now…
After browsing through American Furniture Warehouse, more than once (or twice I might add), I knew the Aspen All Leather chairs and Aspen All Leather ottomans were exactly what we were looking for. They're beyond comfortable and I loved the dark Italian leather… and that they will age beautifully over time with natural wear! They also add that perfect modern-esque vibe I love, while still feeling classic.
I won't kid you though, I had a much harder time finding a sofa I loved, specifically because of size. I mentioned above that we have a small living room, so I had to be very space conscious in finding the perfect couch that would fit the space correctly… especially with two larger chairs. I kept going back to this couch, and essentially decided it was the right fit for the space. AFW was so incredibly patient with me as I worked through all the size constraints on our end. I was so appreciative that they didn't try to push the couch on me, but rather gave me the time and space I needed to be sure of my decision. I didn't want to make a mistake again like I did with the sectional, so I measured and re-measured about 15 times before finally saying "let's do it!". If you've never shopped in AFW, you're missing out. There is no "push", no "pitch", no "pressure". They're just there to help, and I love that… and their awesome selection of items at incredible prices!
This room has come such a long way, and mainly just from the addition of new furniture. Of course we have plans to change a few other things (we wouldn't be us if we didn't), but for right now, things are feeling fabulous!
And might I add, that for the first time in the history of ever, we can actually have end tables… Completely life altering! We can have side lamps, and I love the cozy vibe they add to the room. These were thrift store finds and I couldn't believe they were just sitting there…
And apart from just having new furniture in the space, I can honestly say, my favorite thing about the room, is the mix of textures. The leather brings in such a cool, sleek feeling while the couch adds a soft, plush texture. It all combines to be so warm and inviting…
And as for the flow of the house? Well, that's my other favorite element. This furniture, and the arrangement, makes our home feel so much bigger and more conversational. Before, you were greeted with the back of the couch and it didn't make you want to come in and sit down. But now, the living room draws you in. You want to come in. You want to sit and visit.
It's all pretty amazing at night time too. Everything feels so warm and cozy…
I also created a video of the space. It shows the details of the furniture and gives you a nice perspective of how it all flows together! You can view it below, and make sure to subscribe to my YouTube channel… I'm working on adding more videos of projects and home tours! (Think office and guest bedroom!)
This is one successful refresh in my book! We have a completely new room and it functions better than ever before! And just the fact that function and beauty can meet in such a lovely way, well… it makes me love home even more!
If you're looking for some new furniture, or even home accessories, be sure to visit American Furniture Warehouse! They have several store locations, but also sell and ship furniture online!
More home projects and updates coming very soon…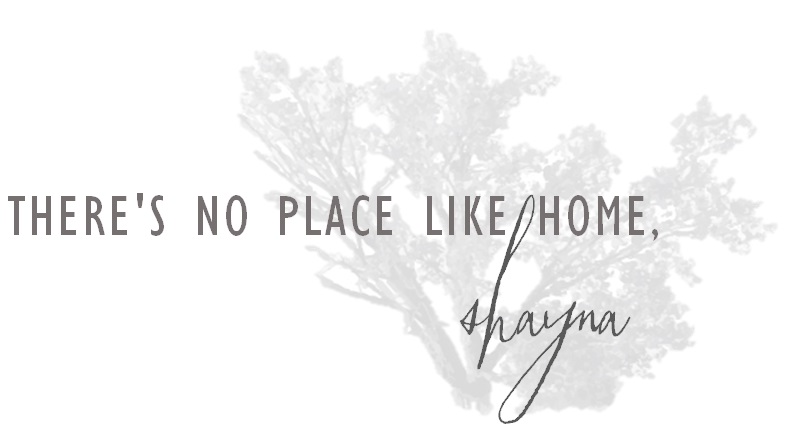 All pictures of me are by the very talented Patrice Neil Photography!