Join me by taking a walk through our home and seeing our summer home tour. 
What a fun day this is! I'm joining several of my blogging friends to bring you our annual summer home tour! A very big thanks to Marty from A Stroll Thru Life for continuing to organize this fun tour. I always enjoy looking through all the different homes, but it's also a great way to document our progress and see how far we've come with our own home. 
If you're visiting me today from Tamara at Citrine Living, welcome! Tamara has such a beautiful home and her ginger jar collection is nothing short of amazing. She's collected so many lovely jars and they're a real treat to look at!
I really had fun bringing in the summer elements this year. I'm never one to decorate over the top, but I do like to let nature speak to me. Cut branches will forever and always be one of my favorite ways to decorate. They truly make the house feel like the season and they share so much vibrancy. This year, our backyard apple tree is sharing its beauty and every summer, we eagerly await the delicious summer apples it shares with us. Oh sweet summer time, how we love you!
2021 Summer Home Tour
Let's take a look inside, shall we? We'll start the tour in our entry way…
This little area of our home brings so much happiness. The art prints are very special to me. I remember my summers as a child running through this meadow, dreaming and creating even then…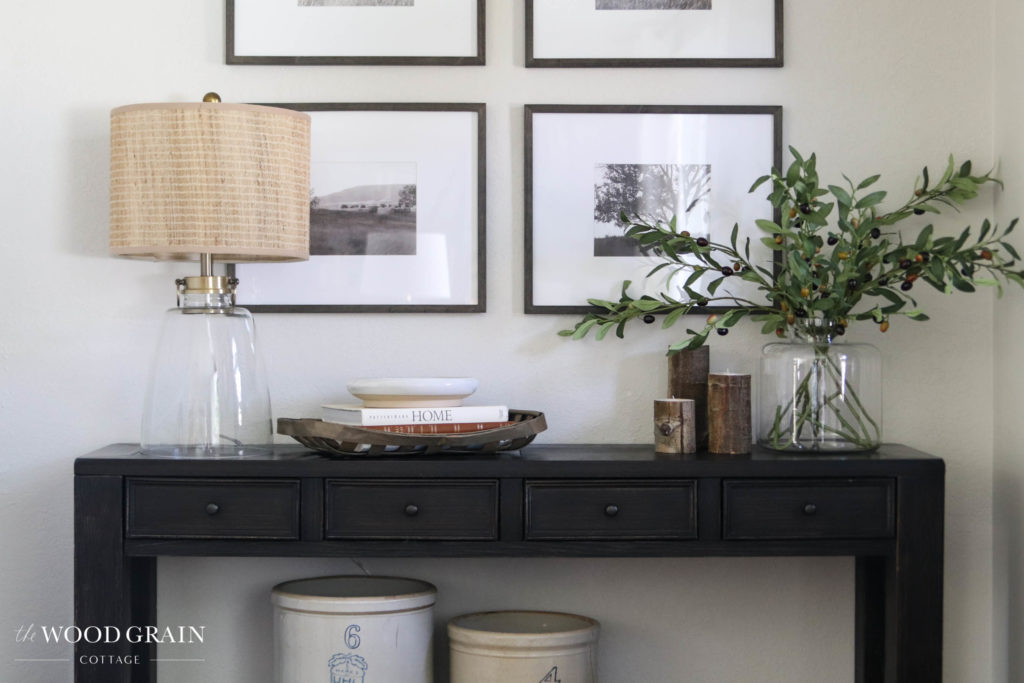 I also love, love, love how versatile these faux olive stems are. I haven't found a place yet where they don't look wonderful and right now I love pairing them with this large vase…
Our Living Room
I kept things pretty simple in our living room… but I did move Ania's toys for the pictures. This is her favorite room to play and on a normal day, you'll find her toys, stuffed animals and picnic set strung across the entire room with her lounging on our new rug. She's sure fun…
I did add a few new pillows to our couch as well. They were such a fabulous Target clearance find. Under $10 for a great pillow? Sold! (These pillows are similar to what I bought.)
Ania loves them too. In fact, right now she enjoys trying to climb on the couch… and pulling on anything she can find to help get her leverage to get where she wants to go…
I left our bookshelves in the same order, just tweaking them ever so slightly. Why mess up a good thing, you know?
Our Dining Room
This view from our living room into our dining room is one of my favorites… and unfortunately I can't ever get it quite right when taking pictures. Each element has combined to create such a pretty view…
This small dining room has come such a long way and it has so much personality now…
The fresh apple tree clippings add the perfect touch. They add such a fresh, happy vibe to our home…
Lately, I've also been using my large pie board as a centerpiece for our dining room table. It's the perfect backdrop for all the fun little things I want to add…
I've had these vintage linen napkins forever and I love them. The floral lace just adds such a beautiful touch and while we don't use them every day, I love bringing them out to photograph…
Our Kitchen
Our kitchen is almost done and we're so happy with how it has turned out! It's the heart of our home in every way. It's small, but mighty!
I get asked often about our laminate backsplash and countertops and it's one of my very favorite features of our kitchen. We would, without a doubt, do it all over again. It's budget friendly, but it definitely doesn't look like it…
And of course, my copper jam pan is still my favorite kitchen item. A gift from Todd and my sweet Ania on my first Mother's Day and it will be cherished every single day…
This is another favorite spot in our kitchen. I love seeing all of my aprons hanging here… it just feels like home. And they're in the perfect place for me to easily grab one and get started in the kitchen…
I also pulled out some of my favorite cook books and my recipe box. I love having them close by when I start meal planning for the week. They also look lovely in this big wicker basket…
Here's one more peek at our kitchen…
Our Front Porch
And of course, it wouldn't be summer without me including a few pictures of our front porch planters. Every week I love seeing how much they've grown and filled in…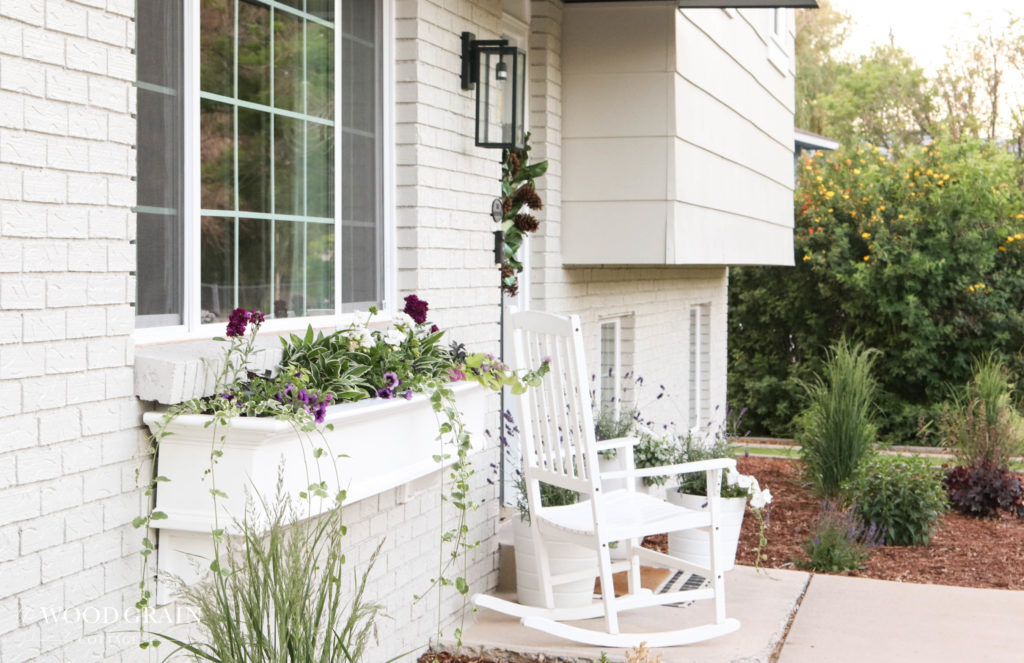 I shared more details about all of our flower pots in this post…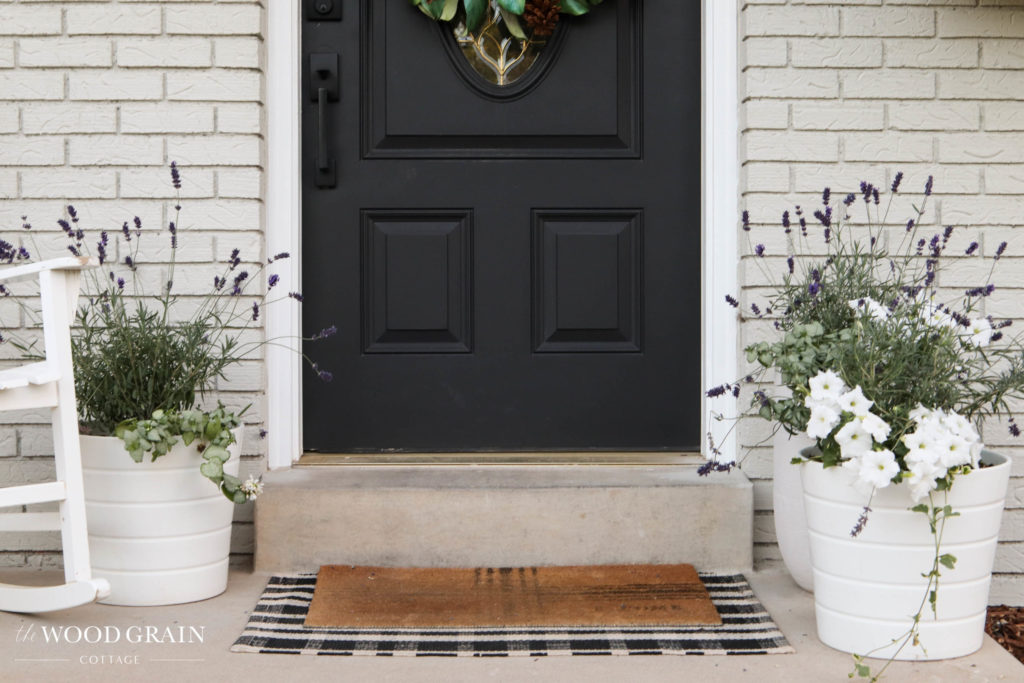 And that's a wrap on our summer home tour! We're looking forward to enjoying our summer, BBQ'ing on the back patio, hosting Ania's 1st Birthday party in just a few weeks (!!!) and eating all the fresh veggies from our garden!
Next on the tour is Sarah from Grace In My Space. She has such a lovely home and she shares so much decorating inspiration. I know you'll love her tour, and her entire blog!
If you'd like to tour all of the other amazing homes, you can start the tour from the beginning right here:
Monday June 7th
A Stroll Thru Life – Worthing Court – A Pretty Life – Pink Peppermint Design – StoneGable – Hymns & Verses
Tuesday June 8th
Southern State of Mind – This Is Our Bliss – Up To Date Interiors – It All Started With Paint – Decor To Adore – Cuckoo4Design
Wednesday June 9th
Remodelando la Casa – Whispering Pines Homestead – Cassie Bustamante – Inspiration For Moms – Making It In The Mountains – White Arrows Home
Thursday June 10th
Our Southern Home – CitrineLiving – The Wood Grain Cottage – Grace In My Space – Thrifty and Chic – Designing Vibes
Friday June 11th
Casa Watkins Living – Follow The Yellow Brick Home – Chalking Up Success – Bloom in the Black – Quarters One – Clean and Scentsible