I've mentioned a couple of times that I've been in major fall nesting mode. It's been a little while since I've been able to do any fall decorating, and this year I was looking forward to getting my hands busy again spreading fall throughout the house. Today, I'm excited to share our fall home tour! I've joined forces with a group of amazing bloggers, organized by Marty from A Stroll Thru Life, and we're all opening our doors to share fall decorating ideas you can use in your own home!
If you're visiting from Designing Vibes, welcome! I'm so glad you're here! Erica has such amazing style and I love how she's transitioning her home into fall!
It's no secret that it's sometimes hard to decorate when you're in the middle of a remodel. But even though it seems like we have unfinished projects all around us, there's still plenty of areas to focus on decorating… even if it's still not where we want it to be. Since we have so many unfinished areas in the house, and they aren't the prettiest spaces yet, I'm focusing the tour on our entry, living room, dining room and kitchen.
Lately, I've been making some changes to our entry, and it's already feeling so much more like home when we walk in the door…
We added in a new table and some fresh accessories, and suddenly things are feeling so much better.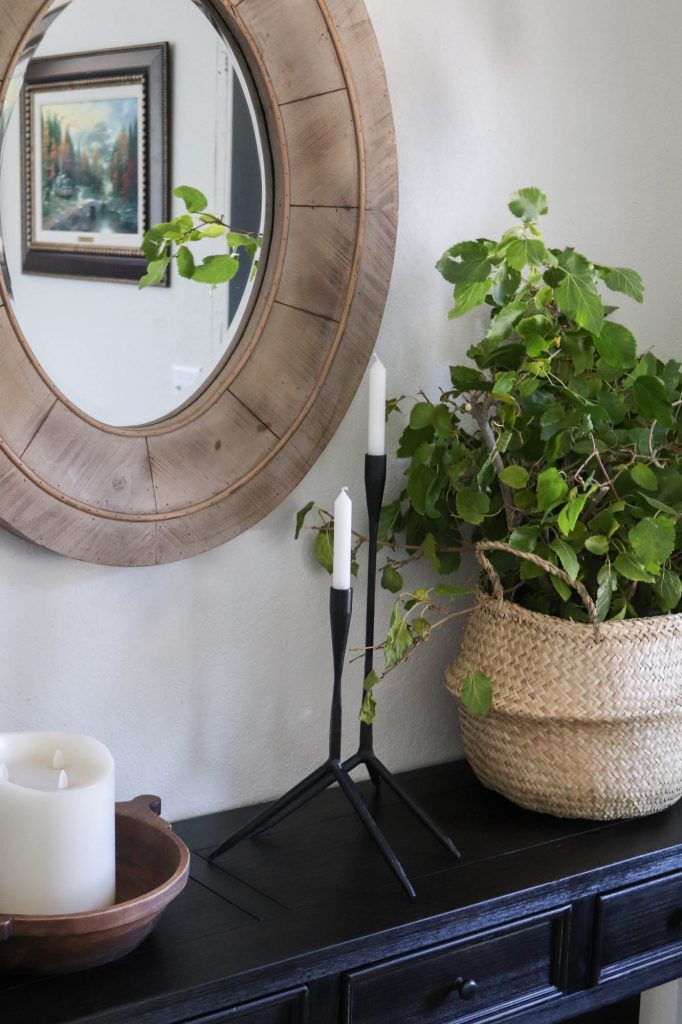 I also moved over my favorite oval mirror from the opposite wall and it feels so much more at home with the new entry table…
Add in some tree branches, my favorite fall accessory, and this area is much more welcoming than before…
Affiliate links are provided below. Full disclosure here.
Shop the room here:

Our living room is coming along too… I've made several little tweaks, rearranged the shelving displays, added fresh pillows and some new end tables.
It's still early in the fall season, and I love to use fresh tree clippings to really bring fall inside…
There's nothing quite as cozy as stacks of books and lots of candles…
This corner is easily one of my favorite spots to curl up and settle in…
And I'm really loving the new faux olive tree…
This side of the bookshelves is styled much like the other side…
I added some super cozy velvet green pillows to the couch and I love how they look with the cream couch and tree clippings…
We recently added these new black end tables and they are the perfect touch. I love the shape and size, and they're incredibly affordable and great quality! They fit our small living room perfectly!
We may be missing light fixtures, trim and doors, but we love the progress we've made so far…
Shop the room here:

Our dining room and kitchen are still a big work in progress, but we're slowing making progress and it feels so good!
Our dining area is pretty small, but I'm looking forward to making it the best it can be. We still need to figure out the furniture and rug situation…
We still have a little while until the kitchen will be finished too, but in the mean time, I added in some tree clippings and art work to make it feel more like us…
We also have tomatoes coming out of our ears, so it looks like we'll be doing some more canning!
I also set a really simple fall table, which I'll be sharing next week.
Shop the room:

That's where we're at today… and it's a wrap on 2019's fall home tour! If you're looking for some more fall decorating inspiration, be sure to visit all of the other bloggers who've opened up their homes!
Next on the tour, is KariAnne from Thistlewood Farms. I can't wait to see what all she's done for her fall decorating this year!
You can see the other home tours, broken up by each day of the week, below…
Monday
Tuesday
Decor To Adore, Southern Hospitality
Wednesday
Thursday