This year my decorating seems to be on the simpler side of things. Each time I've started working on a new room/ area, my thoughts always go to "what will be simple?". And ironically, this years decorating has been my very favorite to date. So today, I bring you a simple fall front porch, all decked out for the season, but on the easy side of decorating. But it's definitely very pretty…
Lately, I've really noticed myself going through a purging phase. It's like I'm cleansing the soul of my house. Our fall home tour (part one, and part two) brought on the feeling, and the piles I began making of items to keep, items to sell, and items to donate really started to take form. I started the same pattern when I began cleaning off our front porch for fall decorating. I had so many pots of flowers (which I quit watering so I would feel better about pulling them up. They were sooooo pretty!), benches, stools, etc., that our front porch was feeling a bit cluttered. And overwhelming.
In order to decorate for fall, I wanted to start with a clean slate. I removed every last piece of furniture from the porch, except the pots that are too big for me to carry alone, and I gave it a good clean sweep. Then, I walked a few feet to our corn field and starting cutting down the stalks. They were my starting point, and I separated them into two big bundles. I also decided to bring back my huge front porch welcome sign, but I did give it a little makeover as well. We had already used the old board for something else, so I grabbed a new board, and nailed all the letters in place with my nail gun. I plan on keeping this guy around for a while…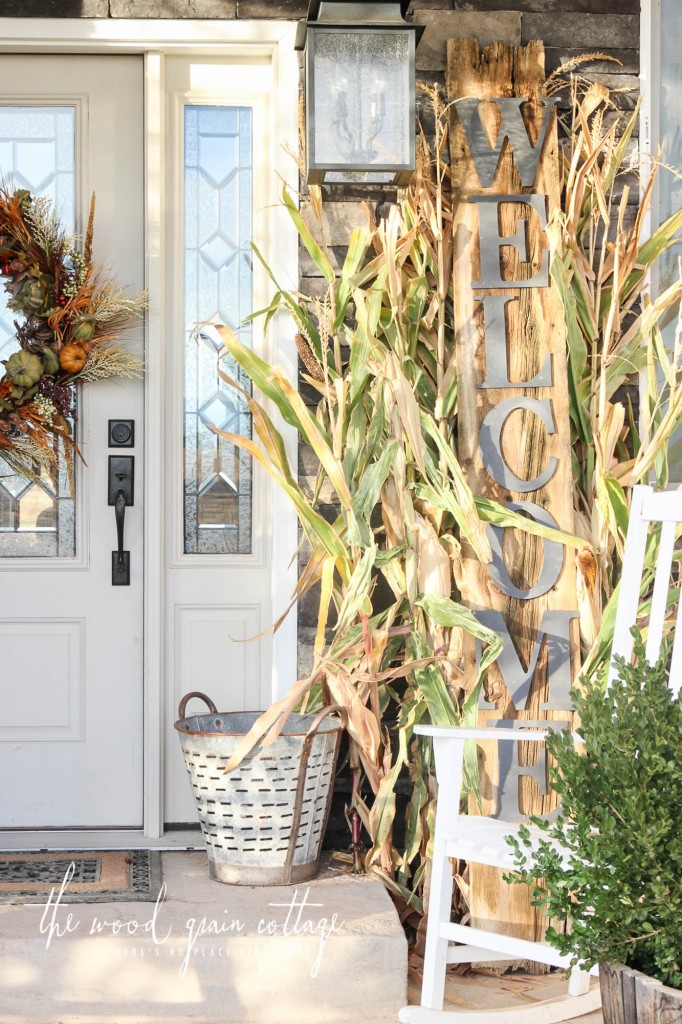 I absolutely adore this sign…
Once I had the corn stalks secured and in place (I just tied them all together with jute roping), I brought back the white rocking chairs. They add the perfect pop of crisp color to our front porch.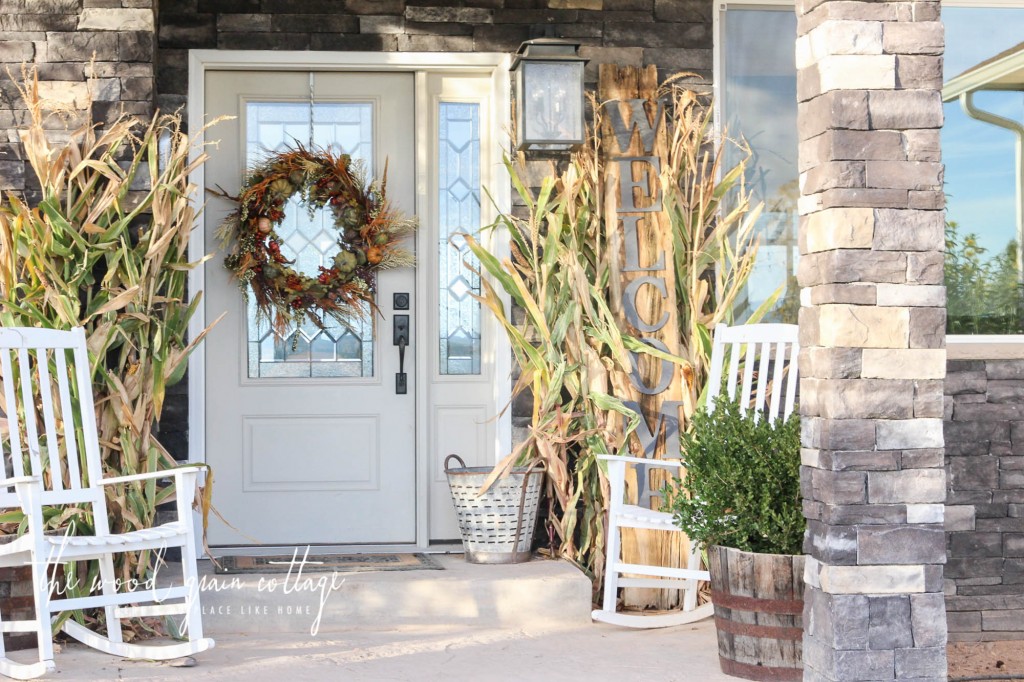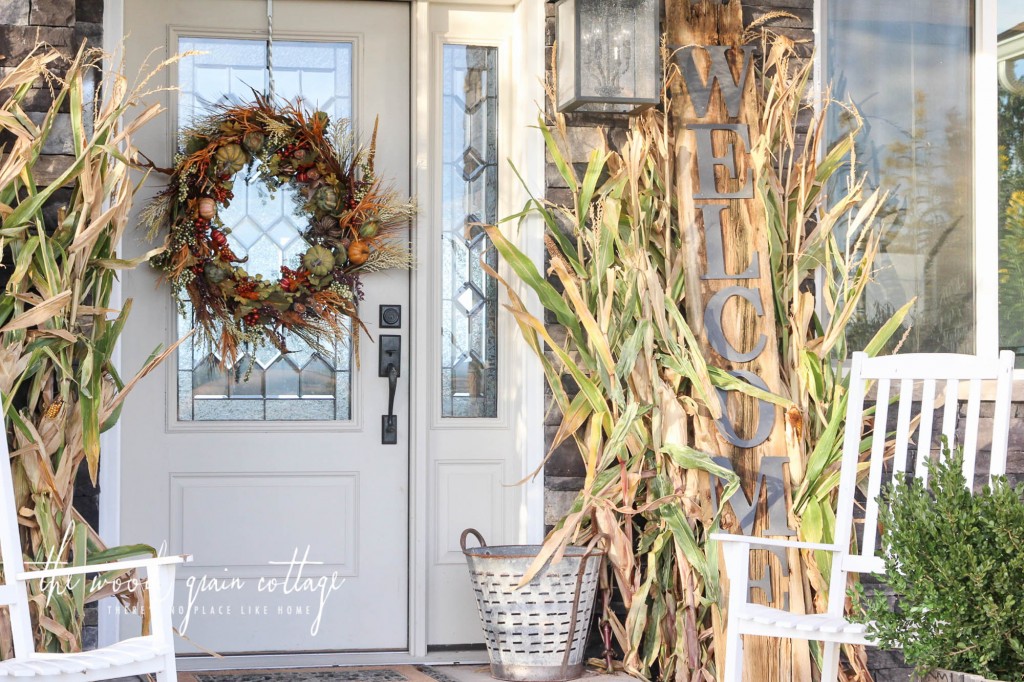 After that, I brought back a few baskets… and that is just about it.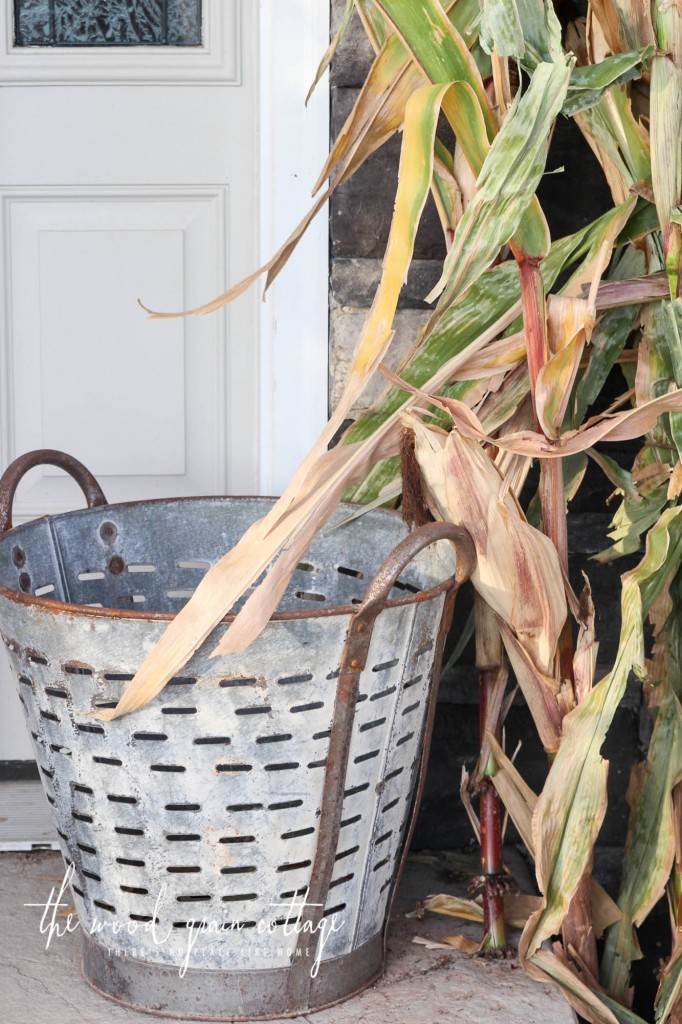 We've been soooo busy harvesting onions, and Anthony has been working some long days. That night after he came home, he was totally impressed with the front porch. In fact, the first thing he noticed was the lack of clutter. Yes, yes, I had gotten a bit carried a way for a while. It feels so good to have it bare, but beautiful!
And another element that adds a big impact, is our front door wreath…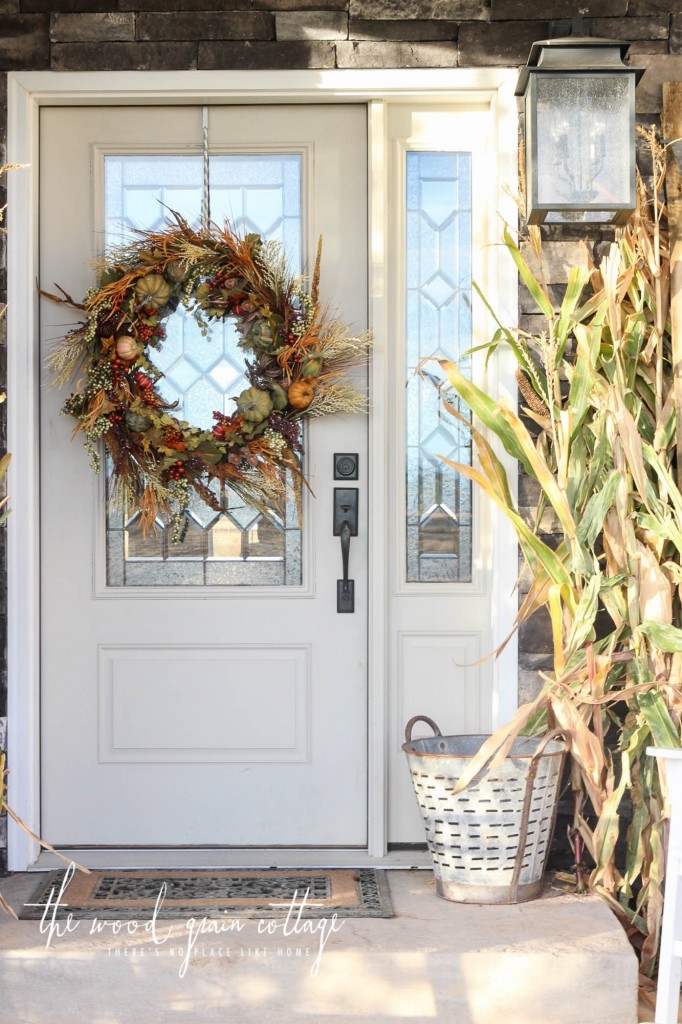 I'll share the story behind it next week, but it's a beauty!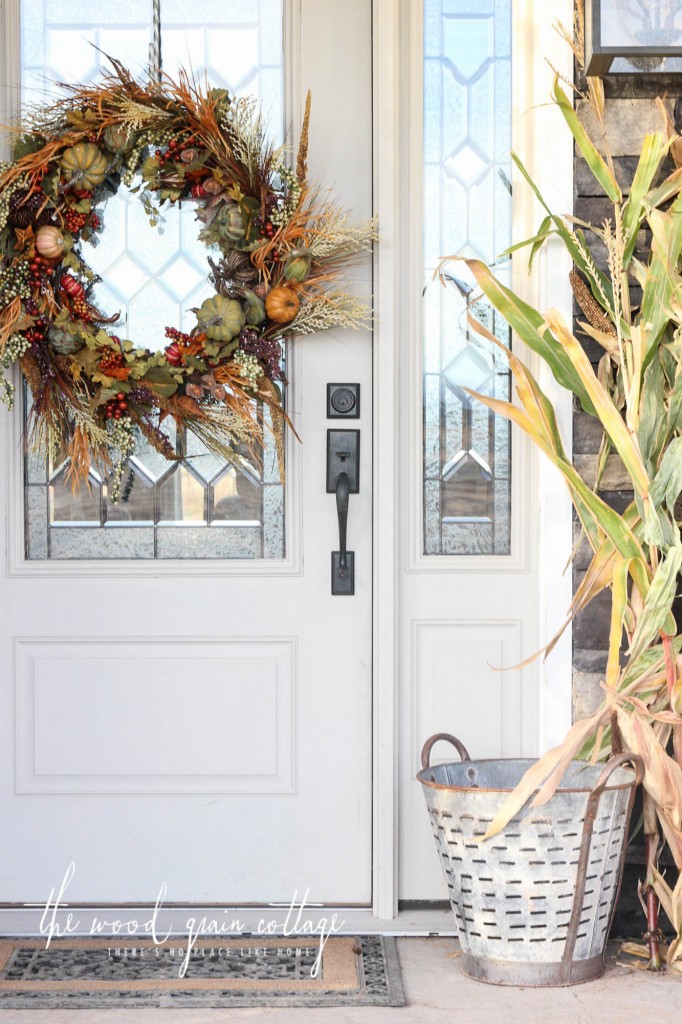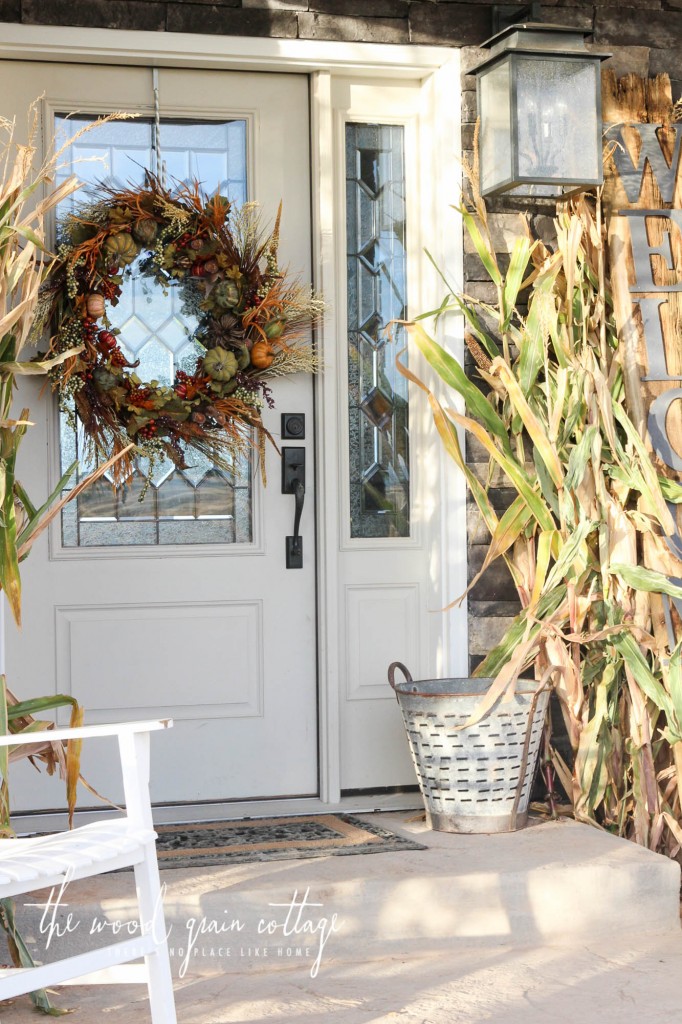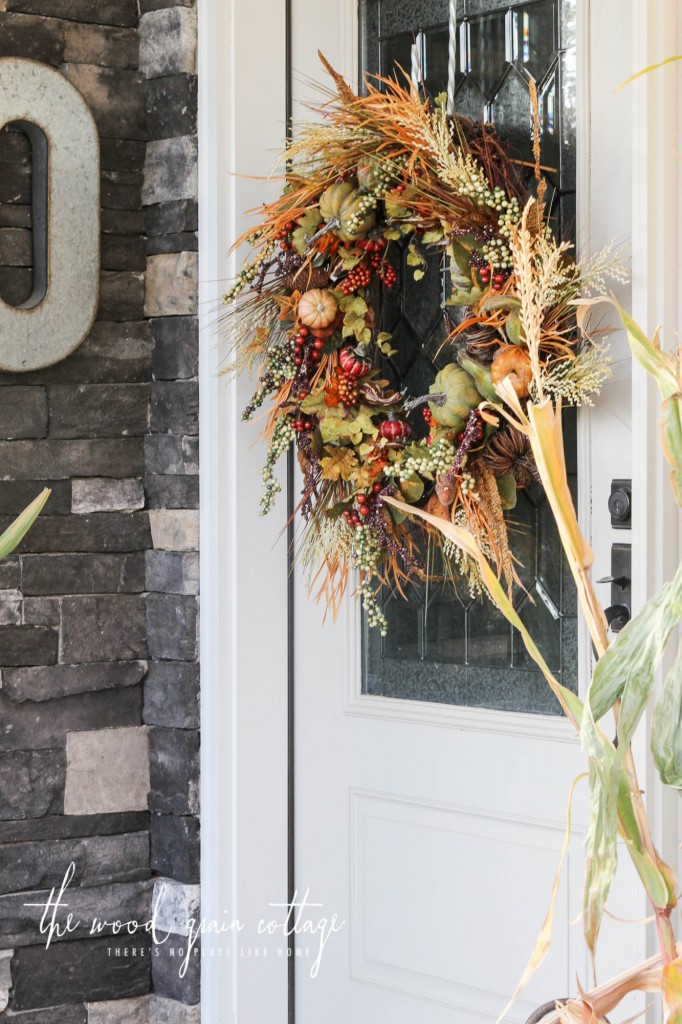 And might I add just how lucky I am to have a huge field of corn at my disposal… well, at least until it gets combined. Then the front porch will be a little bare because I have to give it all back. 🙂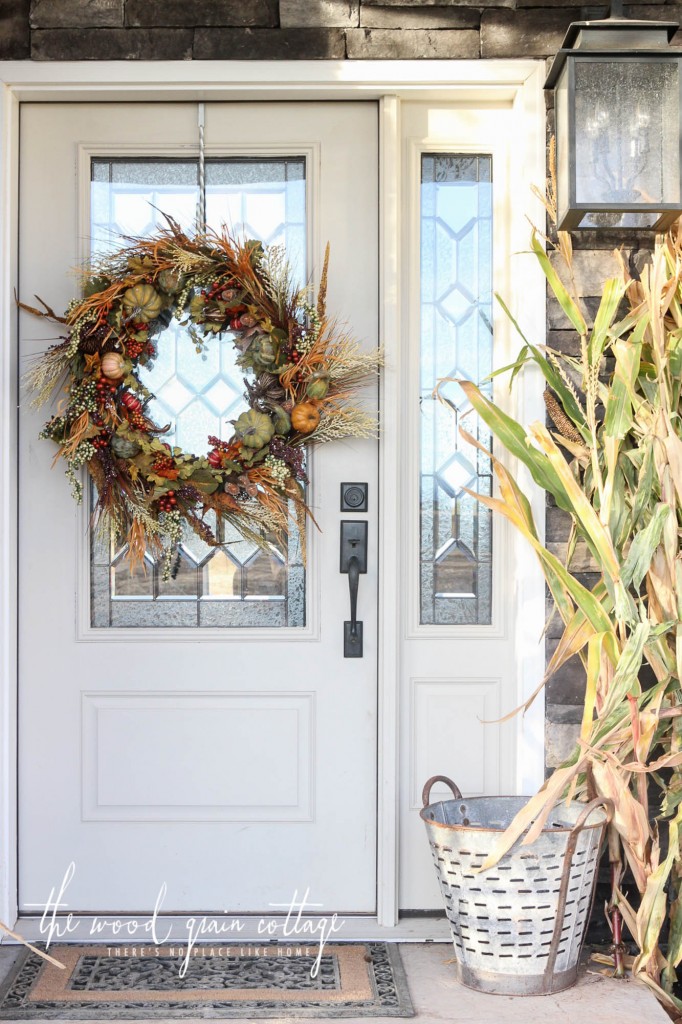 It's all for the cause…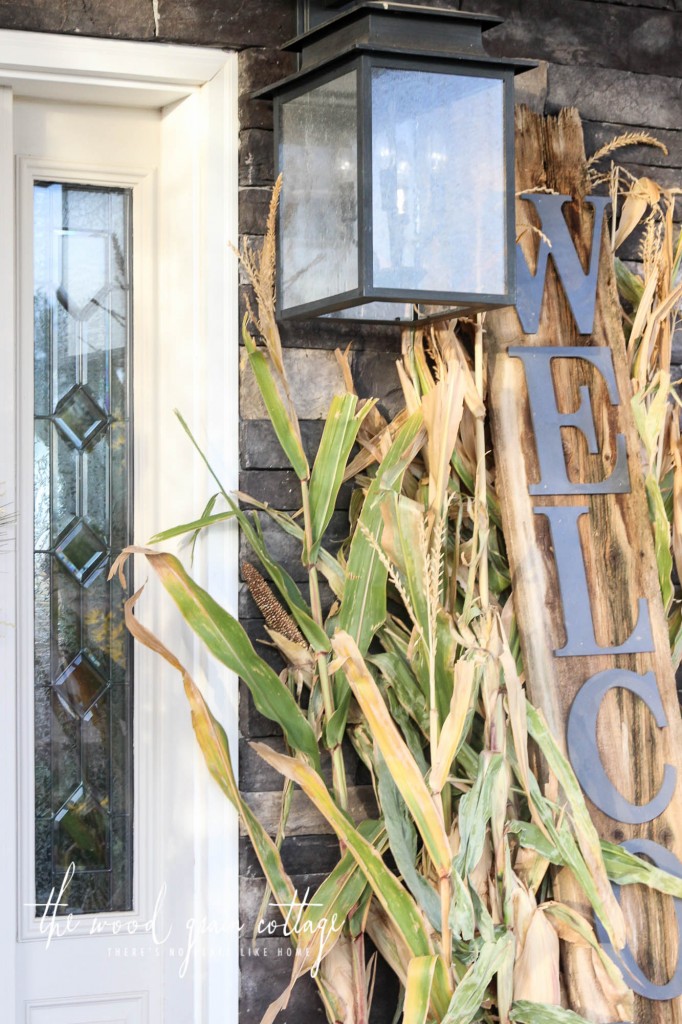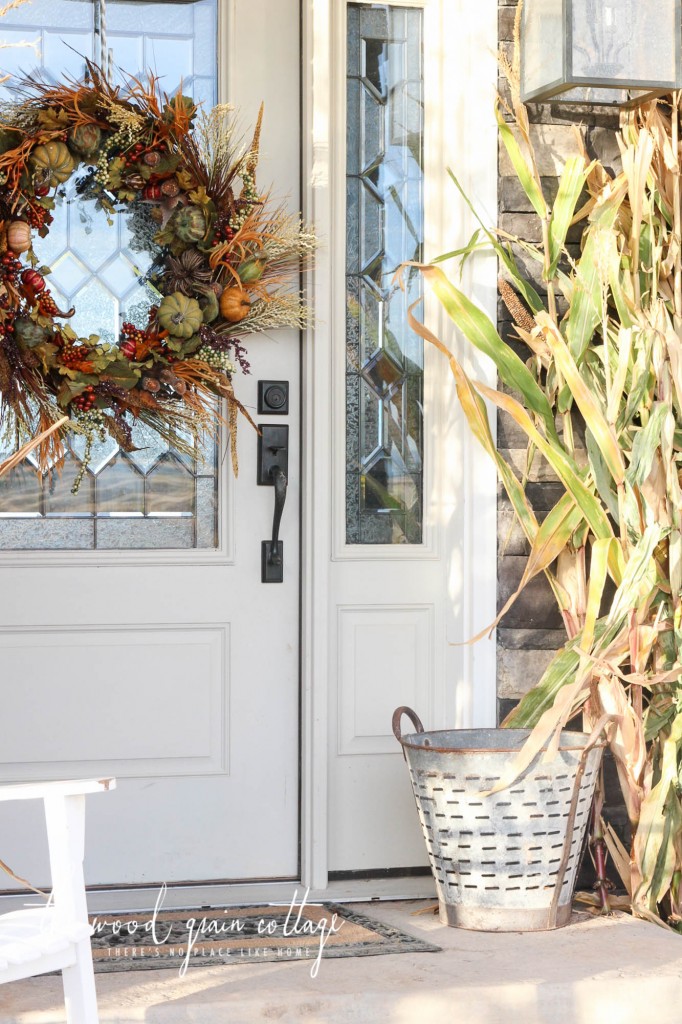 There you have it, the tour around our front porch. It makes me so happy, I've been coming in the front door instead of through the garage. Those little things, I tell ya!
And in case you are wondering about a few of the sources, here you go! Some affiliate links have been used. Thank you for helping support this blog!
Front Door Color: Hazy Skies by Benjamin Moore, mixed in Ace Royal Satin, read about it here.
Wreath: DIY, more on it next week
Wreath Hanger: Target (Several years ago)
Welcome Sign: DIY, read more about it here
Light: Amazon, read about it here
White Rocking Chairs: Estate sale find
Olive Basket: Antique Market
Onion Basket: From the farm of my great- grand parents
Door Mat: Target (Several years ago, but this is similar)
Door Knob: Home Depot
Metal O: Hobby Lobby
Whiskey Barrel Planters: Home Depot (Last year)