Today's the day! I'm sharing part one of our fall home tour! (You can see part two here.) 😀
The lovely Kelly from Eclectically Vintage asked me to participate, along with 14 other bloggers, as part of her Eclectically Fall home tour series!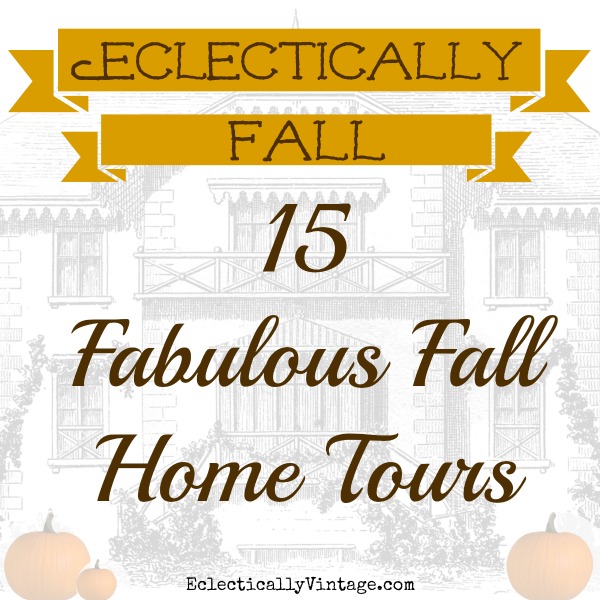 To start the tour, be sure to visit Kelly and her stunning home! She kicked off the tour with a bang! Then, continue to follow the links to see all of the the other ladies and their beautiful homes! There's no lack of inspiration, I promise! 😀
And if you're stopping by from Cassie at Primitive & Proper, Welcome! Isn't her home gorgeous!?
This year, I've decorated our home with a lot of outdoor/ natural items and I'm completely loving how they've warmed up the house! I also added in some lovely items from World Market!
I've already been busy baking away. One of my very favorite things about fall, is the baking. The house smells amazing and I want to curl up and enjoy every second of it!
And speaking of baking, I had to make some of my homemade banana nut bread… it only seemed fitting…
And those striped napkins are one of my new very favorites! 😀
Fall is also the perfect time to sit back and enjoy a cup of hot apple cider! In fact, I love it so much, I decided to keep the recipe handy…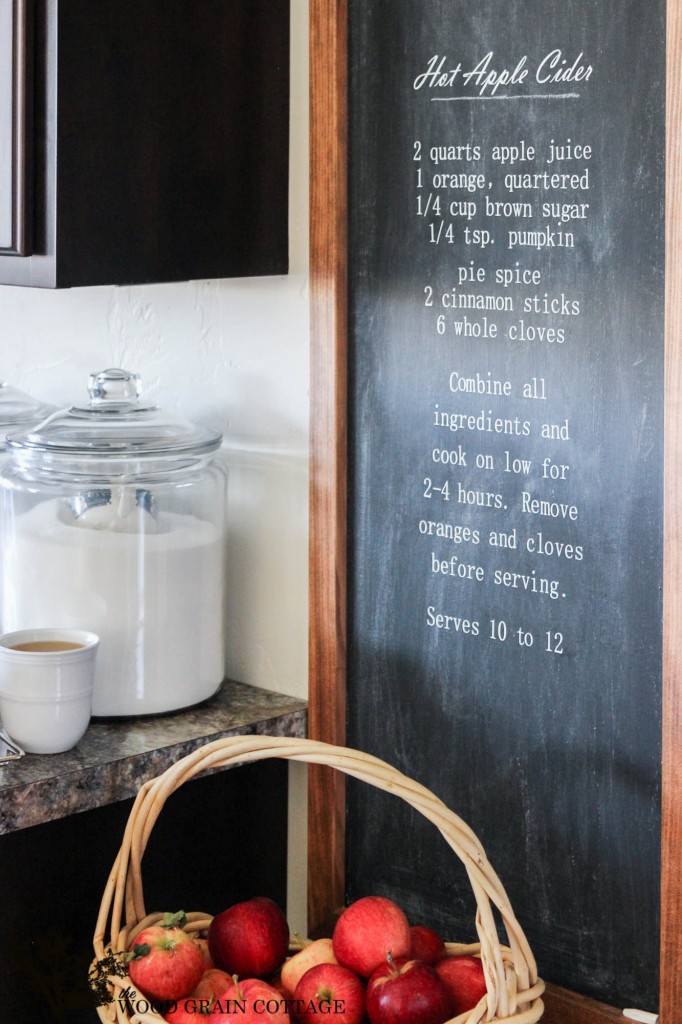 Our huge DIY chalkboard is easily one of my other favorite things in the kitchen…
I also switched things up and added our old breakfast nook shelf to the kitchen…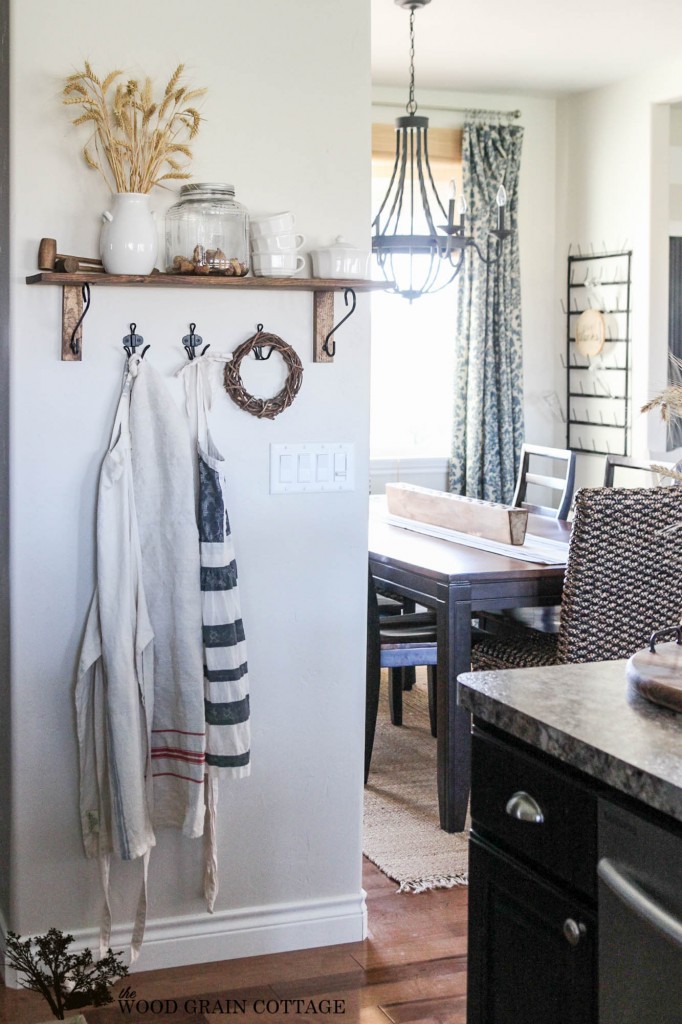 I added some hooks beneath the shelf for a place to hang my aprons, but the shelf is a perfect place to display seasonal/ kitchen goodies…
I love to add wheat around the house this time of year as well. I grabbed this from my dad's field and I can't help but love how it looks in this utensil crock…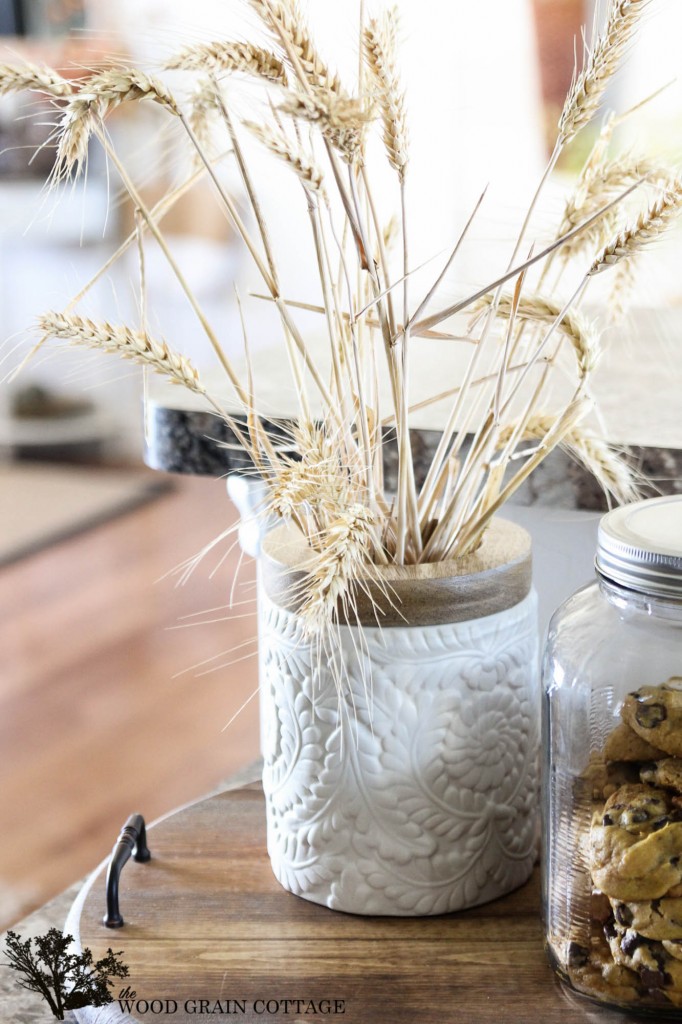 Kitchen Sources:
Kitchen Cabinets: Custom Cupboards, Stain Color: Carrington // Kitchen Island: Home Depot (Read About It Here) // Appliances: Sears // Large Chalkboard: DIY // Glass Canisters // Fruit Crate: DIY // Pot Filler Faucet // Dutch Oven // Wreath- Our Shop // Kitchen Shelf: DIY // Hooks Under Shelf // White Dishware: Thrift Stores // Farm Sign: DIY // Wire Onion Baskets Above Cabinets // Jute Runners //
Kitchen walls are painted Edgecomb Gray by Benjamin Moore in eggshell.
The breakfast nook is also displaying some fall pretties…
I love this little stack of vintage grain sack, linen and cotton napkins…
And I can't forget the apples… They're also one of my favorite items to decorate with, especially during fall, and this marble and wood pedestal looks fabulous with them…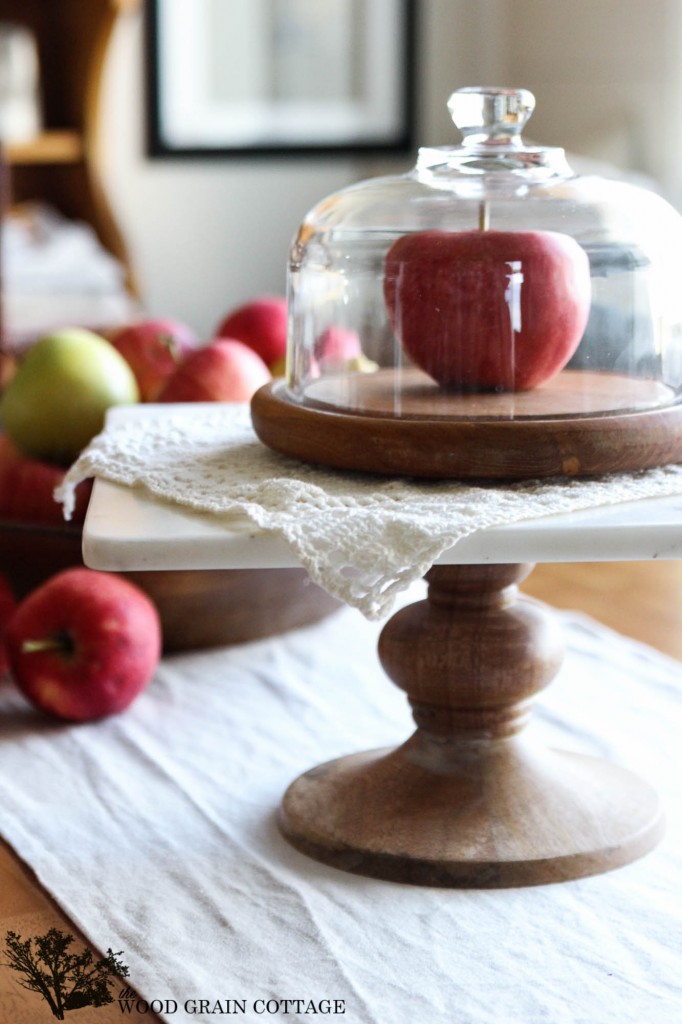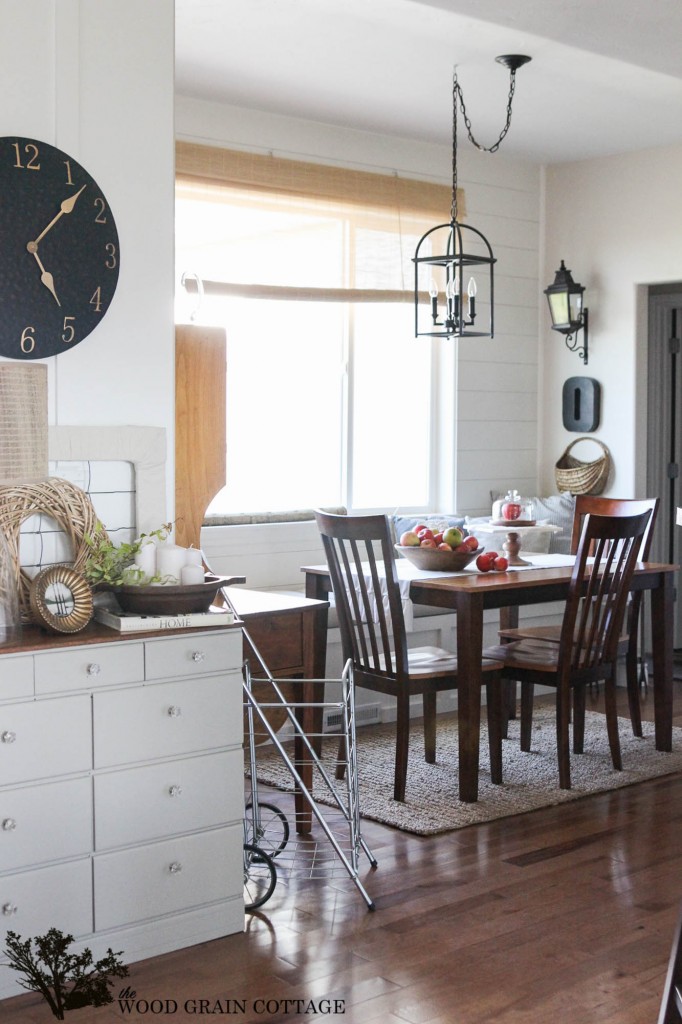 Breakfast Nook Sources:
Wood Hutch- Antique Mall // Ceiling Light // Black Frames- DIY // Bamboo Blind // Table: Bought It In College Several Years Ago // Grain Sack Pillow: DIY // Table Runner: DIY // Jute Rug // White Dishware: Thrift Stores // Glass Dishware: Thrift Stores // Wood Tray: DIY // // Metal "O": Hobby Lobby // Wall Lantern: Home Interiors, years ago // Wicker Basket: Thrift Store // Metal Cart: Thrift Store // Metal Wall Clock: Home Interiors, years ago //
The breakfast nook is painted White Dove by Benjamin Moore in eggshell.
And our dining room… sigh… those shelves are what dreams are made of… I'm so happy we finally built them. Talk about a total room house changer…
I'll be sharing a bit more of them in a different post, but they flow beautifully into the kitchen…
Dining Room Sources:
Wall Shelving: DIY // Table & Side Chairs: AFW // End Chairs: TJMaxx, these are similar // Chalkboard: DIY // Apple Wreath: DIY // White Dishware: Thrift Store Finds // Metal Baskets: Family Finds // Step Stool: DIY // Chandelier: Details Here // Bamboo Blind // Table Runner: TJMaxx // Rug //
Wall color is Halo by Benjamin Moore in eggshell.
Our powder bathroom also received a little fall makeover…
We've been working on it off and on for a while now, but I couldn't help but add this gorgeous new mirror to the mix… it was love at first sight!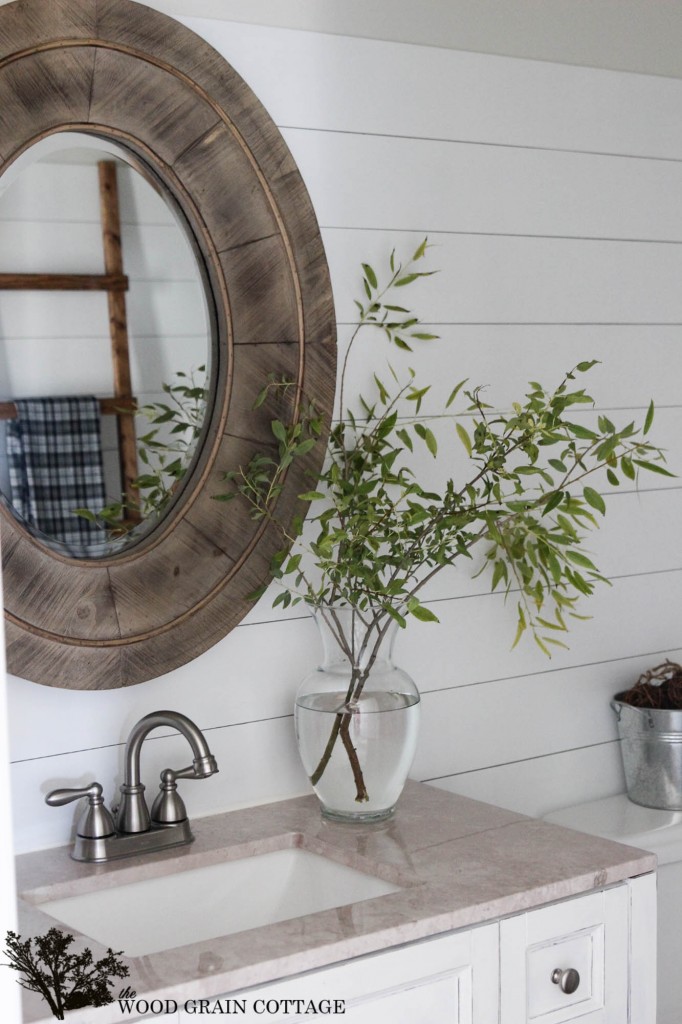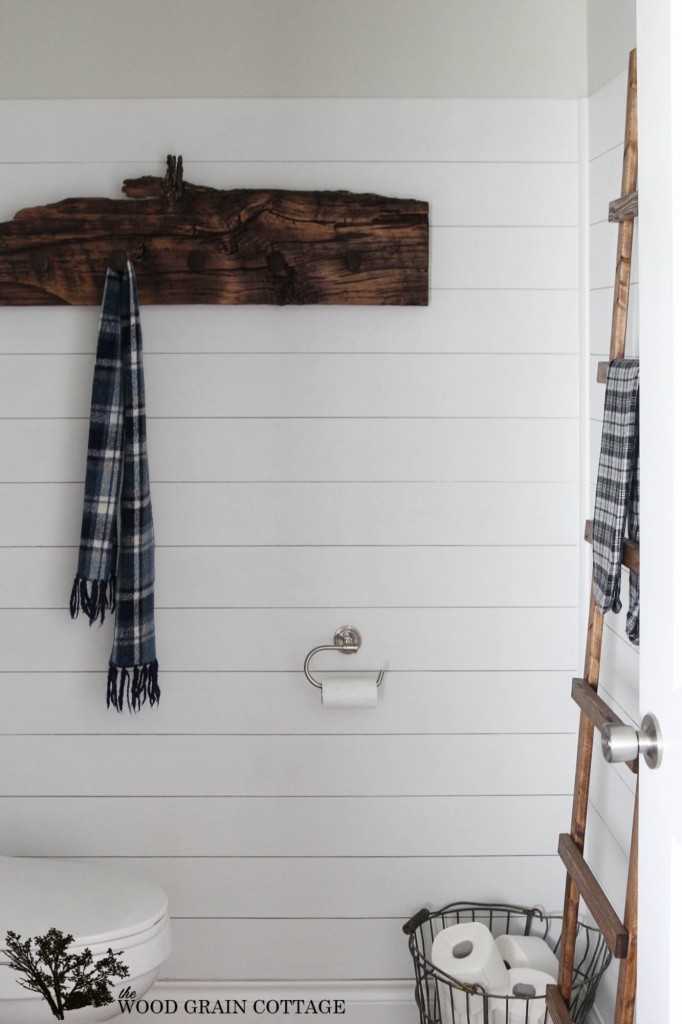 Here's a few more views from around the house…
Now, next on the tour is Karah from The Space Between. She has a lovely home!
Also, be sure to follow our Eclectically Fall pinterest board for more fall decorating ideas! 😀
You can also check out the new Desert Caravan Collection from World Market and browse through their amazing collection of home decor! I might already have a few other items on my wish list! 😀
I hope you enjoyed part one of our fall home tour. I'll be back next week to share more!
Updated to add: Part two can now be found here.

P.S.- I received product and/or compensation from World Market. However, all opinions about their products are my own! For my full disclosure policy, click here.