Isn't Christmas one of the best times of the year? And no, not because of the gifts. I love when the house feels warm, cozy and inviting. It absolutely makes me want to stop what I'm doing and just sit. Still. It's about the real reason for the season. And that's why I decorate our home.
Today, I'm sharing part two of our Christmas home tour. You can see the first part here. For this part of the tour, I'm sharing our kitchen, living room and breakfast nook!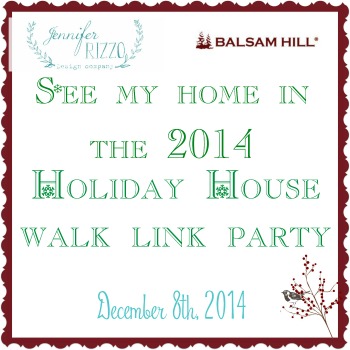 And can I just tell you how much I love our breakfast nook? It's the prefect cheery, cozy room. It draws me in every time, but there's something about it this Christmas…
It's simple, but so extremely festive…
The lovely Peace on Earth pillow, and red plaid pillows, are from Melissa at Shabby by Melissa. I absolutely love them.
And, I decided the breakfast nook deserved its own tree too…
It's been a perfect fit for the room, and a perfect place to enjoy a warm cup of hot tea or cocoa…
I seriously can't even tell you how much I love this room…
The wood candle holder on the back wall was a lucky find. It was absolutely covered in dust, so I was surprised to find how great of condition it was in once it was cleaned up…
And I can't fail to mention our big, beautiful boxwood wreath. Love, love, love!
Now for the kitchen…
I kept it pretty simple, but did add fresh greenery, a big faux wreath and a small boxwood wreath…
And I moved the shelving unit from the living room into the kitchen. Be still my heart.
It's such a fabulous place to store my extra dishes, cups and pretty goodies…
And here's what you see looking from the breakfast nook into the kitchen…
And from the kitchen/ breakfast nook into the living room…
This little dresser is one of my very favorite places to change up for the seasons…
I added fresh greenery, mixed nuts and a cute little chalkboard…
And that, my lovely friends, is our home all decorated for Christmas. I've absolutely loved sharing it with you!
Now, I'll be switching gears and it's going to be all about The Vintage Whites Market. I do have a few other Christmas-y posts planned, but in between all the Christmas decorating, Anthony and I have been so, so, so busy getting ready. We've been building, painting, staining, shopping, prepping, designing and doing our absolute best to get ready for this exciting event. Hard to believe it's less than a month away. Whoa. We have so much to do, and I have a bunch of things to fill you in on. Soon.